NBA Rookie of the Year Race: Jayson Tatum Reigns Supreme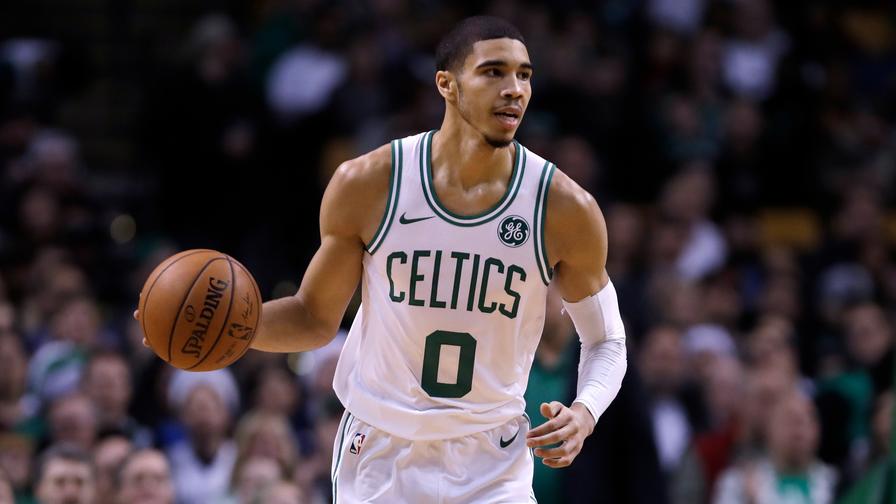 Rookies are exciting. They bring hope and energy to floundering teams while also providing a glimpse of what future the league may hold. First-time players in the NBA routinely struggle to adapt to the pace of the professional game, but there are always a few standouts every year who look and play like seasoned vets from the start.
Our rookie rankings here at numberFire are not subjective or influenced by the latest hype -- we put our faith and trust in our algorithms. Every two weeks, we'll list the top five rookies in the Association based on our nERD metric, which measures a player's contributions based on efficiency, and indicates how many wins above or below .500 a player would make an average team over a full season.
To make sure we only include players regularly contributing to their team, we are limiting ourselves to considering rookies averaging at least 15 minutes per game.
Let's dive into the Rookie of the Year contenders with our top-5 players of the 2017-18 season so far.
5. Jarrett Allen, Brooklyn Nets
nERD: 0.6
Previous Rank: NR
After barely playing the first month of the season, Jarrett Allen has moved into the Brooklyn Nets' rotation, averaging 18.8 minutes in the last 10 games. In that time, he's proven to be a valuable big in Brooklyn, averaging 6.4 points, 4.8 rebounds, and 1.1 blocks per game while shooting 61.0% from the floor. In Allen's last five games, he's been a block machine, swatting at least one shot in each contest and averaging 1.8 per game with a 6.9% block percentage. The former Texas Longhorn has brought a defensive presence to the middle (101 defensive rating the last 5 games) but is shaping into one of the club's more efficient scorers as well.
Over his last five games, Allen has scored in double-digits three times all while never eclipsing 22 minutes played in any one game. He is shooting 16-for-23 (69.6%) from the floor while posting an unreal 74.2% true shooting percentage. The rookie's all-around play has earned him a significant role in the Nets' rotation, even with the recent addition of Jahlil Okafor.
4. OG Anunoby, Toronto Raptors
nERD: 0.6
Previous Rank: 2
After joining the Toronto Raptors' starting five last month in what seemed to be a temporary fill-in role for Norman Powell, OG Anunoby has stuck, starting the last 13 games for Toronto. The rookie swingman hasn't been racking up huge numbers in his starts -- 7.4 points, 1.5 rebounds, and 0.8 steals -- but he has become one of the most efficient rookies this year, particularly on defense.
As a starter, Anunoby is posting a 100.7 defensive rating, to lead all rookies, while posting an impressive 1.8% steal percentage. In the 12 games to start the season, the Raps were 7-5 with a 103.5 defensive rating (17th-best). Since OG was plugged into the starting five, Toronto has gone 10-3 and jumped up to fourth in the NBA with a 102.2 defensive rating.
The rookie from Indiana -- while carrying a 70.4% true shooting percentage as a starter -- has helped the Raptors offensively too. Toronto ranks third in the NBA (behind Golden State and Houston) in net rating (10.3) since November 14.
3. Bam Adebayo, Miami Heat
nERD: 1.1
Previous Rank: NR
The nagging knee injury to Hassan Whiteside has propelled Bam Adebayo into a significant role with the Miami Heat this year, as the rookie big man has started six games and seen his minutes climb to over 21 per game the last two weeks with Whiteside out. In those seven games, the former Kentucky Wildcat is averaging 8.6 points, 4.3 rebounds, 1.4 steals, and 1.1 blocks per game while shooting 69.7% from the floor. For a reference point, only five other players (in the entire NBA, not limited to just rookies) are averaging 1.4 steals and 1.1 blocks per game this season, and they are some of the biggest names in the Association -- Giannis Antetokounmpo, LeBron James, DeMarcus Cousins, Draymond Green, Andre Drummond.
If we look at Adebayo's per-36 numbers, 12.6 points, and 8.8 rebounds, 1.9 steals, and 1.6 assists, the big man starts to move towards the top of the rookie class, despite playing only 123 total minutes in Miami's first 19 games this year. In his last game out, he posted a fat line of 14 points, 2 rebounds, 2 assists, 2 steals, and 2 blocks in just 22 minutes.
2. John Collins, Atlanta Hawks
nERD: 1.1
Previous Rank: 5
Despite missing the last two weeks with a sprained AC joint, John Collins remains high on our list due to his impressive play over the first six weeks of the season. In 14-of-21 games played this year, the Atlanta Hawks' big man has scored in double-digits, all while shooting 59.2% from the floor, which leads all rookies who have taken at least 4.0 shots per game. In fact, he ranks fifth among all NBA players in field goal percentage. In his last eight games, Collins is averaging 13.6 points per game as he has earned himself a more significant role in Atlanta's frontcourt.
It hasn't been all scoring for Collins either, as the rookie ranks second among first-year players with 7.1 rebounds per game and first in offensive (15.0) and total rebound percentage (17.4). He has four double-doubles, including a memorable 14-point, 11-rebound performance earlier this season that he posted in only 18 minutes. The rookie from Wake Forest is also averaging 0.7 steals and 0.9 blocks per game (including 2.0 steals in his previous 4 games) as he develops into an exceptional two-way player for Atlanta.
1. Jayson Tatum, Boston Celtics
nERD: 4.1
Previous Rank: 1
While it may surprise some, Jayson Tatum has been at the top of our ranks all season, thanks to some of the most efficient play in the NBA, and not just among rookies. The Boston Celtics forward ranks in the top 10 of all NBA players in true shooting percentage (64.3%), defensive rating (100.9), defensive win shares (1.6), and nERD. The former Duke Blue Devil is also leading the NBA in three-point percentage, as he is sinking half of his 3.2 three-pointers per game.
Even while ranking in the top 10 among rookies in virtually every statistical category -- points (13.8), rebounds (5.7), steals (1.0), blocks (0.8), and threes made (1.6) -- Tatum's most impressive attribute this season may be his ability to play a significant role (30.6 minutes per game) on one the NBA's best teams, as a 19-year-old.
A starter from Opening Night, Tatum has been an integral part of the Celtics ranking fourth in net rating (5.4), first in defensive rating (99.6) while sitting at the top of the entire Association with a 23-6 record.