FanDuel Women's World Cup Daily Fantasy Helper: Sunday 6/16/19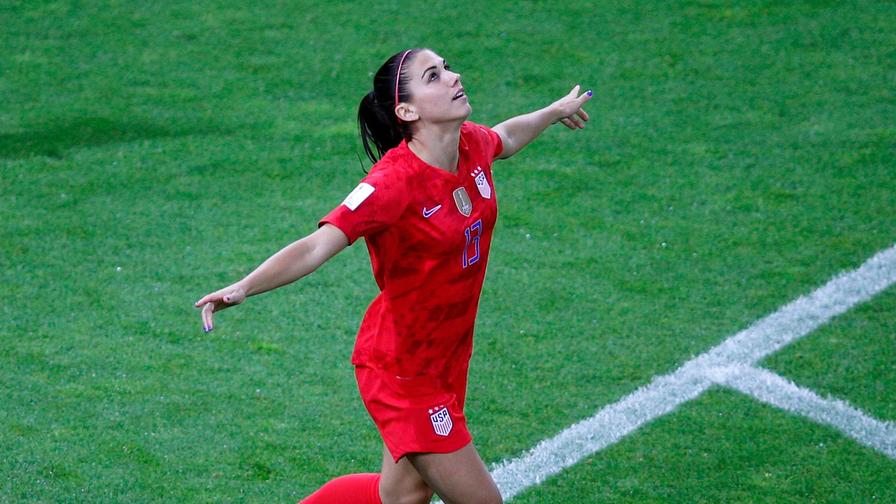 The Women's World Cup is here, and FanDuel is offering daily fantasy contests. The Sunday main slate will start at 9 a.m. EST and include both of the day's matches.
FanDuel has altered its soccer format for the Women's World Cup for the multi-match offerings, and it's important to know how those changes impact things. The single-match slates, however, are the same format as usual.

Group Stage
Sunday, June 16
Sweden vs. Thailand
United States vs. Chile

Per FanDuel Sportsbook, the U.S., as expected, is a monster favorite against Chile, coming in at a line of -4500, which implies win odds of 97.5%. However, Sweden, at -7000, is a bigger favorite, boasting implied win odds of 98.6%.
Let's look at some players across different price points who can shine on this slate.
Forwards/Midfielders
Alex Morgan ($24), United States
Morgan netted five goals and scored 137.0 -- yes, 137.0 -- FanDuel points in the United States' 13-0 win over Thailand. She was very highly owned for that one, and her dazzling performance should lead to even bigger ownership this time around. The U.S. is once again a huge favorite (-4500, per FanDuel Sportsbook), and Morgan could have another insane day.
But given the random nature of goals in soccer along with the likelihood that Morgan is on roughly half (or more) of rosters, pivoting away from her makes a lot of sense in GPPs.
Will she score five goals again? Probably not. Will she score at least one goal? You gotta like her chances, especially given that she'll probably be on penalty duties. But if Morgan doesn't score, the boost you'd get from fading her would be immense, and the U.S. offers a bunch of other appealing options. Deciding what to do with Morgan is the first call you need to make when building your lineup.
Tobin Heath ($14), United States

Heath being priced at $14 is criminal, and it makes it way easier to fit in both her and Morgan -- at least easier than it was last match when Heath was priced at $20. The staggering price drop is an overreaction to Heath putting up just 7.3 FanDuel points in the win over Thailand. Given how good Heath is and how involved she usually is, it seems impossible that she would fail to get a goal or assist -- nonetheless a shot on goal -- in a match in which the Americans pour in 13 goals. But it happened.
Still, Heath is a superb talent who came into this event having put one in the back of the net in seven of her last 10 matches across all competitions with the National Team and the Portland Thorns. In a match in which the U.S. should roll, she's a safe bet to get back to her goal-scoring ways.
If Heath was priced in the $20 range, she'd make for a great pivot off of Morgan. Instead, with her at $14, Heath should be one of the slate's most popular players, and the friendly salary makes it really hard to pass over her since you can plug her in and still comfortably roster at least two other high-priced U.S. attackers.
Megan Rapinoe ($22) and Rose Lavelle ($18), United States

Rapinoe (56.29 FanDuel points) and Lavelle (48.9 FanDuel points) were heavily involved in the opener as together they combined for three goals and two assists. We can't expect the Americans to score double-digit goals again, but these two should be right in the thick of the action whenever the U.S. get forward versus Chile, which should be early and often. Pairing Rapinoe and Lavelle with Morgan is a little tough salary-wise, but you can roster these two with Heath and have a decent amount of cash left.
Kosovare Asllani ($22), Sweden
After the way the Americans pummeled Thailand 13-0 in their opener, the temptation for this slate is going to be to load up on the U.S., and that's a pretty solid idea. But Sweden is a bigger favorite, listed at -7000 for their turn versus Thailand.
While the final scoreline was just a 2-0 win for Sweden in their opener, they probably deserved more goals as they had 69% of the possession and took on 24 shots, only six of which went on target. They're more than capable of putting together a five- or six-goal day against Thailand.
Asllani was involved in both of Sweden's goals in their opening match, scoring one and assisting the other. She racked up 47.6 FanDuel points and was credited with six chances created. She should once again be a focal point in the center of the pitch for the Swedes.
Stina Blackstenius ($14) and Fridolina Rolfö ($12), Sweden
Just like they were in their clash with Chile, Rolfö and Blackstenius are cheap ways to get exposure to Sweden's attack. Rolfö started as a left winger in that match while Blackstenius was up top in a number-nine position. I wish I could tell you that either of them did much of anything, but they didn't, combining for one chance created between them and both getting subbed off in the second half. It's not a lock they keep their starting spots, but if they're in there, they make for enticing options in a match in which Sweden should be bombarding Thailand's goal, and they shouldn't see too much ownership after their first-match duds.
Christen Press ($10) and Carli Lloyd ($14), United States
This U.S. pair came off the bench together in the 57th minute versus Thailand, and both got in on the onslaught. Lloyd scored a goal on her way to 35.0 FanDuel points while Press tallied 13.0 FanDuel points thanks to an assist and two chances created. Investing in a substitute has its obvious risks, but it also gives you a chance to get a goal from a lower-owned player.
For me, Press is the better play here. She doesn't have Lloyd's name recognition, meaning she'll probably be the lower-owned player of the two, and she should be in a forward spot while Lloyd will be in midfield. The cherry on top is that Press is $4 cheaper than Lloyd.
Defenders
Crystal Dunn, United States ($12)
An attack-minded defender on a massive favorite who is modestly priced and also has good clean-sheet odds? Give me all the Dunn on this slate.
Fellow U.S. full-back Kelley O'Hara ($16) is more expensive and got an assist in the opener, something Dunn didn't do. What Dunn did do was create more chances (three to two) than O'Hara did while scoring 20.39 FanDuel points, compared to 24.5 for O'Hara. Both are superb plays against Chile, but I'll opt for Dunn over O'Hara, taking the $4 savings while not sacrificing a shred of upside.
Camila Sáez ($12), Javiera Toro ($10), Carla Guerrero ($10) and Su Helen Galaz ($8), Chile
This was Chile's back four in the game with Sweden, and if they keep the same back line, all four of these players would be high-floor options versus the U.S. In their loss to Sweden, Sáez (20.79 FanDuel points) and Toro (18.2 FanDuel points) had the best fantasy days of the bunch, but everyone should get their chance to rack up defensive actions against the U.S. All four of these Chilean defenders are capable of pushing close to 20.0 FanDuel points in a match in which they'll be dealing with wave after wave of American attacks.
Goalies
Hedvig Lindahl, Sweden ($16)
Lindahl and American keeper Alyssa Naeher ($14) are the top goalie options on this slate. Both had clean-sheet wins in the opener -- good for 17.0 FanDuel points in and of itself -- and Naeher was actually forced to make more saves (two to one) than Lindahl was. These two have overwhelmingly great win odds and are excellent DFS options. Given that she is $2 more expensive, Lindahl may see less ownership than Naeher, making her an appealing GPP target.
Sukanya Chor-Charoenying ($8), Thailand
Things couldn't have gone much worse for Chor-Charoenying in the 13-0 loss to the U.S. She was under siege from the opening minutes, and despite making seven saves, she finished with -11.5 FanDuel points. Sweden is a -7000 favorite over Thailand, so another lopsided loss is likely in the cards. But if Thailand can keep it respectable -- I'm talking 4-0 or 5-0 -- Chor-Charoenying could have a decent fantasy day at a minimum salary.
Another seven-save day but this time in, say, a 4-0 defeat would be 11.0 FanDuel points, and on a slate where we have a ton of high-priced attackers we'd love to roster, punting on Chor-Charoenying has its merits. If you spend $8 on her and she gets you double-digit FanDuel points, you'd be thrilled. Just know she could be in the red if it turns into another extreme drubbing -- an outcome that's very much on the table.