Champions League Quarterfinals: Daily Fantasy Soccer Helper for Week 2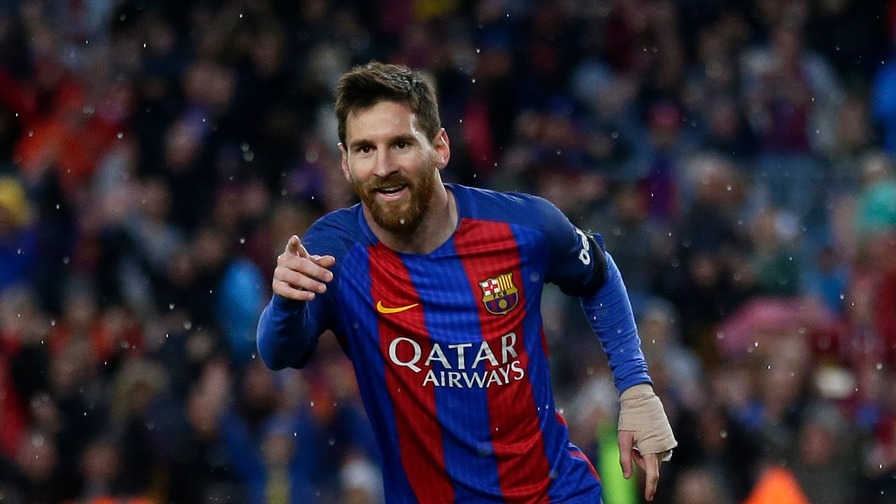 The main slate for the second week of the Champions League quarterfinals includes just Tuesday's matches, but we're going to focus on the Tuesday-Wednesday slate, which features all four matches.
Champions League Quarterfinals
April 18th
Atlético Madrid at Leicester City
Bayern Munich at Real Madrid
April 19th
Juventus at Barcelona
Dortmund at Monaco

For the second legs, Barcelona are the slate's biggest favorite as the Blaugrana are a 1-goal favorite for their home match with Juventus. Atletico Madrid are a 0.5-goal favorite at Leicester while the other two matches are listed as pickems. It's similar to last week, when we had one big favorite (Atleti) with three other matches that were expected to be fairly even.
With those lines in mind, let's break down the DFS landscape for this week's Champions League action.
Forwards
High-Priced Options
Lionel Messi ($12,100): It's Messi. If you need more convincing, it's Messi at the Camp Nou with Barca -- a squad averaging 2.84 goals per match this season in La Liga -- chasing the tie after falling 3-0 at Juventus. Oh, and the Blaugrana are sporting a slate-best 2-goal implied total. All signs point to Barca's high-octane front three playing this match with the gas pedal hammered down.
Per WhoScored, Messi has 17 goals and 5 assists in 13 home starts in domestic league play, and he's scored a hard-to-believe 8 times (with 2 assists) this campaign in 4 home Champions League matches. He had a "down" performance at Juve in the first leg, putting just one shot on goal, but he still scored 22 FanDuel points thanks to creating three chances, including one on this pass that warped the properties of space and time (pro tip: the angle on the replay is worth the wait).
A beautiful pass by Messi slicing through 6 defenders got overshadowed by a brilliant save by Buffon pic.twitter.com/Ihe4sT0Lob
— St_Hill (@St_Hill) April 12, 2017

Kylian Mbappe ($10,400): Mbappe scored a brace in the first leg, posting 44.75 FanDuel points, which gives him at least 23 FanDuel points in all three of Monaco's games in the knockout round of the Champions League. The super teen is in sparkling form, scoring 13 goals in his last 12 matches across all competitions. The Rouges et Blancs have tallied a whopping 90 goals through 32 Ligue 1 matches, and there have been at least 3 total goals scored in 11 of their last 12 matches. Sure enough, the over/under is set at 3.5 for this one, so we can feel comfortable targeting Monaco even though they come into the second leg with a 3-2 cushion.
Value Plays
Jamie Vardy ($8,300): Miraculously, the first leg went about as well as it could go for Leicester as they are still very much alive in the tie after suffering a 1-0 defeat at Atletico Madrid. The Foxes spent most of the match packed deep in their own half, seeing just 32% of the possession, per WhoScored, and taking just 7 total shots, none of which forced Atleti keeper Jan Oblak to make a save.
With the Foxes needing at least one goal in the second leg and the fixture taking place at the King Power Stadium, they should spend a little more time on the front foot in this one. If Leicester score in open play Tuesday (they have a 1-goal implied total), there's a really good chance Vardy will be the one getting the goal -- or at least playing a key role in creating it. After making the net bulge versus Crystal Palace at the weekend, Vardy has scored or assisted on 15 of Leicester's 41 Premier League goals, and his resurgent form of late has been central to the Foxes incredible turnaround.
Shinji Okazaki ($6,600): Another Leicester player? Stick with me here. When the slate consists of so many top-notch teams, there aren't a lot of cheap forwards who actually play big minutes. Okazaki can be a glaring exception at an extremely cheap salary. With fellow Leicester forward Islam Slimani ($6,700) a fitness question mark after sitting out the Palace match due to injury, Okazaki should start for the Foxes and may be forced to play the full 90 minutes, something he doesn't do often.
Like we just said, Leicester will likely open up things more since they're at home and in need of a goal. With Atletico boasting one of Europe's top defenses -- they've given up just 24 goals through 32 La Liga matches this season -- rostering both Okazaki and Vardy isn't recommended, but the workmanlike Okazaki has some appeal as a very cheap forward who will likely see a lot of pitch time for a team in desperate need of a goal.
Mario Mandzukic ($8,700): While Barcelona is in a great spot, this isn't a bad spot for Juventus, either, and Juve has a 1-goal implied total, per oddsmakers. With Barca pressing forward, they may leave themselves open for counter attacks, and the Blaugrana have been playing some shoddy defense lately, conceding seven goals in their last three matches across all competitions, with Real Sociedad coming into the Camp Nou and scoring twice at the weekend.
Mandzukic is a pivot off Juve teammates Gonzalo Higuain ($10,100) and Paulo Dybala ($10.600), both of whom will likely see more ownership. Mandzukic did more defensive work in the first leg than either of those two, and he also created two chances while recording one shot on goal, finishing with 21 FanDuel points.

Midfielders
High-Priced Option
Thiago Alcantara ($8,200): We plugged Thiago for the first leg, and he delivered with 29.75 FanDuel points. A passing machine in Bayern Munich's midfield, he has averaged 96.4 passes per match in domestic league play, and he scored 13 points from passing alone in the 2-1 loss to Real Madrid.
Playing at the Bernabeu, Bayern will likely see less of the ball than usual. With that said, they're chasing the tie, and they've got a 1.75-goal implied total so there are reasons to like them. Plus, Thiago should be called into defensive duty a bit more, and he already averages 4.6 interceptions and 2.8 tackles per match in Bundesliga play. Arturo Vidal ($9,000) and Arjen Robben ($8,500) probably have more upside due to their goal-scoring prowess, but Thiago's floor is as safe as they come.
Value Plays
Shinji Kagawa ($6,500): It's not a given that Kagawa will be in Dortmund's starting XI, but he's a nice value option if he's in the lineup. Kagawa played in an attacking midfield role in the first leg, and he sparkled in Dortmund's 3-2 loss, totaling 39.5 FanDuel points via a goal, assist and three chances created. Dortmund are playing catchup after the first leg, and they have a 1.75-goal implied total. The two teams combined for five goals in the first leg, and this should again be a match to target.
Ivan Rakitic ($7,100): With Barca boasting a 2-goal implied total, it's worth checking out their midfield options. Unfortunately, none of them are in particularly good form. Rakitic is probably the best option of the bunch. While the front three of Messi, Neymar and Luis Suarez have bagged a combined 62 of Barca's 91 La Liga goals this season, Rakitic checks in fourth on the team with 6 goals. He averages 48.3 passes per match in domestic league play, and with Barca forced to play ultra aggressively in this one, he's got better-than-usual odds of linking up with one of Barca's world-class goal-scoring options for an assist.
Defenders
High-Priced Options
Giorgio Chiellini ($6,400): In the first leg, Chiellini scored just his third goal -- a header off a corner -- in 25 total appearances across all competitions this season.
Giorgio Chiellini heads home to give Juventus a 3⃣-0⃣ advantage#JUVBAR pic.twitter.com/aJkJF9gAxl
— FlashScore.com.my (@FlashScoreMY) April 12, 2017

It's unlikely he scores again in the second leg, although Juventus have a signifcant height advantage on set pieces, but Juve's back line should be tasked with an enormous defensive workload with Barca playing at home in full-out attack mode. Even though Juve controlled a lot of the first leg, Chiellini still racked up eight clearances and three tackles, and he should be even busier as Vecchia Signora try to keep Barcelona from mounting another historic Champions League comeback.
Jordi Alba ($6,100): Alba has been in and out of the lineup for the better part of the last two months as Luis Enrique has tinkered with different formations. After fellow defender Jeremy Mathieu's poor showing in the first leg, it's hard to imagine Alba sitting the bench again. Plus, he can give Barca a much-needed boost in attack with his blazing runs down the left side. With Barcelona's midfield a bit out of sorts and the Blaugrana needing to score in bunches, Alba's play-making ability out wide may be called upon more than normal. He should make a good amount of passes, per usual, and he gives attacking upside that's rare with defenders.
Value Plays
Yohan Benalouane ($5,400): He's $800 more expensive than he was last week, when he was a screaming value as he filled in for an injured Wes Morgan, but Benalouane is still a bit underpriced. Morgan may be back, but Robert Huth, Leicester's other center back, is suspended, so Benalouane is going to start at center back again. He showed well in the first leg, amassing five clearances, two blocks and two tackles on his way to 18.75 FanDuel points. Leicester won't park the bus again in the second leg, but their back line is still going to be very busy against Atletico Madrid. If Morgan can't make it back in time for Tuesday's second leg, whomever Leicester start alongside Benalouane will be a great value play, as well.
Matthias Ginter ($5,700): Ginter is a little bit of a cheat code, because Dortmund deploys him as a midfielder, at times, despite FanDuel listing him as a defender. Ginter played on the right side in the first leg as Thomas Tuchel used a 3-4-1-2 setup, but even if Dortmund switch up their formation for the trip to Monaco and put Ginter on the back line, he would still be in a pretty good spot.
With Monaco being an offensive juggernaut, Ginter's services will be needed defensively, and since Dortmund are chasing the tie, he should be able to get forward, as well. It should be pretty similar to the first leg, in truth, since Dortmund played pretty wide open after falling behind 2-0 in the first half, and Ginter posted 23.5 FanDuel points in that one on the strength of 63 passes, 5 clearances and 2 chances created.
Goalies to Target
Jan Oblak ($6,700): It's not a great slate for keepers, at least on paper. Only one match has an over/under of less than three, and that's Oblak's Atleti traveling to Leicester. Oblak didn't have to make a save in the first leg, totaling 10.75 FanDuel points. Even with Leicester likely playing more open in this one, Oblak still isn't likely to see a ton of volume, although he should break a sweat this time. Leicester's 1-goal implied total is the lowest of the slate, so he's the best bet for a clean sheet.
Manuel Neuer ($7,600): Neuer dazzled in the first leg despite giving up two goals. He made a remarkable 10 saves (3 FanDuel points per save) and amassed 30.25 FanDuel points as Real Madrid put him under barrage after Bayern's Javi Martinez was sent off. Neuer turned aside a point-blank Gareth Bale header, and he displayed alien-like strength on a ridiculous save of a Cristiano Ronaldo close-range rocket.

Neuer probably won't make 10 saves in the second leg, but with Bayern heading to Real Madrid, it's safe to assume he'll be busy. Real averages 18.3 shots per game at the Bernabeu, and Bayern will need their sweeper keeper to be in fine form if they are going to turn the tie around.