What Happened to Leicester City and Can They Actually Get Relegated?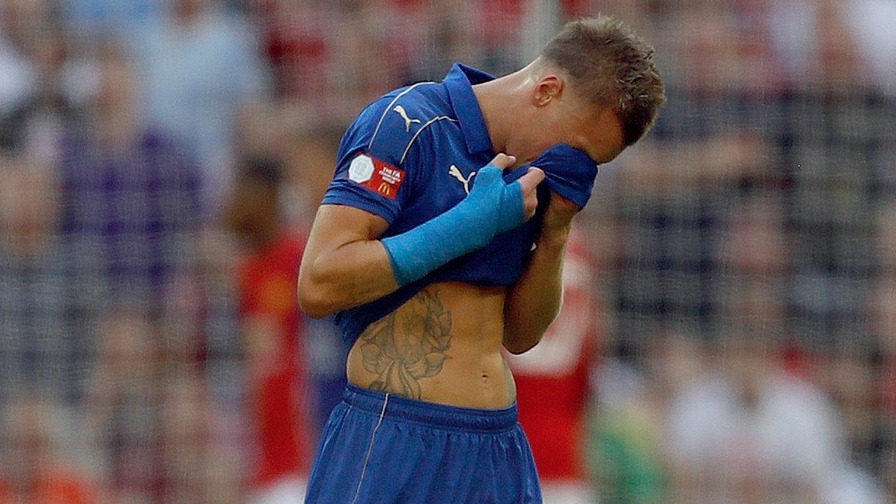 Leicester City had a magical run to the English Premier League title last season, but this season has been almost the polar opposite for Claudio Ranieri's side.
The Foxes suffered their fifth consecutive loss in league play on Sunday, and they have gone a remarkable six league games without even scoring a goal.
The league champions have now found themselves in the midst of a serious relegation battle, and they are currently only a single point out of the dreaded relegation zone.
Let's take a look at some of the reasons for the struggles and what has changed for Leicester City this season.
The Loss of N'Golo Kante
N'Golo Kante was critical to Leicester City's success last season, as he was one of the best players in the entire league.
Kante finished last season with a 7.61 WhoScored.com rating, which was the sixth-highest rating in the league. Kante led the league in both tackles per game (4.7) and interceptions per game (4.2) last season, and Leicester City have been unable to replace him.
Kante has continued to thrive at Chelsea, and unsurprisingly, he currently leads his new team in both tackles and interceptions this season. There is no doubt that Kante does wonders for a team defensively, as Leicester City allowed only 36 goals all of last season (tied for third-best in the league), while his current Chelsea team have only allowed 18 goals in 25 games so far this year (tied for best in the league).
This is no coincidence: Kante is an elite defensive player, and he was a monumental loss for Leicester City.
The Decline of Wes Morgan and Robert Huth
Leicester City got very good play from their center backs Morgan and Huth last season, but this season, they both seem to have declined heavily.
This decline is likely connected to the departure of Kante (he makes life much easier for his center backs with his ball-winning skills), but it could also be contributed to the fact that Huth and Morgan are now 32 and 33 years old, respectively, and they could simply be on the downslope of their careers.
Stat
Morgan
2015/16
Morgan
2016/17
Huth
2015/16
Huth
2016/17
Matches
38
25
35
23
WhoScored Rating
7.07
6.65
7.15
6.67
Tackles Per Match
1.3
1.0
1.2
1.0
Interceptions Per Match
2.5
2.0
2.2
1.4
Clearances Per Match
5.7
5.4
7.4
6.2

Both Morgan and Huth have seen in a decline in their tackles, interceptions, and clearances per match this season, so it is probably fair to say that their skills are diminishing somewhat.
The decline of these two defenders, plus the departure of Kante, has resulted in Leicester City conceding 1.72 goals per match this season, compared to only 0.95 last season.
The Foxes are giving up 0.78 more goals per match this season than last, which is obviously going to lead to a major decline in the success of the team.
Riyad Mahrez and Jamie Vardy Have Gone Missing
Riyad Mahrez and Jamie Vardy were both elite players in the EPL last season, and they were both rewarded for their brilliance by being named to the PFA Team of the Year for the 2015-16 season. Jamie Vardy even won the Premier League player of the season award, and Riyad Mahrez was the highest-ranked player in the EPL according to WhoScored.com.
This year, however, both players have experienced a serious step back in production.
Mahrez has been limited to 3 league goals and 2 assists this season compared to 17 goal and 11 assists last year, while Jamie Vardy has a measly 5 league goals this season compared to 24 last season.
It would have been asking a lot for Vardy and Mahrez to repeat what they accomplished last season, but they have declined more this season than anyone could have expected.
Out of 284 qualified players on WhoScored.com, Jamie Vardy currently ranks as the 248th-best player while Riyad Mahrez ranks as the 177th-best player.
Mahrez is having a below average season, while Jamie Vardy is having a dreadful season, and one or both of them needs to turn it around if the Foxes want to avoid relegation.
So, Will Leicester City Get Relegated?
Let's start with the fixture table.
| Placement | Team | Wins | Draws | Losses | GD | PTS |
| --- | --- | --- | --- | --- | --- | --- |
| 15th | Swansea | 7 | 3 | 15 | -23 | 24 |
| 16th | Middlesbrough | 4 | 10 | 11 | -8 | 22 |
| 17th | Leicester City | 5 | 6 | 14 | -19 | 21 |
| 18th | Hull City | 5 | 5 | 15 | -27 | 20 |
| 19th | Crystal Palace | 5 | 4 | 16 | -14 | 19 |
| 20th | Sunderland | 5 | 4 | 16 | -22 | 19 |

The Foxes have been nothing short of dreadful this season, and they are on an impressive run of futility having not scored a goal in their last six league matches.
However, despite narrowly ranking as the worst EPL team by WhoScored.com's ratings, I still believe that Leicester City are much more talented than other relegation contenders like Hull City, Crystal Palace, Sunderland, and Middlesbrough, and I expect them to avoid the drop.
The Foxes' run without a goal has to come to an end sooner or later, and if they can just get one good result in the league, their league-winning confidence might return.