Premier League: 4 Matches to Watch During the Upcoming Festive Period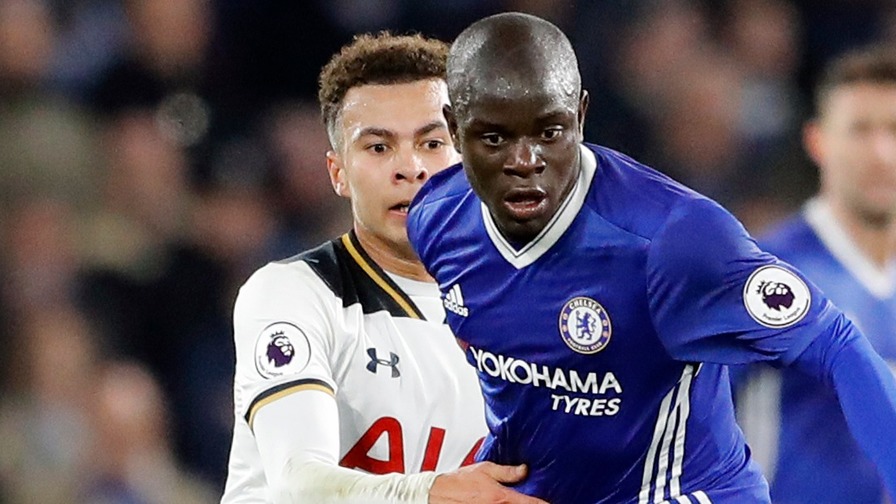 You'd better watch out, friends.
The English Premier League Festive Period is nearly upon us.
While every other club football association in Europe elects to take time off at the end of each calendar year, the EPL has always opted to go the other way, stuffing a ridiculous 30 league matches over a 10-day period from Boxing Day to shortly after the new year begins.
You won't find this many fixtures crammed into a shorter period of time outside of a major international competition, even one authored by Gianni Infantino.
And while it's true that this annual bacchanalia isn't exactly beloved by EPL players and managers, none can doubt its importance, as this run of matches account for nearly 13% of the season.
With all that said, we know it's unlikely -- better yet, impossible -- that you'll be able to take in all 2,700 minutes (plus stoppage time) of action over the next week and a half, so here are four matches you should make sure to check twice over the holiday season.
Leicester vs. Everton
December 26th

Strangely, Boxing Day offers little in terms of marquee matchups this year, but this clash at the King Power between two sides fighting mediocrity could provide a little post-Christmas excitement.
Yes, 15th-place Leicester's title-defense-turned-relegation-battle is a real thing, while Everton -- with six wins, five losses, six draws and exactly 21 goals scored and 21 allowed -- have been the epitome of average. But from an entertainment standpoint, these two produced magic in both of their league meetings a season ago.
Nine goals were scored in all, with both matches resulting in wins for the eventual champions, including a wild 3-2 tilt at Goodison in mid-December and a 3-1 Foxes victory lap at the KP in the penultimate game of the season. More of the same would be appreciated this time around.


Claudio Ranieri's side isn't as free-scoring as they were a season ago -- as we near the halfway point, the holders have struck 23 times, a third of their total goal output from last year -- but they still possess a threat going forward when in the mood, as demonstrated by their 4-2 win over Man City on December 10.
It's another brick in the anomaly that is Leicester Football Club, who lest we forget was atop the league last year at Christmas, exactly 365 days after being bottom in 2014. A home win over the Toffees followed by winnable games against West Ham on New Year's Eve and two days later at Middlesbrough could prove a jumping-off point for the second half of the season.
The same could be said for Ronald Koeman's side, who are coming off a heart-stopping win over Arsenal and a bile-inducing last-gasp loss in the Merseyside Derby. They'll expect -- and require -- a fair return for their holiday efforts as they travel to bottom-dwellers Hull on December 30th before hosting mid-table Southampton on January 2nd.
Southampton vs. Tottenham Hotspur
December 28th

In Spurs' uphill battle to regain relevance in the title race, this clash at seventh-place Southampton becomes crucial.
After seeing a 12-game unbeaten run to start the season upended by losses at Chelsea and Man United, Mauricio Pochettino's charges have rebounded with wins over Hull and Burnley in recent weeks to stay 10 points off the pace. That's not exactly touching distance, but to still sit in 5th despite losing Harry Kane to injury for five matches -- and to be only a point back of Arsenal -- is something to take solace in.
Spurs lead the league in shots and shots on target, but it's been their defense that's been the biggest reason for their success as only league-leaders Chelsea have allowed fewer goals and posted more clean sheets this year.
Third on that list of the EPL's stingiest defenses are the Saints, who enter this tilt against their former manager with just one defeat in their last six. Claude Puel's side have proven once again that they can play with anyone in the league. That is evidenced by draws at Man City and at home to Liverpool, plus they've lost just once at St. Mary's this year -- a 2-0 defeat to Chelsea in late October.
Despite being six points back of sixth-place Man United, Soton are very much in the Europa League conversation, though games against their current chief rivals for European football -- home against West Brom and away to Everton on either side of New Year's Day -- will figure prominent in their quest.
Liverpool vs. Man City
December 31st

Let's be honest. If you had to pick one match to watch this holiday season, it's tough to argue against Jurgen versus Pep at Anfield on New Year's Eve.
Not to discount Arsenal, but the Reds and Citizens seem the most-likely alternative to grasp the title if it doesn't end up in West London. Current runners-up LFC sit six points back of leaders Chelsea, with third-place City just a point behind their Merseyside rivals.
As has become the norm, Liverpool and City are two of the top-three scoring teams in the EPL again this year -- a combined 77 tallies between them -- and as neither would be considered airtight in defense, expect the goals to flow like eggnog. (Granted, LFC have kept two consecutive clean sheets since reinserting Simon Mignolet in goal, while City have conceded just once in their last two matches, but the two shipped a combined 13 goals over the previous two matchdays. Yikes.)
Add in the potential returns of Sergio Aguero from a four-match ban and Philippe Coutinho off a month-long ankle injury, and you've got ample reason to clear your schedule.
Only increasing the intrigue of this match is what comes directly after it as both sides face the tightest turnaround of the Festive Period.
At 10 a.m. EST on January 2nd, Liverpool travel to Sunderland while City host Burnley, with each match scheduled to kick off roughly 42 hours after the final whistle at Anfield on New Year's Eve.
While Klopp and Guardiola each have to negotiate the tight turnaround, at least Pep will have an extra day to prepare for the match at Anfield. City's first test of the Christmas season comes away to Hull on Boxing Day while Liverpool host Stoke the following afternoon. Welcome to English football, lads.
Spurs vs. Chelsea
January 4th
Talk about closing the Festive Period on a high note.
In the final match of the holiday season, the current league leaders and the would-be-kings from a season ago meet in North London in a rematch of November 26th's 2-1 Chelsea win that knocked Tottenham from the ranks of the unbeaten.
Entering the holiday, Antonio Conte's side hasn't lost or tied in the league since September 24th -- a stunning run of 11 straight matches -- en route to their comfortable perch atop the EPL. By the time 2017 rolls around, that streak could be up to 13 victories on the trot as Bournemouth (December 26th) and Stoke (December 31th) each will come to Stamford Bridge as heavy underdogs.
Aiding Chelsea's drive for a second Premier League title in three seasons is the flexibility the fixture computer (and television programming) has afforded them as no other side in the Prem will have more days between matches during the festive season.
As for Spurs, even though the most recent duels with Chelsea have been downright upsetting -- last May's 2-2 draw at the Bridge that ended THFC's title hopes won't soon be forgotten -- the last time the two met over the holidays had the opposite effect as Tottenham smashed the Blues 5-3 at White Hart Lane on New Year's Day in 2015.
After that defeat, Jose Mourinho's side would proceed to lose just once the rest of the season and capture another league title while Spurs would continue to be up and down on their way to a fifth-place finish.
It's just another reminder that no matter how good or bad results might be over the Festive Period, they don't define a season -- even if they do tend to leave a lasting memory.
Enjoy the holiday fixtures, gang.