NHL Betting Guide: Thursday 5/19/22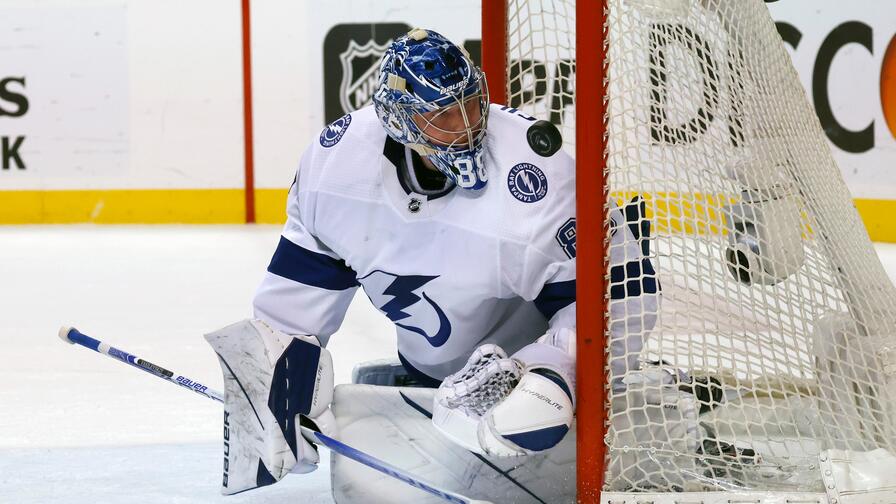 NHL fans have two more Conference Semifinal matchups to look forward to tonight. The Florida Panthers resume their series against the Tampa Bay Lightning, and the Colorado Avalanche go for a 2-0 series lead versus the St. Louis Blues. We've got you covered for all the action with our NHL Betting Guide.
These are the plays we're looking at from our daily projections!
Lightning +1.5 (-184): 1-Star Rating Out of 5
The Bolts weathered the Panthers' attack on Tuesday night en route to a 4-1 win and 1-0 series lead. Tampa's metrics support that another solid outing should be expected when the puck drops on Game 2.
Florida was limited to just 8 high-danger and 22 scoring chances in the series-opening loss, making it five of seven contests this postseason in which they've been limited to eight or fewer quality opportunities. We're anticipating ongoing decreased production against a Lightning team that has been effective at preventing scoring this postseason.
The two-time defending champs wrapped up their first-round series against the Toronto Maple Leafs by allowing nine or fewer high-danger opportunities in four of seven games. That correlates with fewer five-on-five goals against, with Andrei Vasilevskiy allowing more than one goal against just once over the past five outings. If Tampa doesn't win, they've proven that they have the structure to at least keep things close against their in-state rivals.
The Lightning have won or covered the puck line in five straight games. Based on our projections, that streak should extend through Game 2 against the Panthers. Backing the Bolts on the puckline is rated as a one-star play.
Under 7 (-138): 4-Star Rating Out of 5
The Avs' relentless attack was thwarted by Jordan Binnington in Game 1. Colorado needed a seeing-eye shot from the blue line to secure victory in overtime against the Blues. Although that staked them to an early series lead, it perpetuated a concerning trend on home ice. The Avs are having a hard time scoring in their friendly confines.
Colorado has been limited to just five goals over their past two home games, recording a 5.6% shooting percentage. That makes it five of their past ten home games that they've been held to three or fewer goals.
Those scoring woes could be perpetuated by sustained play from Binnington, but also improved structure from the Blues. St. Louis has limited their opponents to six or fewer high-danger chances in three of six games, and 25 or fewer scoring opportunities in four of six.
Increased emphasis on defense has come at the expense of offense, with the Blues attempting no more than six quality chances in all but one of their seven playoff games.
St. Louis doesn't possess the offense to elevate the scoring in this one but has played with a solid defensive structure to limit its opposition.
We're expecting that low-scoring trend to continue in Game 2, rating the under as a four-star play, per our projections.