3 NHL FanDuel Studs to Target on Monday 10/18/21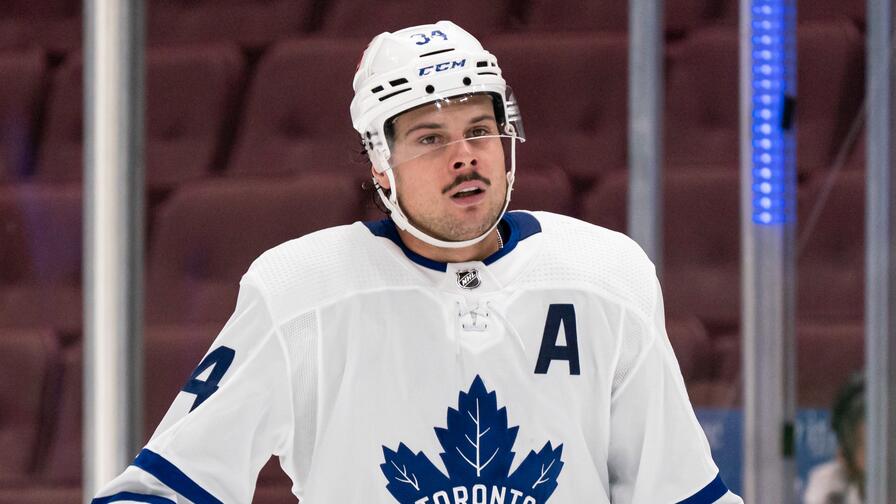 In any daily fantasy lineup, spending up in any daily fantasy lineup is how to get the superstars and the highest upside players in your lineup.
In NHL DFS, it's different from paying up in sports like NBA or NFL. Someone can be one of the highest salaried players at his position and put up a total dud of a performance, and paying that much for him would be a huge mistake. Let's make sure we are paying up in the right spots when building our lineups tonight.
Monday night beckons with four games on the NHL slate. Let's take a look at a few studs to build around.
Auston Matthews, Center, Toronto Maple Leafs
FanDuel Salary: $8,600

Auston Matthews makes his season debut on Monday night against the Rangers. Talk about timing. New York has several injuries, and Toronto enters averaging just 2.33 goals per game. They need the help that Matthews can provide.
The matchup is a juicy one. Matthews can score goals at a breakneck speed; he scored 18 goals in 19 games to start off last season (he finished with 41 in 52 contests). Matthews accounted for 35.3% of Toronto's offense during the 2021 season. 3.27 seems low for an implied goal total, but Toronto could score four or maybe more on this night.
It helps that Mika Zibanejad and his linemates are a quality option for a full game stack, and William Nylander could be a great way to stack with Matthews on the Leafs' side.
Matthew Tkachuk, Wing, Calgary Flames
FanDuel Salary: $6,700
This could be the year Matthew Tkachuk finally becomes the number one offensive threat for the Calgary Flames and never looks back. Again, Tkachuk plays a hard, rugged style, but he is also trying to find the back of the net. He fired 9 shots on goal against the Edmonton Oilers in his season debut while attempting 13 shots.
Calgary draws the lowly Anaheim Ducks on Monday. Yes, the Ducks are lightweight when it comes to offense, but they also are prone to defensive mistakes.
The Ducks may have to play a career minor-leaguer, Anthony Stolarz, in net depending on the status of John Gibson. Stolarz's most games in an NHL season came in 2017-18 for Ducks, where he played 12 games with a 3.33 GAA. That is not inspiring a ton of confidence.
Tkachuk correlates with Elias Lindholm on Calgary's first forward line and first power-play unit for tournaments.
Ryan Ellis, Defenseman, Philadelphia Flyers
FanDuel Salary: $5,400

Ryan Ellis had a solid debut against the Vancouver Canucks on Friday night for the Flyers. He had two assists, three shots on goal, and three blocked shots. This went along with three scoring chances, as his heavy shot created prime rebounds on several occasions.
The blueliner may not be as heavily rostered because he does not see first power-play unit duties and his role being in a timeshare with Ivan Provorov. However, Philadelphia is in a good spot against the Seattle Kraken tonight; the Kraken have ceded multiple goals in each of their first three games despite being a team that was projected to be strong defensively.
Ellis is a sneaky target and the best way to gain access to the Flyers' blue line, as Keith Yandle only saw 14:47 in ice time in the debut despite being tasked with top power-play duties.