3 Daily Fantasy Hockey Stacks for 8/17/20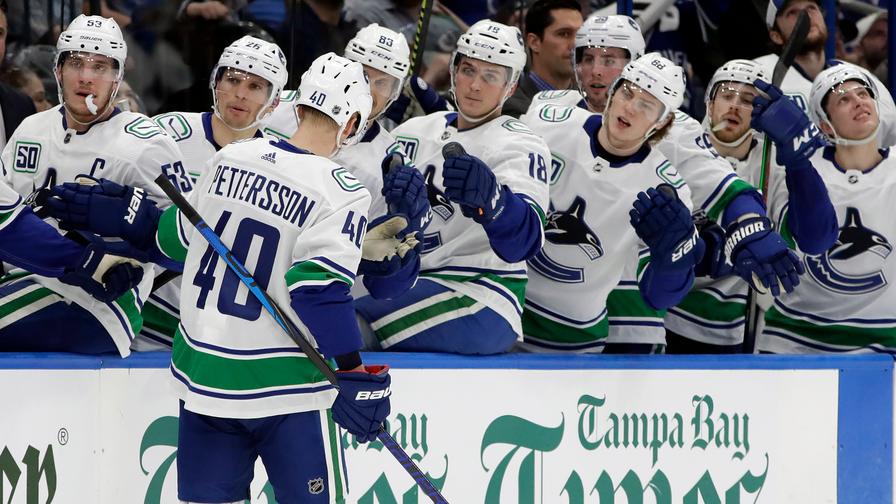 When playing NHL DFS -- much like MLB DFS -- stacking is key. Having multiple players from the same team, who correlate together, can give your lineup upside and help you maximize potential points.
You can roster up to four players from the same team in NHL, and you should look to have players from the same forward line or power-play unit together. Shared ice time is the key, as it will maximize their ability to contribute to real-life goals with each other, ultimately leading to more fantasy points for us.
Two of the best resources for that are LeftWingLock.com or DailyFaceOff.com. That is where you can find updated forward and power-play lines for each team.
Let's jump in and look at some stacks to target for goals and plenty of fantasy points.
Vancouver Canucks
Despite losing last night, the Vancouver Canucks are still looking like a team worth stacking today.
The Canucks hold a 2-1 series lead over the St. Louis Blues and will look to extend their lead with a win tonight. They will continue to offer one of the best overall stacks on the entire slate, and it's for a few reasons. First off, Elias Pettersson ($6,900), Brock Boeser ($6,000), and J.T. Miller ($6,400) have full ice-time correlation on the first forward line and the first power-play unit. Finding players who share ice time is always a key for fantasy upside, and this line brings it in a big way. On top of that, this stack is actually affordable compared to other teams' top offensive units.
There are no players over $8,000, which is something we see for the Boston Bruins, Colorado Avalanche, and Tampa Bay Lightning. From a point-per-dollar perspective, the Canucks have one of the most productive lines on this four-game slate since they have 13 total points and 19 shots in their three games versus the Blues. This shouldn't come as a surprise, since the Canucks have generated double-digit High Danger Scoring Chances in two of the three games so far. The offense is cookin' right now, and much of that production comes from the top line.
Boston Bruins
The Bruins have been without top-scorer David Pastrnak, but they still have options to stack.
Looking to the Bruins' top line with Patrice Bergeron ($7,300) and Brad Marchand ($8,000) is always a fantastic option, but the second-forward line is just as interesting today. The three players on that line are Jake DeBrusk ($4,400), David Krejci ($5,300), and Ondrej Kase ($3,500). As you can see, this three-man stack is actually cheaper than the two players for the top line. This will help with roster construction overall and allow you to pay for another top stack.
On top of this, we get plenty of upside from the second line, since DeBrusk and Krejci are both on the top power-play unit with Bergeron and Marchand. Getting exposure to the top power-play unit on the cheap is awesome, and the second line is how you can accomplish that.
Now, with this all said, if Pastrnak is back in the lineup for the Bruins, he will be on the first power-play unit and will take the spot of Krejci -- thus impacting the value of this stack. We'll have to get an update on Pastrnak's status closer to their game, which starts at 8 pm.
Colorado Avalanche
The Avalanche have reunited their top line, and that gives us one of the most expensive stacks to target.
I say 'reunited' in a very loose manner, since the three players were still on the first power-play together, but were split on the top two forward lines. That is no longer the case, as Nathan MacKinnon ($8,800), Mikko Rantanen ($7,700), and Gabriel Landeskog ($6,600) are back on the first forward line together, giving us full ice-time correlation.
Paying up for this stack eats a ton of your salary, but with the offensive pressure the Avalanche have been putting on the Arizona Coyotes, they are worth paying for. Through the first three games of this series, the Avalanche hold a positive Corsi Differential (Shot Attempt Differential) in every game, including an insane +43 differential in 5 v 5 situations in their most recent game. They are holding true to their namesake and creating an Avalanche of shots attempts against the Coyotes, giving us plenty of fantasy points to chase.