4 Daily Fantasy Hockey Stacks for 1/27/20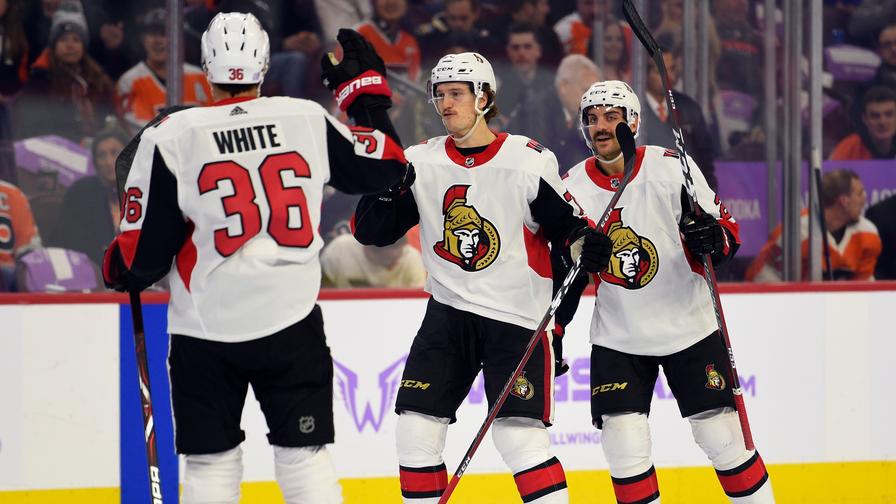 When playing NHL DFS -- much like MLB DFS -- stacking is key. Having multiple players from the same team, who correlate together, can give your lineup upside and help you maximize potential points.
You can roster up to four players from the same team in NHL, and you should look to have players from the same forward line or power-play unit together. Shared ice time is the key, as it will maximize their ability to contribute to real-life goals with each other, ultimately leading to more fantasy points for us.
Generally, we don't see late scratches in the NHL, and the team's lines are confirmed at practice or before the game. Two of the best resources for that are LeftWingLock.com or DailyFaceOff.com. That is where you can find updated forward and power-play lines for each team.
Ottawa Senators

The NHL is back after its All-Star weekend, and we have six games on tonight's slate.
Surprisingly, the Ottawa Senators come into tonight's slate with the highest implied team total (3.36), as they are at home to take on the New Jersey Devils. Yes, the Senators with the fourth-fewest points in the league have the highest implied goal tonight -- a slate which features both the Washington Capitals and the Toronto Maple Leafs. But the Capitals are without Alex Ovechkin due to a suspension, and the Maple Leafs are on the road in Nashville. The Senators are a viable stack for a few reasons, so let's take a look.
First off, the salaries on the Senators' players are very favorable, with their most expensive skater being defender Thomas Chabot at only $5,700. He is on the first power-play with Brady Tkachuk ($5,400) and Anthony Duclair ($4,200), who are wingers on the first forward line. You can add Artem Anisimov ($3,800) -- the center on the first forward line -- to that stack, but he isn't on either power-play.
The Devils are sitting as the fifth-worst team in the league when it comes to Corsi Against (shot attempts allowed) and have the seventh-worst expected goals allowed per 60 minutes. The Senators are by no means a good team, but the Devils are terrible on defense and worth attacking every night.
Nashville Predators
With a 3.32 implied goal total, the Nashville Predators are looking like a popular stack tonight and should be viable in all formats.
I've said this before about the Predators, but I'll say it again. I don't like stacking them, but they are a team worth considering. The reason I don't like stacking them is simply that they have very little correlation between their forward lines and their power-play units. There are players from all four forward lines on the two power-play units, which creates some confusion. Do you stack the first power-play with players from the first, second, and third forward lines? Or do you stack the second power-play with players on the second and fourth forward lines?
It's a mess, but they are truly in a good spot tonight against the Maple Leafs, who are about league average or worse when it comes to Corsi Against, expected goals against, and the number of High-Danger-Scoring-Chances allowed per 60 minutes. They are still without their best defender, Morgan Rielly, and that is showing in recent games, having allowed three goals or more in five of their last six games.
Matt Duchene ($6,200), Ryan Johansen ($5,200), and Calle Jarnkrok ($3.600) give you exposure to the first power-play unit and aren't too expensive tonight.
Montreal Canadiens
The Montreal Canadiens are sitting as slight home underdogs (+105) but should be stacked tonight.
The Habs are at home to open the second half of the season, and they are ready to take on the Capitals, sans Alex Ovechkin. Speaking of the Capitals, they will have Braden Holtby in net tonight, who comes in as the 44th-ranked goalie this season. He has struggled all season, and you can look to attack him with the Canadiens' first forward line, who were on fire prior to the All-Star break.
The three players on the first forward line are Tomas Tatar ($6,600), Phillip Danault ($5,700), and Ilya Kovalchuk ($4,400), who had 15 points and 43 shots over their last five games. Danault and Tatar are on the first power-play, while Kovalchuk is on the second power-play. They've been off for a few days, but between their production, matchup, prices, and upside, they make one of the best stacks of the night.
San Jose Sharks
The San Jose Sharks are in the midst of a nightmare season but can start the second half of the season on a good note tonight.
They come in with an implied goal total sitting at 2.95 versus the Anaheim Ducks, which seems too low. I know they are without their top-line center, Logan Couture, but their first power-play still has plenty of potential. It also helps that the Ducks are one of the worst defensive teams in the league and can be stacked against any time they are on the slate. Anaheim is sitting in the bottom 10 for Corsi Against, expected goals against, and the number of High-Danger-Scoring-Chances allowed per 60 minutes. They allow plenty of shot attempts and plenty of attempts close to the net.
This is the ideal mix for a stack, so look towards Evander Kane ($7,200), Tomas Hertl ($6,300), Kevin Labanc ($4,500), and Erik Karlsson ($6,800), who are all on the first power-play unit. This game has an over/under sitting at only 5.5 tonight, and with other games up at 6.0 or 6.5, there shouldn't be too much ownership on this game.