3 Daily Fantasy Hockey Stacks for 11/4/19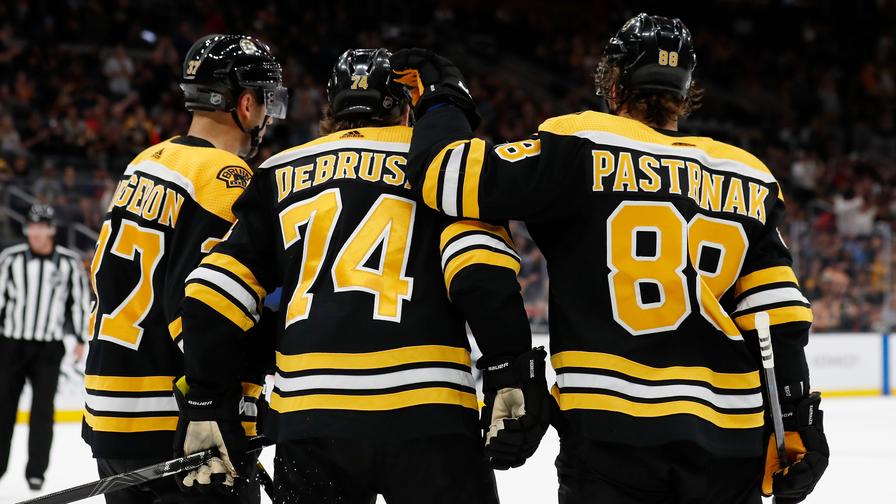 When playing NHL DFS -- much like MLB DFS -- stacking is key. Having multiple players from the same team, who correlate together, can give your lineup upside and help you maximize potential points.
You can roster up to four players from the same team in NHL, and you should look to have players from the same forward line or power-play unit together. Shared ice time is the key, as it will maximize their ability to contribute to real-life goals with each other, ultimately leading to more fantasy points for us.
Generally, we don't see late scratches in the NHL, and the team's lines are confirmed at practice or before the game. Two of the best resources for that are LeftWingLock.com or DailyFaceOff.com. That is where you can find updated forward and power-play lines for each team.
Boston Bruins
Another slate with the Boston Bruins at home means you need to be targeting them for your stacks tonight.
The Bruins' top line is simply amazing this season -- as it has been for a few years -- and they are a borderline must play when they are at home. They come in with an implied team total sitting at 3.30 tonight and facing off against the Pittsburgh Penguins, who can't seem to stay healthy. It's getting to the point with the Bruins' top line that you are putting yourself at a disadvantage if you don't play them, so it's better to have them than not.
The line is made up of David Pastrnak ($9,200), who has 27 real NHL points through 13 games -- which is simply insane -- Patrice Bergeron ($7,600), who is the cheapest of this stack but still nearly $8K, and finally, Brad Marchand ($8,700), who is also averaging over one point per game this season. This is the most expensive three-man stack on the entire slate, and you should be looking to get all of them -- or at least a piece -- in as many spots as possible.
New York Rangers
We have an over/under sitting at 6.5 tonight, but it could go even higher.
The New York Rangers are hosting the Ottawa Senators, which could be the fantasy game of the night. Both teams won't make the playoffs this season, both teams play no defense, and both teams give up an insane amount of shot attempts. In fact, they give up THE absolute most attempts, as they are last and second to last in Corsi Against. One way to put this game is 'All Gas and No Brakes'. No defense to be found on either side, and if the game ends 4-3 on either side, you shouldn't be surprised.
The Rangers come in with the higher implied team total sitting at 3.55 -- which is the highest on the slate -- so we will naturally look towards them. As of now, the Rangers' top-line center Mika Zibanejad is still out with an injury, but that opens up plenty of salary to spend on a full four-man power-play stack.
The clear best option is Artemi Panarin ($7,400), who is on the top line with Ryan Strome ($5.200), second-line forward Chris Kreider ($5,500), and defender Tony DeAngelo ($4,600). As you can see, this stack isn't expensive at all and makes a nice complimentary stack to pair with a more expensive one.
Ottawa Senators
The Ottawa Senators -- as mentioned above -- are a good stack tonight, too, and are very cheap.
The most expensive skater for the Senators is defender Thomas Chabot ($5,300), who is on the first power-play and generally a solid DFS option. If their most expensive skater is just over $5K, that would mean a full-stack is very cheap and can truly be used with any other stack.
It's a four-game slate, and we have to be considering roster construction since the high-end options tonight are super expensive. The matchup for them is great since the Rangers are near the bottom of the league in Corsi Against, xGoals Against (Expected Goals Against), and High-Danger-Scoring-Chances allowed per 60 minutes.
Brady Tkachuk ($4,900) and Anthony Duclair ($3,800) are on the first forward line together, along with the first power-play unit, giving them a nice bit of correlation. Chabot -- as mentioned above -- is also on the first power-play, along with Tyler Ennis ($3,200), making this one of the cheapest stacks on the slate.