2 Daily Fantasy Hockey Stacks for 10/31/19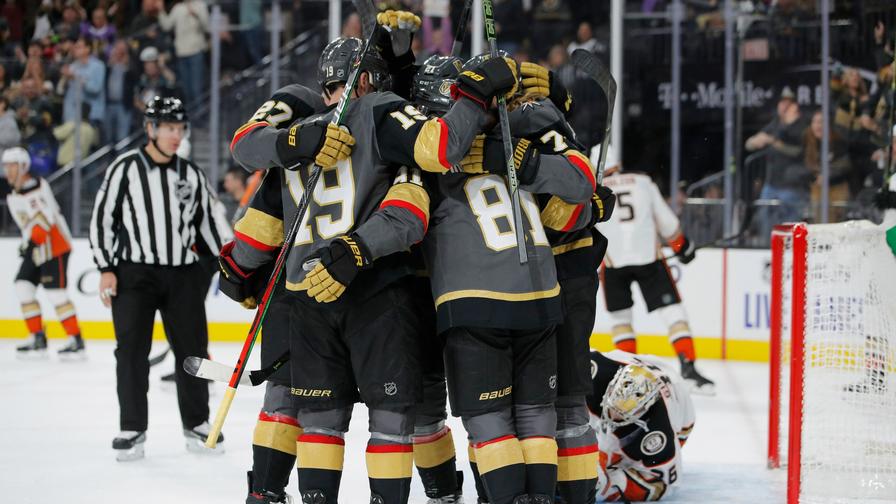 When playing NHL DFS -- much like MLB DFS -- stacking is key. Having multiple players from the same team, who correlate together, can give your lineup upside and help you maximize potential points.
You can roster up to four players from the same team in NHL, and you should look to have players from the same forward line or power-play unit together. Shared ice time is the key, as it will maximize their ability to contribute to real-life goals with each other, ultimately leading to more fantasy points for us.
Generally, we don't see late scratches in the NHL, and the team's lines are confirmed at practice or before the game. Two of the best resources for that are LeftWingLock.com or DailyFaceOff.com. That is where you can find updated forward and power-play lines for each team.
Vegas Golden Knights
On a small slate, you can decide to go with the top options -- the chalk -- or look to be a bit different. Today, we are going to hit on both types of stacks, so you can attack this slate whatever way you see fit.
The Vegas Golden Knights have the highest implied goal total on the slate of 3.46, the largest home favorite on the slate, and they are facing the Montreal Canadiens, who are on the second night of a back-to-back. It all sets up for Golden Knights to be the most popular team on the slate, and we'll want to stack them up.
The Golden Knights are the gold standard for NHL DFS, since their forward lines have 100% ice-time correlation with their power-play units. The three skaters on the first forward line are on the first power-play together, while the three on the second forward line are on the second power play together. Honestly, it's glorious. Not many teams have this, and when you can confidently roster a stack who will be together all the time, you are in a good spot.
For me, the second forward line is the spot to look at today. That line consists of Max Pacioretty ($6,9000), Paul Stastny ($5,200), and stud goal-scorer Mark Stone ($7,800). You can add defender Shea Theodore ($5,100) to that stack or even goalie Theoren Fleury ($8,900), which is a stacking idea not often used by DFS players.
Calgary Flames
The Calgary Flames are one of the teams to consider tonight if you are looking to be different, but they still have a decent matchup.
They are up against the Nashville Predators. The Preds are known as a better defensive team over the past few seasons, but things might be changing this season. Yes, this is all from a small sample size, but I want to jump on it early if things do in fact pan out the way I want them to. To start the season, the Predators were out to a +28 shot attempt differential -- which has since plummeted, went negative for a few games, and is now at just +3.27.
Again, a small sample size, but they are facing the Flames, who are top-10 in the league when it comes to Corsi For. Is the defense regressing? Do DFS players still think their defense is great? If the answer is yes to either, then you want to jump on the Flames tonight, and if you do so, it'll be at hopefully lower ownership.
Sean Monahan ($7,100), John Gaudreau ($7,200), Elias Lindholm ($6,600), and defender Mark Giordano ($6,100) are the players I want to be targeting tonight. Going with a very expensive stack on the road is certainly the path for more resistance, but it could be a profitable route tonight.