Antonio Gates Is Still a Fantasy Football Value in 2016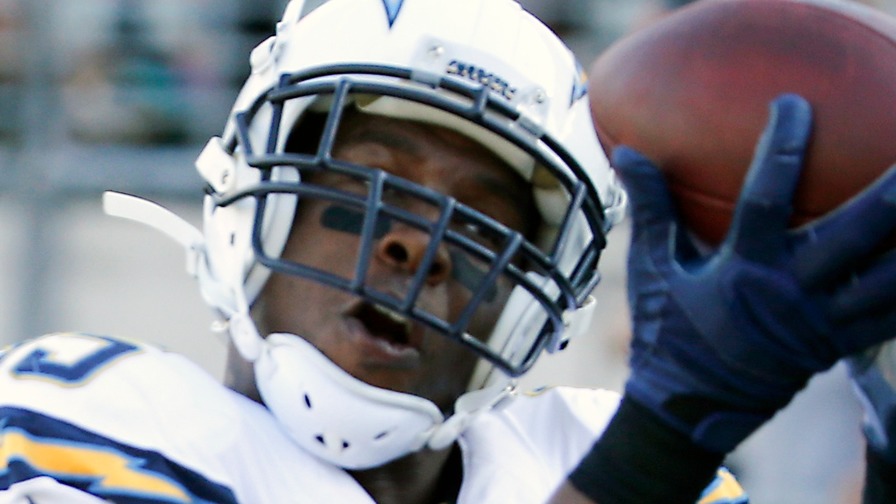 Coming off a suspension-plagued, injury-nagged 2015, tight end Antonio Gates signed a two-year, $12 million extension this offseason to remain with the only team he's known, the San Diego Chargers.
Gates, even though he's entering his 14th NFL season, got a deal not because the team wanted to reward a long-time veteran but because he can still produce at an NFL-caliber level, as he did in 2015.
That makes him a fantasy football value for yet another season.
Heading to Canton
Entering his age-36 season, Gates has shown supreme durability and reliability throughout his career. He's played in at least 15 games in 10 of his 13 seasons, never missing more than 6 in a single year.
Gates currently ranks 7th all-time in receiving touchdowns (104), 38th in receiving yards (10,644), and 27th in receptions (844) -- not bad for an undrafted free agent who never played football in college.
Year in and year out, Gates has proven to be Philip Rivers' most reliable and trusted target. Since Rivers took over the starting job in 2006, Gates has paced the Chargers in targets, receptions, yards, and receiving touchdowns. And it's not even close. For example, Gates' 650 receptions since 2006 are more than double that of second place Malcom Floyd's 318 within the same time span.
The history is indisputable; we're talking about a future Hall of Famer and arguably the greatest tight end to ever play the game. And he's still going.
Age Is Just a Number
When I started this article, the first thought I had was to see if there were any other tight ends who enjoyed highly productive seasons in their late 30s. Naturally, the first name that came to mind was Tony Gonzalez. Jackpot! In 2013, at age 37, Gonzo caught 83 balls for 859 yards and 8 touchdowns. His Reception Net Expected Points (NEP) that year was 87.89, good for second among the 30 tight ends with at least 50 targets.
If you're unfamiliar with our Net Expected Points (NEP) metric, click on over to our glossary and check it out. Don't worry. I'll wait.
So what's the correlation between Gonzalez and Gates? Statistically, not much. But this shows that a reliable, durable, Hall-of-Fame talent with the trust of his quarterback can continue to produce at the tight end position well into his late 30s. At a position where size and savviness trump speed and elusiveness, Gates' advancing age shouldn't be a concern for drafters this season.
Reaching for the Record Book
Last week, Philip Rivers stated that one of his goals in 2016 is to throw at least eight touchdowns to Gates, allowing him to pass the aforementioned Gonzalez as the all-time leader for touchdown receptions for a tight end. Let's take a look at the feasibility of that goal and how it may translate to fantasy success in 2016.
Gates has averaged exactly eight touchdowns per season since entering the league, and 7.9 touchdowns since 2006 when Rivers became the full-time starter. He's scored at least eight touchdowns in eight of his 13 seasons but only once since 2011.
With top receiver Keenan Allen averaging 5.33 touchdowns per season, and Travis Benjamin, Steve Johnson (knee injury not withstanding), and Danny Woodhead all averaging fewer than 4 receiving touchdowns per season, it's safe to expect Gates to be San Diego's top red zone target and again contend to lead the team in touchdown receptions.
Our current projections at numberFire peg Gates for nearly six touchdowns this year, sixth-most amongst our tight end projections. So while Rivers' goal may be a bit lofty, Gates has certainly shown the ability to catch eight or more touchdowns in a season.
As our own JJ Zachariason pointed out, the lowest a tight end has ranked (in PPR formats) with eight touchdowns over the last 10 years is TE11. Translation: Gates once again projects to have a safe fantasy floor in 2016.
A Rookie Hunter
Despite Gates' safe fantasy projection this season, we must do our due diligence and examine the depth chart behind him. Gone to Pittsburgh is perennial hype piece Ladarius Green. With the loss of Green in free agency, the Chargers drafted Gates' heir apparent, second-rounder Hunter Henry. Henry is widely regarded as the top rookie tight end this year. So can we expect Henry to push Gates for snaps in 2016?
Maybe, but there's a general belief that rookie tight ends struggle to contribute in the NFL, and in turn, fantasy football. Check out the chart below of the top 12 tight ends for 2015, in terms of Reception NEP.
| Name | 2015 Rec NEP | Rookie Rec NEP | Career Average Rec NEP |
| --- | --- | --- | --- |
| Rob Gronkowski | 105.13 | 56.71 (2010) | 89.97 |
| Gary Barnidge | 102.21 | 0.00 (2008) | 21.39 |
| Greg Olsen | 93.12 | 32.39 (2007) | 59.17 |
| Delanie Walker | 92.54 | 1.23 (2006) | 31.24 |
| Jordan Reed | 83.02 | 55.85 (2013) | 54.07 |
| Benjamin Watson | 78.84 | 1.51 (2004) | 35.46 |
| Tyler Eifert | 72.15 | 29.96 (2013) | 34.47 |
| Travis Kelce | 61.27 | 0.00 (2013)* | 44.51 |
| Zach Ertz | 58.55 | 36.73 (2013) | 53 |
| Antonio Gates | 57.45 | 30.72 (2003) | 80.5 |
| Jimmy Graham | 54.82 | 36.46 (2010) | 80.68 |
| Jacob Tamme | 53.25 | -1.16 (2008) | 24.22 |

Overall, it appears that the rookie tight end mantra is true. It's a position where the transition from college to the pros is generally too drastic for players to show results in their rookie year.
While the ceiling for Henry's career is somewhere in outer space, we aren't expecting much rookie year impact from the former Razorback.
11 of these tight ends underperformed in their rookie years when compared to their career averages. It's worth noting that Travis Kelce's rookie year was completely lost due to injury and he enjoyed a robust 72.26 Reception NEP in 2014, his first year on the field.
Conclusion
All told, it's looking safe to project another productive season for Gates. We project Gates to finish as the TE6 in PPR and standard fantasy leagues.
His projected line of 72.38 catches, 831.75 yards, and 5.99 touchdowns represents an incredibly safe floor, given his white-knuckle grip on the starting job, red zone presence, and unwavering trust of his quarterback.
Gates' average draft position, according to Fantasy Football Calculator is TE13, representing a significant bargain for the 14th-year pro. There may not be a better value at the tight end position in 2016.