Fantasy Football Mailbag: Monday 7/11/16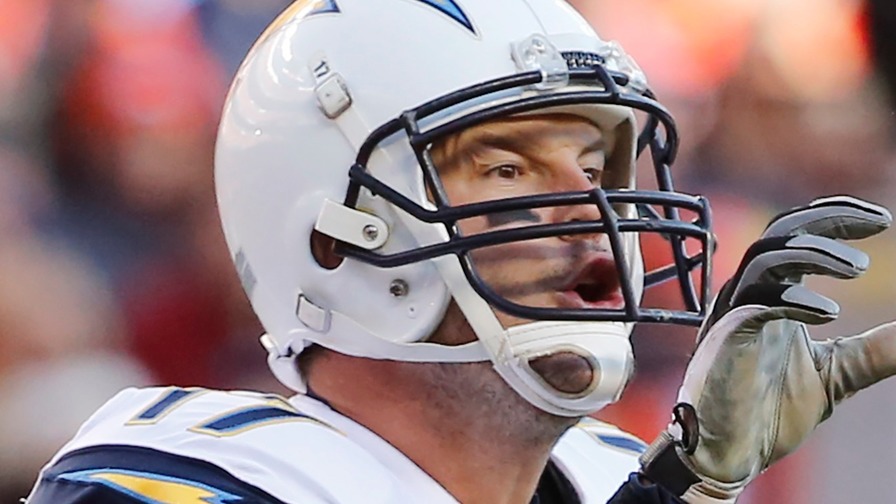 Fantasy football research never stops, and offseason news can really complicate things, especially when coaches talk up second- and third-string players. That's why we're starting up a fantasy football mailbag.
Have a question about a certain player, team, draft strategy, or anything football? Shoot us a question on Twitter or send an email to Brandon.Gdula@FanDuel.com, and we can talk anything fantasy football related -- even daily fantasy football.
Don't forget to check out our initial NFL projections and our fully customizable fantasy football draft kit to jumpstart your fantasy football season.
Now, let's answer some questions.
@numberFire My QB last 2 years was Rivers, drafted in the 10th and 6th. What round would you draft him this year?
— Tom Ragaert (@TomRagaert) July 11, 2016

To begin with, let's start with Philip Rivers' current draft cost to get an idea of how late he can be had in fantasy drafts.
According to FantasyFootballCalculator.com, Rivers is being drafted as the 11th quarterback off the board and is lasting until the late eighth round (pick 8.11 in 12-team leagues, on average). That sounds about right. Rivers has finished as the QB12 in the past two seasons, as the QB6 in 2013, and -- aside from being QB21 in 2012 -- as a top-10 fantasy passer between 2008 and 2011.
Based on 12-team leagues that reward four points for passing touchdowns (and negative two points for interceptions), we rank Rivers as the 11th-best fantasy football option at quarterback.
If we use FireFactor, which indicates how valuable a player is compared to a replacement-level option at the same position based on your league settings, Rivers is the 123rd-most valuable fantasy football asset entering the year, but you'll have to draft him around 100th overall to ensure you can use him as your fantasy signal caller.
Unfortunately, there's not much value to be had there given his average draft cost.
So, you would likely have to spend an eighth-round pick on Rivers, but we're projecting less than a fantasy point between Rivers' year-end total and that of Tony Romo's, who is being drafted at the beginning of the 10th round (10.01). Romo isn't the only option who presents a better value, either.
Andy Dalton (11.02) is projected to outscore Rivers by about half a point, and Tyrod Taylor (12.01) is being drafted as the 18th quarterback but finds himself 9th, one spot above even Dalton, according to our initial rankings. Yet another option in this range is Matt Ryan (11.05). We project him to finish as the 13th-best fantasy passer, roughly four points behind Rivers over the full season.
Rivers has been a reliable fantasy option for eight of the past 10 seasons, and he's got a new deep threat in Travis Benjamin and a healthy Keenan Allen to work with. But right now, you'd be better off targeting a cheaper fantasy passer rather than paying top-dollar for Rivers.
@numberFire Is there statistical evidence for Receivers correlating height and YPC? I.e., short dudes run short routes & tall dudes go deep?
— Steven Demmler (@SEDemmler) July 11, 2016

This one seems intuitive, but as we sometimes find when actually digging into the numbers, there might not be a ton of merit to this idea.
As for the actual relationship between hight and yards per catch, we'll have to grab a sample and figure out the correlation coefficient. The results will range from -1 to 1, with 1 being a perfect correlation. That would mean that as the height goes up, the yards per catch goes up. If it's a -1, the height goes up, but the yards per catch goes down. If it's a zero or close to it, there's little suggesting the variables are related.
I grabbed receivers with at lest 16 targets and 1 touchdown from the past three seasons -- 2013 through 2015 -- and ran the numbers.
We got this.

| Correlation Between | Height | Weight | BMI |
| --- | --- | --- | --- |
| Yards per Reception | 0.259 | 0.102 | -0.169 |
| Yards per Target | 0.134 | 0.103 | -0.011 |
| Touchdowns per Target | 0.173 | 0.161 | 0.037 |

The strongest relationship we see here with height is with yards per reception, but the 0.259 is weak at best. However, even by other measures of "size," that's the strongest relationship we see here.
Even if we reduce this to only players with at least 100 targets, things stay pretty much the same.
| Correlation Between | Height | Weight | BMI |
| --- | --- | --- | --- |
| Yards per Reception | 0.276 | 0.146 | -0.125 |
| Yards per Target | 0.073 | -0.007 | -0.123 |
| Touchdowns per Target | 0.173 | 0.198 | 0.121 |

There's really no clear-cut, definitive relationship between height and usage if we view it over a large sample of players.
Touchdown-scoring types do tend to skew taller and heavier, but there are still the Antonio Brown and Odell Beckham players who ruin that a bit, too.
Want to have your questions answered in our mailbag? Submit your questions by tweeting @numberFire or sending an email to Brandon.Gdula@FanDuel.com.