Demaryius Thomas Deserves More Fantasy Football Love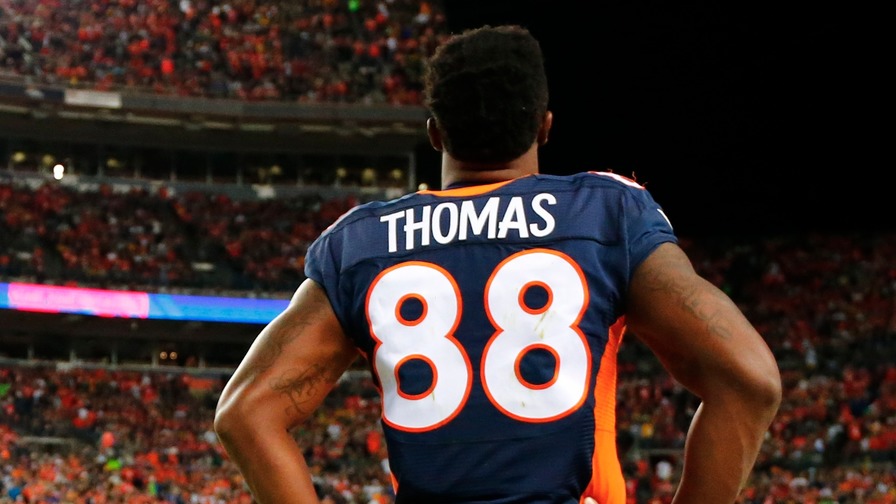 One of the one-liners that's stayed in my mental tape deck for a decade-plus as an avid hip hop fan is Rasco's contention that you're "only as good as your last LP", which basically means if you drop a few dope albums followed by a weak one, the weak one is the one you'll be remembered by.
But despite Rasco's attempt to be a wise sage, his statement isn't always applicable in every situation, particularly in fantasy football.
Fighting personal bias brought about by recent under- and over-performance of players' previous seasons can be an arduous task. After all, if you're only as good as your last LP, then you tend to get remembered for relatively weak recent performances on the gridiron, too.
If you neglect context, though, as too many do, you lose out on opportunities to capitalize on others' overreactions.
And that's why I'm going after Demaryius Thomas hard right now while his price is depressed.
A Down Year
Before we dive into why Thomas is being undervalued headed into the 2016 season, it's important to take a look at what he's done over the course of his career.
Yeah, dude's been a beast for a while now.
Here at numberFire, we quantify a player's on-field production with our in-house signature metric, Net Expected Points (NEP). NEP allows us to go beyond traditional metrics like yards and touchdowns to determine a players' true impact relative to expectation. After all, an 8-yard reception on a 3rd-and-6 is far more productive than an 8-yard reception on a 3rd-and-12, so why should we treat those two plays as equivalents? The answer is we shouldn't. You can check out more about NEP here in our glossary.
Here's a look at Thomas' career numbers within the NEP metric.
| Season | Targets | Receptions | Reception NEP | League Rank | Reception NEP/Target |
| --- | --- | --- | --- | --- | --- |
| 2012 | 141 | 94 | 114.05 | 9th | 0.81 |
| 2013 | 142 | 92 | 130.03 | 3rd | 0.92 |
| 2014 | 184 | 111 | 140.59 | 3rd | 0.76 |
| 2015 | 177 | 105 | 107.73 | 8th | 0.61 |

In terms of raw production, Thomas has been a top-10 receiver for each of the last four seasons, including his "down year" in 2015. Even in said down year, Thomas still managed to put up top-24 wide receiver numbers (WR1 or WR2) in PPR leagues in all but five weeks last season. Only Brandon Marshall, Odell Beckham, and Julio Jones had more weeks as a top-24 receiver. Needless to say, there's something to be said for being consistent week in and week out.
Let's also not forget that Thomas, after scoring double-digit touchdowns in three straight seasons from 2012-2014, only reached the end zone six times in 2015. Part of this was bad luck. In fact, he was tackled six times within his opponents' 5-yard line in 2015, second-most in the league among receivers. Additionally, our own JJ Zachariason took a look at receivers due to score more touchdowns in 2016 based on their production in terms of NEP in 2015 and found that Thomas scored two touchdowns fewer than would have been expected by his NEP output in 2015. That was a top-10 number in the league.
Had he merely achieved expectation in reaching the end zone in 2015, he would have moved from being the 11th-highest scoring receiver in PPR leagues to the 8th-highest scorer.
Positive regression may be coming his way.
The fantasy community is largely placing the blame for his relative drop in production due to a combination of poor quarterback play and Thomas himself, who developed a reputation for committing egregious drops. But looking at the data on SportingCharts, Thomas was credited with nine drops in 2015 for a 5.1% drop rate as a percentage of total targets. Believe it or not, this was the lowest drop rate of his career.
So what about the quarterback play in Denver last season? Boy, was it bad. Like Alexander's Terrible, Horrible, No Good, Very Bad Day bad.
As we know, Thomas had Peyton Manning and Brock Osweiler chucking him the rock last season. In terms of passing efficiency, Manning and Osweiler ranked 30th and 22nd, respectively, out of the 32 quarterbacks with at least 275 drop backs last season. Ugh.
What's more? Per RotoViz.com's Adjusted Yards per Attempt app, Osweiler and Manning averaged 6.2 yards and 5.8 yards per attempt, respectively, on targets directed at Thomas in 2015. Manning averaged over 11 yards per attempt directed at Thomas in the heady days of 2012 and 2013, and even cobbled together a semi-decent 8.6 yards per attempt directed at Thomas in 2014 when the signs of his age really started to show midseason.
It seems that it's more likely that Thomas' steep decline in efficiency had to do with the quarterbacks tossing him the ball than his inability to get open or generate yards after the catch despite a lack of noticeable decline in athleticism.
But isn't the Broncos' quarterback situation still a hot mess? Well, maybe so, but it's hard to be much worse than the Broncos were in 2015. Mark Sanchez has never lit the world on fire, but he did show success in Chip Kelly's quick read system when he got the opportunity in 2014, posting a very respectable 0.15 Passing NEP per drop back. Based on his previous history, Thomas can make the most out of quick slants and screens by using his athleticism to generate production after the catch, so he's the perfect receiver to capitalize on the types of plays the Broncos would be wise to run in lieu of Sanchez's weaknesses.
And per our own Joe Redemann's assessment, the big-armed rookie Paxton Lynch might have trouble nailing down timing routes in his first year, but he'd be best utilized in a system with quick reads as well. So Thomas should still get the wealth of opportunity he's been getting the last four seasons.
Speaking of opportunity, even if Gary Kubiak ends up trusting neither of his signal-callers and employs a much more run-heavy approach, he still has love for his number-one receiver as evidenced by his history as a head coach and an offensive coordinator.
| Team | Season | Leading Receiver | Targets | NFL Target Rank |
| --- | --- | --- | --- | --- |
| DEN | 2000 | Rod Smith | 173 | 1st |
| DEN | 2001 | Rod Smith | 172 | 4th |
| DEN | 2002 | Rod Smith | 147 | 11th |
| DEN | 2003 | Rod Smith | 114 | 27th |
| DEN | 2004 | Rod Smith | 136 | 16th |
| DEN | 2005 | Rod Smith | 126 | 19th |
| HOU | 2006 | Andre Johnson | 164 | 3rd |
| HOU | 2008 | Andre Johnson | 171 | 2nd |
| HOU | 2009 | Andre Johnson | 171 | 1st |
| HOU | 2012 | Andre Johnson | 162 | 6th |
| HOU | 2013 | Andre Johnson | 181 | 2nd |
| BAL | 2014 | Steve Smith | 134 | 13th |
| DEN | 2015 | Demaryius Thomas | 177 | 4th |

Omitting the three seasons where Kubiak's number-one receiver was injured for at least three games, Kubiak has had a top-10 targeted receiver in 8 out of those 13 seasons. And in each of the five seasons listed above in which Kubiak did not have a top-10 targeted receiver, his resident team target leader was at least 32 years old in-season.
Thomas is still 28, so he should still get his opportunities no matter what.
Buy Low
Heading into the 2015 season, Thomas was being drafted as a late first-round/early second-round commodity. It's understandable that, as the fourth receiver coming off of draft boards by ADP average, Thomas' season-long result as the 11th-best receiver in PPR leagues was disappointing. But if that's his floor, I want many pieces of this pie. The opportunity for targets in 2016 should still be ripe, touchdown regression -- positively -- could be coming, and the quarterback play in Denver would have to be absolutely abysmal to underperform what Denver had in 2015.
Currently coming off of draft boards as the 15th receiver drafted according to FantasyFootballCalculator.com, the opportunity to get top-5 upside with a top-15 floor has never been higher. Draft Thomas now while his price doesn't reflect his talents.