You Should Draft Dion Lewis in Fantasy Football Leagues This Year
A few days ago, I started out writing an analysis of the New England Patriots' running back situation and ended up with about 1,000 words that could have been boiled down into one very simple phrase:
"I just don't know for sure."
I dove deep into how each of the seven current Patriots' running backs could potentially factor in to the team's plans in 2016, with the clear understanding that the team will likely only carry four running backs on the final 53-man roster.
But instead of composing and presenting a meandering, not-so-useful diatribe about my distrust of Bill Belichick and how he selfishly utilizes his backfield with disregard to my fantasy football well-being, I decided to narrow it down and pose the following question:
"Is Dion Lewis immune to all challenges to his 2015 role as the most productive fantasy running back in New England"?
Cast of Characters
To get a better idea of what we're dealing with, let's list all the running backs currently under contract in New England:
LeGarrette Blount, Dion Lewis, Brandon Bolden, Donald Brown, James White, Joey Iosefa, Tyler Gaffney and D.J. Foster.
According to NESN's Doug Kyed, "Lewis is the lone lock on the roster, though Blount is as close to a lock without actually being one. Bolden has a very, very good shot at a roster spot as a reserve/core special-teamer, and White, Brown, Foster, Gaffney and Iosefa are battling for what might only be one slot."
For the sake of argument, let's assume Blount, Lewis, Bolden, Brown and White make the cut.
Lewis was a dynamo last season in the seven games he played, averaging 12 PPR points per game, the same output as DeAngelo Williams. Blount saw 43 percent of the team's carries despite playing in just 12 games and was brought back in the off-season on a one-year deal.
Bolden has just 246 touches in 53 career games and is likely to remain primarily a special teams player. Despite a modest production history, Donald Brown is an interesting addition who could work his way onto the field, especially in pass-blocking situations. James White profiles as a slightly bigger version of Dion Lewis: 40 receptions last season but just 31 rushing attempts in 17 career games.
Blount could slide back into the main ball-carrier role, Brown could eat into the overall workload, and White could inch closer to filling Lewis's role from last season. What we don't need a "could" to understand, however, is that, if healthy, Lewis is the best back among the group.
Sample Size Be Damned
The fantasy football world very clearly agrees with my assertion. Using the Rotoviz MFL10 ADP app -- which shows where players are being drafted in MyFantasyLeague.com's best ball leagues -- we can visualize how each of the Pats' running backs are being valued.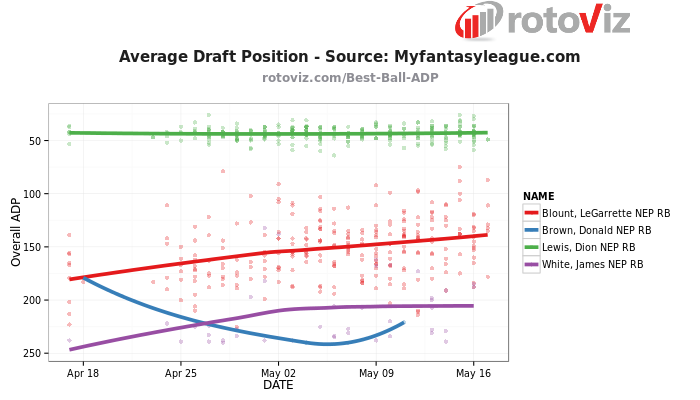 Using numberFire's Net Expected Points (NEP) metric -- a measure of how a player's on-field performance stacks up against a replacement-level player – we can see that Lewis was also highly efficient last season:
| Year | Rushing NEP | Rank | Per Rush | Rank | Success Rate | Rank | Rec. NEP | Rank | Per Target | Rank |
| --- | --- | --- | --- | --- | --- | --- | --- | --- | --- | --- |
| 2015 | 9.30 | 1st | 0.19 | 1st | 46.94% | 2nd | 25.66 | 3rd | 0.51 | 4th |
*Ranks based on running backs with 30-50 carries and 40-60 targets in 2015
Toss in the fact that both Julian Edelman and Danny Amendola have undergone surgeries this off-season to repair various injuries. If either were to miss substantial time, even more targets and opportunity could be funneled Lewis's way.
Fantasy Takeaway
Lewis is currently being drafted as the RB17 in early MFL10 drafts, presenting a pretty clear value. He's also valued below a few guys with some legit question marks – Matt Forte, Carlos Hyde, LeSean McCoy and Thomas Rawls. It could easily be argued that Lewis surpasses those four in value come season's end.
You can easily draft Blount, White or even Brown all for next to nothing this summer. And who knows, all three could at some point become fantasy viable.
But for all we don't know about this situation, one thing we do know is that Lewis was highly efficient last season and is still a discount in early drafts.