Will Austin Hooper Fill the Tight End Void for the Falcons?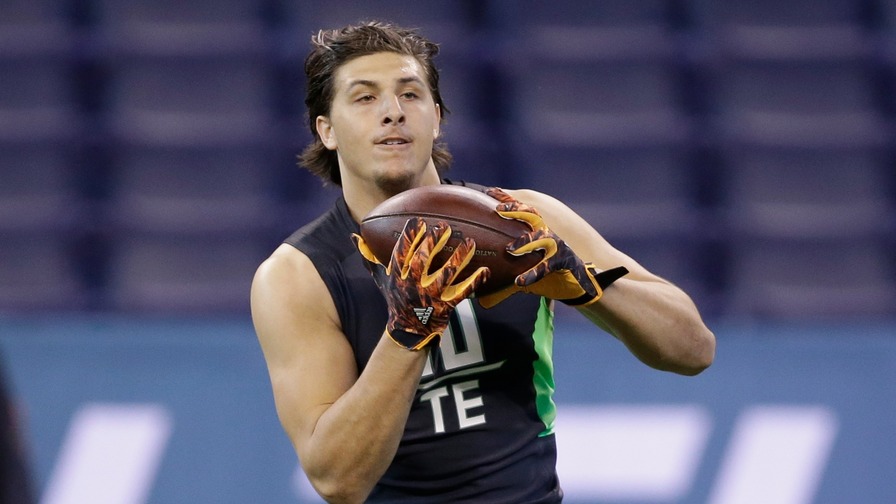 Ever since Tony Gonzalez announced his retirement from the NFL at the conclusion of the 2013 season, the Atlanta Falcons have failed to find a replacement tight end capable of mirroring his production.
Falcons general manager Thomas Dimitroff hopes to have found a solution with third-round NFL Draft pick Austin Hooper.
Hooper, a two-year player at Stanford, is a versatile tight end capable of lining up both with his hands in the ground and split out into the slot because of his above-average athleticism and quickness. At 6'4", 254 pounds, Hooper has developed into a productive run blocker within the Cardinals' run-heavy offense, but he possesses a rare combination of size and athleticism that allows him to have success as a pass-catcher.
Though Atlanta would hope for Hooper to pack on a bit more weight to his frame in order to warrant pushing him into a starting role, NFL Media draft analyst Lance Zierlein believes he is more than capable of producing at the next level.
"[Hooper] will be labeled as a move tight end, but I see him being more than that for teams looking for a more complete player," Zierlein wrote. "Hooper has a frame that should be able to carry another eight to 10 pounds without much trouble, and he shows enough want-to as a blocker to see him playing when needed. If Hooper can improve his hands and become craftier with his routes, he could become a solid, 10-year starter in the league."
At the NFL Scouting Combine, Hooper posted a 4.72-second time in the 40-yard dash, tied with UCLA's Thomas Duarte for the third-fastest in this year's class.
Hooper accumulated 74 receptions for 937 yards and 8 touchdowns over a span of 27 games during his two-year stint with the Cardinals. Also, something that can be overlooked when just looking at the stat sheet is Hooper's ability to make catches in traffic, as he proved to have reliable hands through contact, repeatedly.
Hooper became the third Stanford tight end to be drafted in the last five years, as New Orleans Saints tight end Coby Fleener was selected by the Indianapolis Colts in the second round of the 2012 and both Eagles tight end Zach Ertz and Falcons tight end Levine Toilolo entered the league in the 2013 NFL draft.
"There's a pretty good legacy of tight ends coming out of Stanford," NFL.com's Mike Mayock said shortly after Hooper received the call on Day 2 of the draft. "He has a rare feel as a route runner, and an understanding of when and where to set a route down. He reminds you of a little bit of a Zach Ertz."
At 6'5", 249 pounds, Ertz possesses a very similar frame in comparison to Hooper, while he also put a 4.76-second 40-yard dash time at the scouting combine. In Philadelphia, Ertz is coming off a career year where he brought in 75 receptions for 853 yards and 2 touchdowns in 15 games.
According to PlayerProfiler.com, Hooper best compares to another Eagles tight end: Brent Celek, a former fifth-round pick out of the University of Cincinnati who has watched his snap count diminish as Ertz continues to elevate his game.
In order to avoid taking on a backup role like Celek, Hooper will have to prove he's an every-down player who is capable of outshining their current starter, veteran Jacob Tamme.
From Cardinal to Falcon
Tamme, a former fourth-round pick out of Kentucky in 2008, brought in a 59 receptions for a career-high 657 yards in 15 games. Also, according to our Net Expected Points (NEP), Tamme earned the second-highest Reception Success Rate (percentage of total receptions that ended in a positive NEP score) among all NFL tight ends with at least 50 targets in 2015.
Tamme developed into a reliable difference-maker for Atlanta's offense, and even though he is only getting older (31), Tamme could present an uphill battle for Hooper on the depth chart.
An area where Hooper could make an impact is in the red zone, as Tamme registered just one touchdown in 2015, while Atlanta's offense got into the end zone on just 54.72 percent of their opportunities. Though he didn't put up significant touchdown numbers at Stanford, his ability to makes catches in traffic and attack the ball in the air could have him catching some goal line fades from Matt Ryan in the near future.
If he can string together a few games with a touchdown, Hooper could be a valuable pickup during the season given how many times Atlanta's high-octane offense could find themselves in the red zone in 2016, but with Tamme still projected to pull a bulk of the targets, Hooper's draft stock will remain low as long as isn't the volume catcher in Atlanta.