Green Bay Packers 2015 Year in Review: With Great Potential Comes Great Expectation
It's hard being a Green Bay Packers fan in this day and age.
I don't mean it's particularly tough; I fully recognize how dynastic the franchise has been since trading for Brett Favre in the early 90's, and I am quite grateful for that growing up. However, this experience of being a Green Bay supporter reminds me of the words of Spider-Man's Uncle Ben: "With great power comes great responsibility."
Specifically because the Packers have had much more fortune than almost any other franchise, it's hard to want to complain about them. We can moan about another offseason where general manager Ted Thompson allowed a few key players to walk away, and his biggest signings were bust outside linebacker Nick Perry and aging backup running back James Starks -- re-signings anyway -- but in all likelihood, Green Bay will be in the playoffs once again in 2016.
Still, 2015 saw a lot of issues for the Packers that need to be addressed soon or that legendary run of playoff appearances may draw to a close. When it comes to Green Bay, you can't complain about the results, but there's a lot to be desired in the process.
What Went Right
The biggest frustration many fans have had in recent years is that the Packers have not been able to assemble a sustainable defensive unit since the 2009 playmaking squad that propelled them to a Super Bowl XLV victory. Calls for the job of defensive coordinator Dom Capers are commonplace among the cheesehead faithful, but 2015 may have changed the tune of some of those pitchfork-wielding mob members.
The Packers' defense performed fairly admirably most of the season and ended the year with 0.03 Adjusted Defensive Net Expected Points (NEP) per play allowed, good for 11th in the National Football League.
NEP is a metric that lets us take the numbers we get from the box score and shows how that team or player did versus expectation. By adding down-and-distance value to standard box score information, we can see just how much each play and each team as a whole influence the outcome of games. If the Packers allow five yards on 3rd-and-2, it means more to the game than it does on 3rd-and-10, and those plays should be valued accordingly. For more info on NEP, check out our glossary.
This 11th-place finish was the best of the Packers' recent defensive showings by a country mile. The table below shows their per-play Adjusted Defensive NEP outcomes for each of the last five seasons, including breaking them up into their Passing and Rushing components.
| Year | Adj. D NEP/P | Adj. D Pass NEP/P | Adj. D Rush NEP/P |
| --- | --- | --- | --- |
| 2011 | 0.06 (23rd) | 0.09 (24th) | 0.10 (32nd) |
| 2012 | 0.03 (19th) | 0.03 (11th) | 0.03 (23rd) |
| 2013 | 0.09 (26th) | 0.13 (27th) | 0.06 (27th) |
| 2014 | 0.03 (15th) | 0.07 (15th) | 0.02 (22nd) |
| 2015 | 0.03 (11th) | 0.06 (10th) | 0.05 (26th) |

The Packers' defensive showings have steadily improved from the beginning of the decade, and they now have strung together two top-half showings. Indeed, the team spent just six weeks this season ranked lower than 16th in Adjusted Defensive NEP per play and even spent six weeks in the top-10 in Adjusted Defensive Passing NEP per play.
Much of this breakthrough is due to the improvement in the team's pass defense, which was a surprising top-10 in the league in 2015. It's not likely a coincidence that safety Ha Ha Clinton-Dix was the team's first-round draft pick in 2014 and that that was the year the team's pass defense drastically improved. 2015 rookies Damarious Randall and Quinten Rollins also certainly contributed to this and should be key pieces going forward. Skeptical though we were of Thompson's 2015 draft class, they are already paying dividends.
What Went Wrong
How much time do you have?
The big story of 2015 was the obvious devastation of the wide receiving corps following Jordy Nelson's torn ACL in the preseason. The Packers still had three wide receivers top 75 targets: James Jones, Randall Cobb, and Davante Adams. That said, Jones had a wildly unsustainable 0.94 Reception NEP per target with a 50.51 percent Catch Rate, making him just one of five wide receivers since 2000 to have a Reception NEP per target over 0.90 and a Catch Rate under 55 percent on at least 75 targets. Cobb was unable to get any separation and had a 0.53 Reception NEP per target, the worst mark of his career and ranking 48th among the 54 receivers with at least 75 targets in 2015.
Adams, by far, was the biggest disappointment of this group, as his 0.34 Reception NEP per target was better than just Tavon Austin in this group of receivers, and his -6.43 Target NEP was easily the worst. He was so inefficient in these areas that only eight other wide receivers since 2000 -- including Greg Little's debacle 2013 with the Cleveland Browns -- were worse.
The running game gave them absolutely no help either. Among the 43 running backs with at least 100 attempts in 2015, Eddie Lacy's -10.31 Rushing NEP ranked 31st. "Fat Eddie" found his way to the bench far more often than he should have, rushing just 187 times (he averaged 265.5 attempts the previous two years) and will need to do some serious work to hang onto his clear workhorse back position in the future.
In addition, the Packers' run defense remained absolutely atrocious. The graph below shows that the Packers never ranked above the bottom 25 percent of the league in Adjusted Rushing Defense per play in 2015. The pseudo-retirement of defensive lineman B.J. Raji and suspension of nose tackle Mike Pennel won't help that at all.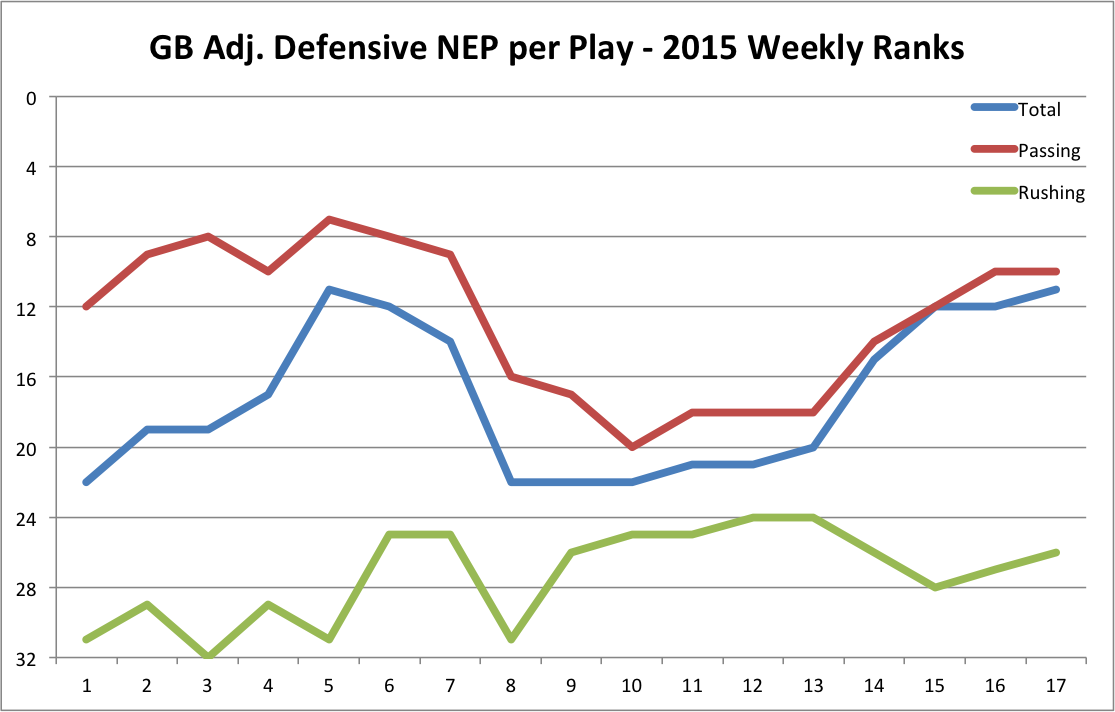 What's To Come
Who knows?
To this point in free agency, general manager Thompson has allowed cornerback Casey Hayward to exit the team, has not signed wide receiver depth to compete in camp for Jones' old spot, has not done anything to address the offensive tackle void behind the physically limited David Bakhtiari and ever-injured Bryan Bulaga, and still has no true impact in the linebacking corps besides Clay Matthews. There were rumors that the Packers had inquired about running back Matt Forte and inside linebacker Karlos Dansby, but nothing appears imminent on the free agent market.
The team did, however, sign tight end Jared Cook. Last season, Cook's Reception NEP per target (0.42) ranked last among 25 tight ends with at least 70 targets. Richard Rodgers' 0.52 ranked 18th.
All we can surmise is that Thompson appears likely to draft an interior defensive lineman in the first round of the 2016 NFL Draft. With a gaping hole there, due to Raji's retirement and Pennel's suspension, expect the Packers to spend their top pick on the spot, and possibly another one later -- perhaps on UCLA's Kenny Clark or Louisiana Tech's Vernon Butler.
No, maybe it's not fair to complain about the outcomes the Green Bay Packers have given their fans in recent years, but it sure doesn't feel good to see a team getting to the same place time and again, and attempting the same flawed solutions time and again. The Packers have great potential, but they need to know: with great potential comes great expectation.