How the Steelers Overcame the Odds to Defeat the Broncos
Week 15 of the 2015 NFL season wasn't absent of action. That much is certain.
Arizona Cardinals rookie running back David Johnson burst onto the national scene with 187 rushing yards and 3 touchdowns on 29 carries against the Philadelphia Eagles on Sunday Night Football.
Kirk Cousins lit up the scoreboard, Russell Wilson kept producing, Doug Baldwin kept scoring, and control in the AFC South, for a moment, relied on a matchup between Brandon Weeden and Charlie Whitehurst.
The Carolina Panthers, led by 440 total yards and 5 touchdowns from Cam Newton and by Josh Norman's demolition of Odell Beckham, relinquished a 35-7 lead over the New York Giants but held on to win with a last-second field goal.
Yes, per numberFire Live, the Giants had less than a one percent chance to win at one point, but the odds never actually were in their favor.
And that wasn't even the best comeback attempt of the day.
No, that belonged to the Pittsburgh Steelers, who actually managed to win their Week 15 tilt despite trailing 27-10 in the first half and 27-13 at halftime.
How unlikely was their eventual 34-27 victory?
Setting the Stage
At their lowest point, the Steelers owned a 14.55 percent chance to emerge victorious in Week 15. For some context, they began the game with a better-than-67-percent chance to win.
That low point came after a Ben Roethlisberger incompletion to Markus Wheaton early in the third quarter on a 3rd-and-5 while they trailed 27-13.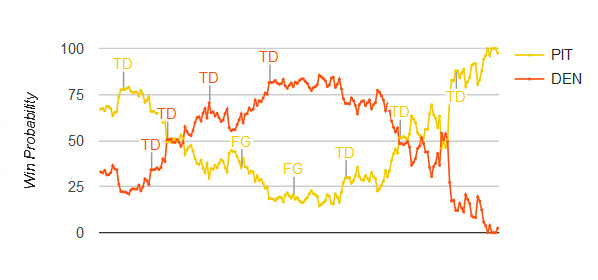 After a three-and-out by Denver, Pittsburgh started an upward trend -- but not right away.
With 10:33 left in the third quarter, Roethlisberger was sacked for a nine-yard loss. That play dropped their win expectancy by nearly four percentage points. Facing a 2nd-and-19 from their own 33, they owned a 16.08 percent chance to claim a victory.
A second-down completion to Antonio Brown for 8 yards actually decreased their odds again -- slightly -- as the team still faced a 3rd-and-11 in their own territory.
A 13-yard hookup between Roethlisberger and Wheaton not only netted them a first down but also got them into Denver territory. Two plays later, though, the Steelers were in a familiar position: 3rd-and-long. A 10-yard catch by Martavis Bryant, though, led to a conversion and a five-percentage-point jump in odds to nearly 22 percent. A Chris Harris pass interference call and a nine-yard touchdown by Antonio Brown got the Steelers closer on the scoreboard, but the odds were still below 30 percent.
The two offenses traded punts, and the Broncos got the ball with 64 seconds left in the third quarter. Their chances to win? Still roughly 75 percent. However, a run, an incomplete pass, and a sack netted the team negative 10 yards before the quarter stopped, and their win odds dropped by 8 percentage points.
This drive was just one of many game-changing ones.
The Fourth Quarter
Pittsburgh's big-play offense showed up early in the fourth quarter.
Three straight completions and a roughing the passer penalty raised their chances to win to better than 45 percent, and a 9-yard, game-tying score by Wheaton tipped the balance in their favor: 51.55 percent.
The next four possessions -- despite a penalty on each -- resulted in three-and-outs, two for each team.
Denver took over with 5:35 left in the game on their own 11 yard line and owned a 53.57 percent chance to come away with the win, but on second down, Ryan Shazier intercepted Brock Osweiler on the Denver 37, a play that decreased Denver's chances from 49.45 percent to just 27.32 percent.
Three plays later, Antonio Brown had his second score, and Pittsburgh had an 87.87 percent chance to close out the game.
But, of course, things got even crazier.
Denver returned the ensuing kickoff to their own 40 and moved the ball to the Pittsburgh 36 but stalled out on fourth down, giving Pittsburgh the ball with nearly a 92 percent chance to ice it.
Ben Roethlisberger threw an indefensible interception to Brandon Marshall on second down, a play that decreased their odds to just over 80 percent.
After four straight incompletions by Osweiler, though, the mistake didn't prove as costly as it could have for Pittsburgh.
Denver, who didn't score in the second half and who hasn't scored a single second-half point in their past three games, was unable to fend off the Pittsburgh offense and accrued only 72 yards on offense in the second half.
Pittsburgh, who entered as the fourth best team in the NFL, per our power rankings, and had a 63.7 percent chance to reach the postseason got one step closer to a playoff berth.
Denver, on the other hand, got one step closer to getting quarterback Peyton Manning back and healthy -- and one step closer to a quarterback controversy for a playoff-bound squad.