Can Tavon Austin Sustain Successful Play as a Wide Receiver?
It would be rather easy to be high on the St. Louis Rams coming out of Week 4. Just about everything that team was built upon came through in a 24-22 win over the Arizona Cardinals -- the defensive line was its dominant self, Nick Foles came through with some big throws, Todd Gurley showed he could be something special, and Tavon Austin looked like an NFL wide receiver.
Some of those things might be more meaningful to the Rams's long-term success, but Austin's value could be the most intriguing.
Many know the story already; coming out of West Virginia, Austin was a playmaking star taken with a top-10 pick in the 2013 NFL Draft. Because of his unique skill set, the Rams tried to manufacture touches to get Austin in space during his rookie season, and it never quite worked out. By our Net Expected Points metric (NEP), Austin was one of the least efficient receivers in the league during his rookie season. For those new to numberFire and the metric, NEP factors in on-field variables such as down-and-distance in order to compare a team or player's production to historical expectation levels. Out of 114 receivers who were targeted at least 30 times, only 12 had a worse Reception NEP per target than Austin's 0.44 that year.
Luckily for Austin and the Rams, the game slowed down for him after his rookie season and he was ready to bounce back in his second year. Except that never happened, and his play was worse by just about every metric.
Austin didn't eclipse 35 receiving yards in any game, and his Reception NEP per target in 2014 was just 0.38, better than only Andre Johnson and Cecil Shorts. Some of that was Austin's fault, but not all of it.
While the receiver was still hesitant on some decisions, the scheme under offensive coordinator Brian Schottenheimer was not the best use of Austin's talent. Feeling pressure to include Austin in the offense and manufacture touches, he was routinely sent on slants and drag routes in an attempt to get him into space. Without much threat of getting beat over the top, defenses were able to pounce all over these types of short routes and that intended space was not easy to find. This, quite clearly, was something that was going to need to be fixed in 2015.
A New Day
With new offensive coordinator in Frank Cignetti, there was hope for the new season. There was a lot of unknown, but in that, somewhere has hope.
The first three games this year, at least for Austin, weren't cause for much optimism surrounding his prospect as a receiver. Sure, there was the rushing touchdown and punt return touchdown in Week 1 against Seattle, which showcased his ability as an overall playmaker, but his receiving lines looked depressingly similar to his first two seasons. Two receptions, -2 yards. One reception, six yards. Five receptions, 38 yards.
But then Week 4 happened against an Arizona Cardinals team that ranked first in Adjusted NEP per play on defense. Every flash of potential from Austin since his rookie season has been his "breakout," so let's stop a little short of calling it that. Still, that shouldn't take away what Austin was able to accomplish against Arizona, the third best day by a wide receiver in Week 4 per numberFire Live.
Austin finished the game with six receptions on seven targets for 96 yards and two touchdowns, arguably his best game as a pro. He had a 138-yard receiving game during his rookie year -- still his only 100-plus yard game -- but that was just on two catches, and he hadn't come close to repeating that until Sunday. But unlike that 2013 game, there were signs against Arizona that this could maybe be something sustainable for Austin as a receiver.
Take his first target of the game, which in turn was his first catch and first touchdown. Austin lines up wide in a bunch formation -- something virtually unheard of in a Schottenheimer-led offense -- inside the red zone. He take his first step to the outside, freezing cornerback Jerraud Powers just long enough to make his move back to the post -- and along with the space created by the other two routes from the bunch -- and he was able to get in for the score.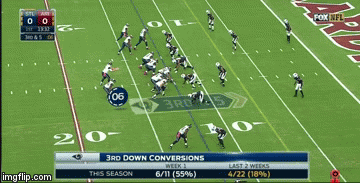 Then, in the second quarter, Austin had his biggest play of the game, a 47-yard gain. If there's a route that shows the potential he could have as a downfield receiver, it may be this one. Austin sees zone coverage, and perfectly splits the two defenders in the middle of the field before catching a beautifully thrown ball from Nick Foles. Foles hasn't been consistently great this season -- he ranks 17th in Passing NEP per drop back among quarterbacks who have done so at least 100 times -- but there have been moments when Foles has put the ball exactly where it needed to be, and this was one of those throws.

On Austin's second touchdown late in the fourth quarter, he hesitates just enough off the line to allow Jared Cook to cross over to the outside, and he again freezes the cornerback just enough to create separation and get free running inside.

There were still some plays called to get the ball in Austin's hands, notably two jet sweeps that combined for 20 yards. But those weren't the main ways of trying to have him make plays like they were before. For the most part, Austin was treated like an actual wide receiver in this game, and it paid off. Of course, there's still plenty of work to be done for Austin to sustain this type of play. Even with his big Week 4, his Reception NEP per target is just 0.63, and while that would easily be a career high, remember there wasn't a high bar set for his first two seasons. That number currently ranks 56th among receivers who have been targeted at least 10 times this season.
This was just one game, let's not get away from that, but it was one game with a different offensive coordinator and quarterback than the ones who pitched into the disappointment of the first two seasons. Austin probably isn't going to turn out to be one of the best players in the league and might not live up to the hype around the draft, but this was the most positive indication for his ability as a receiver since entering the league.
Strangely, all the Rams had to do was treat him like a receiver.