How the Buffalo Bills Blitzed Their Way to a Week 1 Win
When Rex Ryan took over as the head coach of the Buffalo Bills, he made one goal very clear -- he wanted the Bills to have the top defense in the league.
As ambitious as that sounds, it wasn't too lofty of a goal. The defensive unit Ryan was taking over was already one of the best in the league during the 2014 season by many metrics, especially our Net Expected Points (NEP). For the unfamiliar, NEP factors in on-field variables such as down-and-distance in order to compare a team or player's production to historical expectation levels. You can read more about it in our glossary.
Last season's Bills, under the coordination of Jim Schwartz, ranked second in schedule-adjusted Defensive NEP, tied for first against the pass and ninth against the run.
Ryan and Schwartz have both been successful defensive coaches through their NFL careers, but have gone about that success in different ways. Schwartz has mostly kept his defenses in a 4-3 base and relied on the front four to create a pass rush. Ryan, meanwhile, runs out of a 3-4 and has no hesitation in blitzing extra rushers to bring pressure.
In Ryan's Buffalo debut on Sunday against the Indianapolis Colts, "blitz" and "bring pressure" is exactly what the Bills did to stop one of the best quarterbacks in the NFL.
Press Your Luck
Last season, the Colts had the sixth best passing offense by Adjusted NEP per play, mostly due to Andrew Luck. There's a reason -- several, probably -- why Luck was the favorite by many, including Vegas, to be named the league's Most Valuable Player at season's end, but his hopeful MVP campaign had a rough start.
Looking back at some of the numbers, we could make an argument that Luck didn't play that poorly, though it would be much harder to say he played well. He completed over half of his passes for 247 yards and 2 touchdowns, and while he threw a pair of interceptions, one was on the last drive of the game on fourth down with his team down by 13 points.
But those raw numbers don't exactly tell the whole story. By our initial numbers from numberFire Live, Luck had a Passing NEP of 5.77 against Buffalo. Add in Rushing NEP from two scrambles, and his combined 6.95 NEP was the 12th best among quarterbacks who have played so far in Week 1, clearly not terrible.
But if we break that down a little more, it's not quite as impressive.
Luck dropped back 53 times on Sunday, which brings his Passing NEP per drop back to 0.10 for the game. For some context, Luck had a Passing NEP of 0.17 last season, which tied with Drew Brees for the sixth highest total among quarterbacks with at least 100 drop backs. Matthew Stafford, Eli Manning and Alex Smith all finished the year with 0.10 Passing NEP per drop back, which tied for 11th. It's not Blake Bortles bad, but when you can turn Andrew Luck into Alex Smith, that's a win for the defense.
Early and Often
The Bills were able to keep Luck in control by bringing pressure and bringing it often. Buffalo only sacked Luck twice, but the constant pressure was enough to throw the quarterback off, even without bringing him to the ground. The Bills brought five or more pass rushers on 49 percent of Luck's drop backs, and six or more defenders on 42 percent of those blitzes. The Bills only brought seven men on one play, but it was enough to get a big sack to set up a long third down early in the second quarter.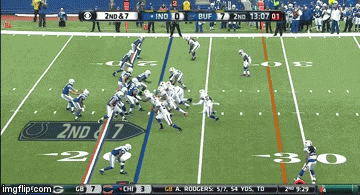 On plays when the Bills rushed at least five defenders, Luck had a Passing NEP of -2.86. Statistically, he fared slightly better against rushes of six or more, totaling a Passing NEP of -2.16, when he was able to recognize the blitz more and get the ball out quickly -- like this 3rd-and-8 pass to Donte Moncrief in the second quarter.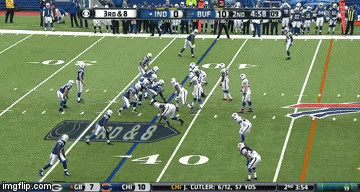 Those quick passes didn't come often enough, mostly due to the Colts trailing for a large portion of the game and even on that pass, the Bills had it well defended. The pass was almost tipped at the least, and the immediate tackle sent Moncrief to Suplex City.
Where the Bills were able to succeed the most was with the five man blitz, overwhelming the Indianapolis offensive line while still keeping six men in coverage. With Luck fixated on targeting T.Y. Hilton for much of the first half -- Hilton had 13 targets in the first half, 9 in the first quarter, while the rest of the team had 12 -- Buffalo was able to bring the pressure without worrying about getting beat down the field because the coverage was holding up well with safety help.
The Bills were also able to succeed on the five-man rush by disguising which five players would be blitzing. That type of unknown can be typical for a 3-4 defense, but Ryan took it further to create more confusion for Luck pre-snap.
Take a look at the play below. Six Bills line up along the line of scrimmage, but only four rush, and all on the right side of the defense. Colts' running back Josh Robinson can't hold up in pass protection and his defender is able to get loose and chase Luck down. Meanwhile, the stronger left side of the line is left only blocking a delayed rush from a linebacker.
The Fallout
None of this should really be much of a surprise. Every quarterback in football plays worse under pressure, and when Luck faced only a four-man rush, he played much better. By the time the Colts got the ball for the first time in the second half, the Bills already had a 24-0 lead, but then Indianapolis went on an 18-play, 63-yard touchdown drive that saw Luck drop back 11 times. On those 11 drop backs, the Bills brought a pass rush of five or more just twice, settling for a more traditional four-man rush on the other passing attempts. Luck put together his best drive of the day, which totaled 5.65 Passing NEP, almost his entire tally for the day.
This game shouldn't be a poor reflection on the Colts. No, they didn't play well, but they're also not going to face a team blitzing on half of the passing plays every week.
Where this does stay interesting is whether the Bills can keep of this type of pace and success in future weeks. It should be noted all of this was done without defensive tackle Marcell Dareus, who was a constant presence in the backfield from the interior of the defensive line last season and will now return from a suspension. In Week 2, the Bills will host the New England Patriots. While Ryan has enjoyed some defensive success against Tom Brady, it will be interesting to see if he will continue to bring pressure like he did against Luck.
Next week will be a good test for how good this Bills defense can really be. If they can continue to pull off what they did in the opening game, this team is going to be tough to beat.