​3 Fantasy Football Defensive Streamer Options for Week 13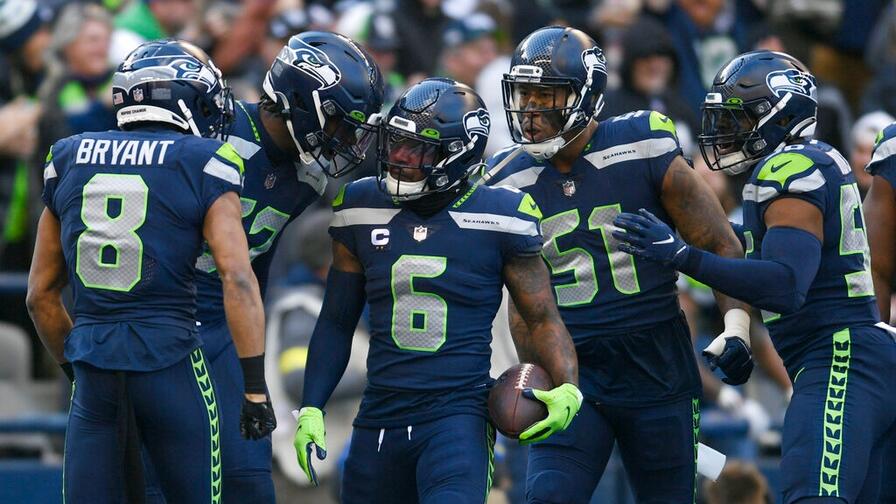 I wish I could've written to you all sooner. Stuff creeps up on you this time of year, and time is a precious commodity that we can't risk squandering.
With that in mind, I know that time may still be of the essence in getting you a defensive streamer option for this week, so I'll cut the intro straight to the point.
Which defenses under a 40% roster rate should you look to stream in Week 13?
Last Week
Miami D/ST vs. HOU: 20 points, 1st
Kansas City D/ST vs. LAR: 13 points, 2nd
Carolina D/ST vs. DEN: 12 points, T-3rd
We legitimately couldn't have asked for a better week after hitting three of the top units for fantasy on the Week 12 slate.
Denver scored 15 points or less for the third straight game, while also forking over two turnovers and their third consecutive contest with three or more sacks allowed. Even for a team as down-bad as the Panthers, that's the perfect storm for fantasy relevance.
Backup Rams quarterback Bryce Perkins did throw his first career touchdown pass against Kansas City, but also tossed two picks and was taken down three times as L.A. mustered just 10 points. KC's ferocious defense had plenty of runway to wreak havoc and took it.
Finally, the Texans handed us an amazing gift by benching the awful Davis Mills and starting even-worse backup Kyle Allen against Miami. Miami had Houston down early and took Allen down often, sacking him five times, forcing three takeaways, and even scoring a defensive touchdown.
Seattle Seahawks
at Los Angeles Rams
Spread: SEA -7.5
Total: 41.5
Roster Percentage: 25%
I don't like to imagine starting the Seattle Seahawks' defense again either after they've burned us multiple times this season. Still, in a week where perfect process streaming options are few and far between, the Fightin' Ospreys are not the worst idea.
Seattle does hold a top-10 pressure-to-sack conversion rate in spite of a bottom-half rate of getting pressures at all. They balance themselves out with sack efficiency in spite of mediocre volume, and the budding young cornerback trio of Tariq Woolen, Michael Jackson Sr., and Coby Bryant has boosted this unit from "terrible" to merely "below-average" status in terms of adjusted net yards per pass attempt (ANY/A). In the right matchup, Seattle should be able to hold its own. In addition, they are favored by more than a touchdown despite going on the road this week and have one of the few low projected over/unders on the Week 13 slate.
The real sell here, however, is the matchup against the same Los Angeles Rams offense that allowed the DST2 performance last week. There is no word on whether starting quarterback Matthew Stafford will be back in time for this contest, but the tone seems pretty pessimistic for the rest of his season. That means either John Wolford or Bryce Perkins will be back under center, and both are among the league's most vulnerable targets for fantasy defenses. Wolford has absorbed the fifth-highest pressure rate among 48 quarterbacks to drop back at least 39 times this season. Perkins is one spot ahead.
Our model projects the Seattle D/ST for 8.8 fantasy points, the third-most among defensive options in Week 13. The Rams have allowed double-digit points to fantasy defenses twice over the past three games, and this scoring environment is one of the few favorable ones for streamable options.
Cleveland Browns
at Houston Texans
Spread: CLE -7
Total: 47.5
Roster Percentage: 13%
This matchup looks quite a bit more precarious when considering a high projected total for the contest and far more mediocre defensive ratings. Still, the Cleveland Browns come into Week 13 as touchdown road favorites, and we absolutely must acknowledge the upside they hold due to playing the abhorrent Houston Texans.
I don't have much nice to say about Cleveland's league-average sack conversion rate, nor about their bottom-third pressure rate and bottom-five ANY/A. Still, any unit has a fighting chance to put up startable fantasy numbers when either Davis Mills or Kyle Allen will be calling signals for the opposition. In just his first start of the season, Allen dropped back 45 times and posted the highest turnover-worthy play rate among signal-callers entering this week. With just an average big-time throw rate and an above-average pressure rate allowed, if he draws the start, Cleveland is a lock for a huge fantasy day.
Mills has proven to limit turnovers a bit more than his teammate, but he has been pressured at the 8th-highest rate among 48 quarterbacks to drop back 39 times or more this year. Allen is who we hope for this week, but Mills is still a high-floor target. Houston should be in a massive negative game script all day, so the Browns are a fine low-risk start here.
Our model projects the Cleveland D/ST for 8.1 fantasy points, the fourth-highest fantasy projection of the week. The projected total is high, but we shouldn't fear that as much as usual: the Kyle Allen-led Texans mustered just 15 points last week in a blowout loss while allowing multiple turnovers.
Green Bay Packers

at Chicago Bears
Spread: GB -4
Total: 43.5
Roster Percentage: 39%
Another defense I don't want to have to trust is the Green Bay Packers, who have made baffling calls as a defensive unit of late.
They have averaged just under four fantasy points per game over the last five contests, including a big old zero last week. Again, however, beggars can't be choosers on a bad slate, and four points of favoritism on the road in a relatively low-projected scoring environment is nothing to sniff at.
The Packers are also much better on paper than in real life. Their rate stats are sublime with 13th-best marks in both pressure rate and ANY/A. Though, their sack conversion is bottom-quarter of the league. What has killed them is the volume of plays run against them, which rate stats specifically try to neutralize -- and their inability to finish games off defensively.
Perhaps what the doctor ordered, though, is a matchup with the potentially Justin Fields-less Chicago Bears here. Backup quarterback Trevor Siemian is the best possible starting quarterback matchup for a fantasy defense heading into Week 13 if he draws the start again. If he had 10 more drop backs, his turnover-worthy play rate would be second-highest among the 48 quarterbacks to drop back 39 times this year (as previously mentioned). His big-time throw rate is the lowest among those (0.0%), and his pressure rate allowed is the sixth-highest.
Fields still also absorbs a ton of pressure and takes risky throws, but his upside is significantly higher (making Green Bay's downside riskier). If Fields returns, this dampens the floor value significantly -- though the upside is still high.
Our model projects the Green Bay D/ST for 7.5 fantasy points this week, which is the ninth-highest in our rankings for defenses. The higher roster rate, smaller favorite status, and recent Green Bay defensive performance should give us reason to pause, but a chance for a defense playing against a bad backup quarterback tops anything else in the typical process.