​4 IDP Fantasy Football Targets for Week 6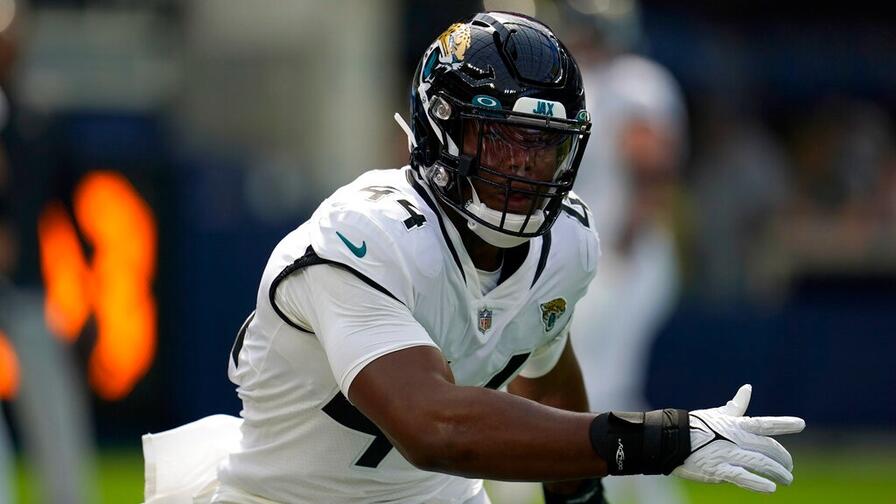 Individual Defensive Player (IDP) has to be my favorite format in fantasy football. If you've felt satisfaction at a job well done with just offensive players, there's truly nothing else like getting to field a full team – offense and defense – on the virtual gridiron and watching them grind your best friends into dust. You may not realize, but IDP have been in the fantasy game since the original fantasy league was formed back in Oakland in 1962, with two defensive back/linebacker slots and two slots for defensive linemen. IDP are an institution in fantasy football, and we aim to treat them as such in this column.
Each week this season, in honor of the four-IDP requirement in the OG fantasy league, I will identify four targets widely available on waiver wires (15% or less rostership on Yahoo!) that you should be aiming for in your IDP leagues. These recommendations are based on a balanced 3:1 big play-to-tackle scoring ratio. We'll examine their matchups and their snap count trends while helping you figure out the best fit for your IDP rosters.
It's the Week 6 IDP waiver wire. Here are your four targets:
Travon Walker, DL, Jacksonville Jaguars
at Indianapolis Colts
Roster Percentage: 11%
We're back on that rookie hype train yet again with Jacksonville Jaguars edge rusher Travon Walker this week.
This year's first-overall pick hasn't come close to matching his impressive NFL debut yet when he put up four total tackles, a sack, a tackle for a loss, and an interception. We obviously can't expect that kind of stat-sheet stuffing every time out, but it would have been nice if he'd put more big plays on the ledger besides one tackle for loss over the last month.
Nonetheless, Walker could be teed up for a perfect get-right spot in Week 6 against the Indianapolis Colts. Through five weeks, quarterback Matt Ryan hasn't looked comfortable at all in his new digs despite playing behind some of the (theoretically) most talented offensive linemen in the league.
His time-to-throw is a fairly average 2.68 seconds (17th among 35 quarterbacks to drop back 50 or more times), but he's still top-third in pressure rate allowed and fourth in pressure-to-sack conversion rate allowed. The Colts have given up the fourth-most fantasy points to edge rushers (they allowed two double-digit performances to Jacksonville edges in Week 2), and Ryan and the offensive line are the reasons why.
Our model projects Walker for 5.1 tackles and a 26% chance for a sack, for 6.5 fantasy points. He's our DL3 in fantasy this week if eligible at DE in your IDP leagues, and he brings a reasonable tackle floor as well. With Josh Allen adding heat from the other side, Walker should have some decent chances to pop the struggling Ryan in a game script that could get negative very quickly.
Note: If Walker is eligible at LB only in your league, consider Washington Commanders edge rusher Montez Sweat, who is available in 93% of Yahoo! leagues. Sweat projects as an upside DL3 this week with a 59% chance of a sack but a low tackle floor of 2.5. The only real blemish on his profile is a low projected passing volume for the opposing Chicago Bears.
Rashaan Evans, LB, Atlanta Falcons
vs. San Francisco 49ers
Roster Percentage: 8%
Linebacker Rashaan Evans has played 100% of the Atlanta Falcons' defensive snaps over the past few weeks, and the events of this week have conspired to keep him in that every-down role for the foreseeable future.
Former IDP star Deion Jones was just traded away before he could return from injured reserve to poach some of Evans' playing time, and current Falcons green-dot linebacker Mykal Walker is struggling with a groin injury. Should he end up missing time or even being more limited than usual on game day, that could provide additional tackle chances for Evans to pad his stat line.
Evans gets to face the absurdly run-heavy San Francisco 49ers (they rank fourth-lowest in pass rate over expected; PROE) in Week 6. This is a game where Atlanta enters as 5.5-point home underdogs with a moderate 44.5-point total (per FanDuel Sportsbook).
This suggests that San Francisco should get out to a decent lead and grind away the clock running, which fits perfectly with Evans' downhill, run-thumping style of play. The 49ers are one of the better run-blocking teams in the league (third-highest yards before contact), but that quality should only encourage them to funnel even more rushing attempts right into Evans and his waiting arms.
Our model projects Evans for 8.4 tackles and a 33% chance for a pass defended, totaling 9.1 fantasy points. That would be good for the LB23 on the week. Walker comes in at 13th in our rankings; if he is at all limited, Evans has top-15 positional upside in an elite matchup.
Germaine Pratt, LB, Cincinnati Bengals
at New Orleans Saints
Roster Percentage: 2%
Cincinnati Bengals linebacker Germaine Pratt figures to be a big part of the game plan to shut down the New Orleans Saints and their shockingly run-happy offense.
Pratt has been all over the place, averaging 7.5 total tackles per game and even adding a sack and two passes defended last week for good measure.
The current line has the Bengals as slight road favorites with a middling-to-low total, which could allow New Orleans to keep a short passing game and active rushing attack going.
Despite the high average depth of target (aDOT) marks for both banged-up starter Jameis Winston (12.0; first) and backup Andy Dalton (9.7; sixth), the Saints should pepper the area that Pratt patrols if they are able to hang in this game. New Orleans allows the fifth-most fantasy points to the linebacker position, forking over an average of 16 total tackles to off-ball linebackers per game over the past month.
Our model projects Pratt for 8.1 tackles and a 37% chance for a pass defended. That's all included in his total of 9.0 fantasy points this week. He's a high-floor option due to his profile and works as a low-end LB2 or high-end LB3 in fantasy this week.
Grant Delpit, DB, Cleveland Browns
vs. New England Patriots
Roster Percentage: 6%
The New England Patriots remain one of the best matchups for box safeties in IDP fantasy football. Last week, we recommended Detroit Lions bruiser DeShon Elliott against the Pats, and he went out and dropped 12 total tackles, 3 tackles for a loss, and topped his day off with an interception to boot.
New England has allowed 8.8 total tackles per game to safeties playing close, and that's even more likely to continue if backup passer Bailey Zappe draws the start again this week (7.1 aDOT; ninth-lowest).
That's excellent news for Cleveland Browns safety/nickel corner Grant Delpit, who has played 55.8% of his snaps lined up at the defensive line, in the box, or at the slot. Delpit has topped six total tackles three times this season and has a nearly 10% tackle per snap rate – a strong number for a defensive back.
There's always a chance the underdog Pats need to pass a ton to keep in this game, but Delpit already has three passes defended and an interception this year; the likely neutral-to-negative game script actually works fine for his fantasy hopes.
Our model projects Delpit for 6.2 tackles, a 48% chance for a pass defended, and a 13% chance for a pick, totaling 7.4 fantasy points. He's our DB14 overall in this matchup.