3 Fantasy Football Defensive Streamer Options for Week 2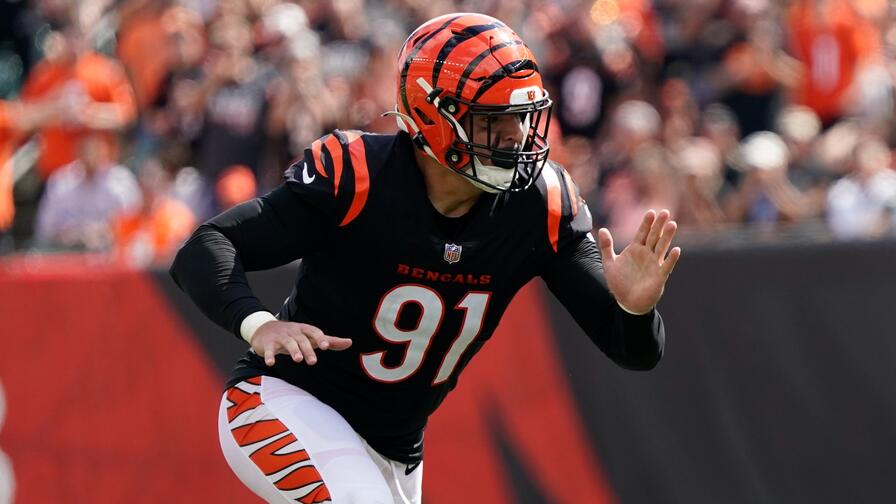 Many fantasy analysts will tell you to not overreact to Week 1 results with offensive players, and the same holds true for defensive streaming.
Even though the Pittsburgh D/ST racked up seven sacks and three takeaways, I'm not convinced that they are on the same level as the Buffalo D/ST – who did the same. Did they outscore them for fantasy purposes in Week 1? Yes, of course, but Pittsburgh's 26-point explosion also contained within it a pick-six (not a repeatable skill for a team defense) and a blocked kick (definitely a fluke rarity).
We also can't assume offenses that were bad in Week 1 will be bad going forward. The defending conference champions were the two teams on the short end of the Buffalo/Pittsburgh defensive onslaughts; it's not likely they're going to be punching bag matchups in Week 2.
It's important to adjust to new information, but don't go throwing out an entire offseason's worth of homework based on one data point. Week 1 has come and gone, and now we're onto the important question: which defenses under 40% rostership should you look to stream in Week 2?
Last Week
Titans D/ST vs. NYG: 9 points, t-9th
Bengals D/ST vs. PIT: 2 points, 27th
Panthers D/ST vs. CLE: 1 point, t-28th
Week 1 is always hit-or-miss, but I don't think anyone would have expected a close game out of the Cincinnati Bengals at all, let alone one where they earned just one sack and no turnovers against this iteration of the Steelers. The Carolina Panthers were always a deeper dart throw, but they looked surprisingly flat as the Cleveland Browns' running game steamrolled them and squashed big play upside. Jacoby Brissett who?
At least the Tennessee Titans were right on track, wrecking the New York Giants for five sacks and two takeaways in spite of their star pass-rusher missing the contest (and the season). They did this in spite of a loss, so it's worth keeping an eye on them in other good matchups down the line
Cincinnati Bengals
at Dallas Cowboys
Spread: CIN -7.5
Roster Percentage: 44%
It's only Week 2, and I'm already stretching the rostership rate definition of "streamer," but the Cincinnati D/ST is still one of the top streaming options this week.
Am I excited about the prospect of recommending them despite getting relatively shellacked by a Mitchell Trubisky-led offense last game? No, nor am I thrilled that I'm headlining this article with a defense that only got pressure on 19.5% of their defensive drop backs (10th-lowest).
That said, I am enraptured by their matchup, as they will face the newly anointed substitute starting quarterback for the Dallas Cowboys: Cooper Rush.
Rush only got 15 drop backs in Week 1, but he saw a roughly league-average rate of pressure on those drop backs (26.7%; 19th among 36 quarterbacks to play in 2022). He also allowed two of the four pressures he saw turn into sacks, tying for the highest sack conversion rate allowed among Week 1 passers.
In addition, Rush has a 61.7% completion rate from 2021 through Week 1 of 2022, which ranks 36th among 54 quarterbacks to attempt at least 60 passes in that span. He's a walking sack in the making and has little accuracy to keep the ball moving consistently.
Add in that he tried a deep pass on 14.9% of his attempts last season (fifth among 53 quarterbacks), and there's some chaos interception upside here too.
Cincinnati has a long way to go in this season, and one bunk opening game shouldn't mean we turn our noses up at such a ripe matchup for a top-10 defense by Defensive Pass Net Expected Points (NEP) per play in Week 2.
With a total of 43.5 and a margin of more than a touchdown favoring them, our model projects the Bengals for 8.7 fantasy points. That's the fourth-most among Week 2 defensive options despite being on the road in a dome.
Cleveland Browns
vs. New York Jets
Spread: CLE -6.5
Roster Percentage: 28%
There's a case to be made that the Cleveland D/ST is just as good a streaming option as the aforementioned Bengals this week.
The Cleveland defense itself proved sturdier in Week 1 than their divisional rivals, albeit not by much. The edge rush tandem of Myles Garrett and Jadeveon Clowney generated a 21.9% pressure rate, which was three spots higher than Cincinnati – but still the 13th-lowest in the league. Cleveland also ended up only a little below average by Defensive Passing NEP per play, which gives them something to build off of going forward.
They should find quite a bit more purchase despite middling peripherals considering they host the lowly New York Jets at home in Week 2.
Like the Cowboys, the Jets are "going through it" under center at the moment. Veteran Joe Flacco started the season and should call signals through at least Week 3, and his opening salvo for 2022 was not #elite.
Flacco was pressured on more than a third of his drop backs, which is the ninth-highest rate among quarterbacks so far this year. This should be the medicine the Browns' pass rush needs to provide a solid sack-based floor for you in Week 2.
Last week, Flacco turned in a surprisingly-low zero turnover-worthy plays (per PFF), but his 3.3% rate in that category since 2019 is a solidly average mark.. He could still provide takeaway upside to Cleveland.
Our model project the Browns D/ST as the sixth-best defensive fantasy option this week, with a projection of 8.1 fantasy points. The total is a measly 40.5 points (lowest in Week 2), and the Browns are almost a touchdown favorite at home.
New York Giants
vs. Carolina Panthers
Spread: NYG -2.5
Roster Percentage: 1%
Based on the results, it seems like we should have preferred the team playing the Panthers in Week 1 over the unlucky black cats themselves. Based on the process, that's exactly what I'm going to recommend this week, as the New York Giants D/ST gets itself a cushy matchup against Carolina.
New York has surprisingly choice peripherals for a fantasy defense, having gotten pressure on 31.4% of their defensive drop backs (ninth-highest rate in Week 1). It seems the presence of rookie edge rusher Kayvon Thibodeaux has unlocked a little something extra in the G-Men, even though the results in terms of Defensive Pass NEP per play were a little bit rough (eighth-worst).
Fortunately for us, Carolina's passing game is only about average, with quarterback Baker Mayfield looking lost in his new colors.
In Week 1, Mayfield himself uncorked a 5.7% turnover-worthy play rate, a new career-high over last year's already ugly 3.9%, and the fifth-highest in the league so far. He was also pressured at the sixth-highest rate among Week 1 quarterbacks and had the seventh-lowest average attempted depth of target.
Whether or not this turns around remains to be seen, but the data leads me to believe that New Jersey won't be a friendly confine for Carolina's kittens here.
Our model projects the Giants D/ST for 7.8 fantasy points – the ninth-most among Week 2 defenses. The 42.5-point total is tied for third-lowest on the slate, and New York is almost a field goal favorite here, giving us enough reason to look at them as a deep streaming option with such low rostership.