Thursday Night Football Betting: What Can We Take From the Champs Being Underdogs in the Opener?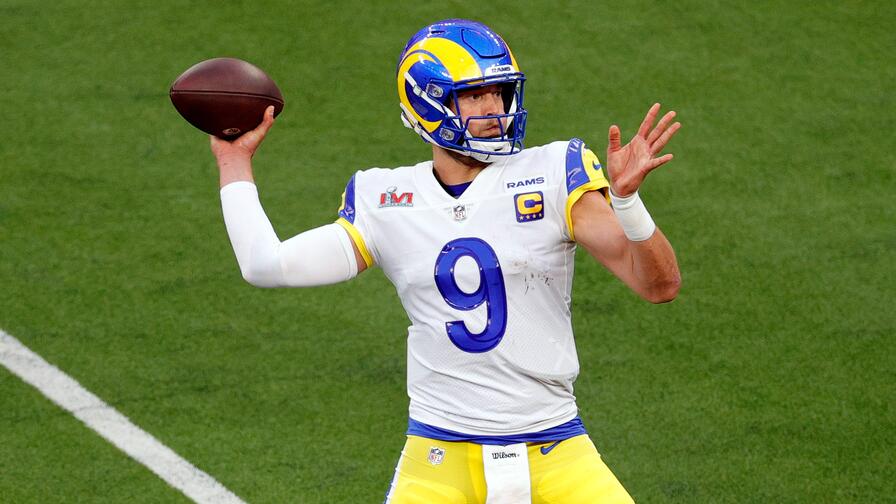 Just a few months ago, we were witnessing the Los Angeles Rams hold off the Cincinnati Bengals by just a field goal in Super Bowl 56. And we get treated to an Opening Night tilt that involves the Super Bowl champs and the Buffalo Bills, who are arguably the heavyweight favorites in the AFC.
Our nERD-based rankings show that this game could be a delight. The road Bills are our top-ranked team, facing off against the Rams, who are fourth-best.
Let's dive into some interesting betting angles for this contest.
Game Preview and Key Matchups
There are a lot of interesting offensive options to consider for both teams, and we have to start with Matthew Stafford, who was more than stellar in his first season in Los Angeles.
As the signal-caller and leader of Sean McVay's offense, the University of Georgia product logged a 0.26 Passing Net Expected Points (NEP) per drop back in 2021-22. Stafford threw for just shy of 5,000 yards, 41 touchdowns, and 17 interceptions on the season.
His counterpart, Josh Allen, was pretty stellar in his own right. He was slightly less efficient, recording a 0.17 Passing NEP per pass mark, 4,408 passing yards, and 36 touchdowns against 15 picks. Where Allen gets the clear nod is with his mobility; he rushed for 763 yards (league-best) and six touchdowns.
It will be curious to see how the running games stack up. Cam Akers returned in the playoffs following an Achilles injury, and it was clear he was a bit rushed. Akers ceded primary rushing duties to Darrell Henderson (149 carries, 688 rushing yards) and Sony Michel (208 carries, 845 rushing yards), but Michel departed to the crosstown Chargers in the offseason.
In Buffalo, Devin Singletary led the way in the Bills backfield (0.05 Rushing NEP per rush, 870 rushing yards), with Zack Moss (96 carries, 345 rushing yards) also seeing quite a bit of action. Rookie James Cook was also added, which makes the situation a bit murky.
Overall, we can see why these two teams are thought so highly of. Last regular season, both Buffalo (381.9 yards per game) and Los Angeles (372.1) ranked inside the top 10 in passing yards per game. The Bills also averaged the sixth-most rushing yards per game (129.9).
Defensively, the Bills were the toughest team in the entire league to gain ground on (in terms of yards per game). The Rams ranked 17th overall. Buffalo also ranked sixth in turnover margin on the season (+8), while the Rams were nearly even (+2).
Bets to Consider
Despite heading to L.A., the Bills are 2.5-point favorites with an over/under set at 51.5 points. Where should you have your money for this one, according to our numbers?
We are projecting this line to be right on. We are forecasting a tight Bills win by a score of 26.33 to 24.84, squeaking out a cover only 50.34% of the time.
On the total, our model sides with the under -- although it isn't a particularly heavy lean. Our algorithm projects the under to win out 52.67% of the time.
In peering closely at this game and peeking at our player projections, betting the under on passing yards (which sits around 275 yards for both passers) seems pretty obvious at this point. The Bills were the stingiest unit in the league by a country mile, allowing only 163 passing yards per game a season ago. Only four defensive units allowed under 200 passing yards per game, and the Bills were one of them.
If you want to jam in a player prop, I'd take a long look at Josh Allen's rushing prop, which sits at 39.5 yards (-130). Allen has smashed this mark repeatedly, topping 60 rushing yards in his last five games, and he surpassed 40 yards in 10 of 17 regular season games in 2021. It certainly seems to be a worthy opportunity to consider.
2021 Betting Trends
-- It's a bit surprising seeing the Super Bowl champ as an underdog, but they aren't buried when that's the case. They were 3-0 as underdogs last year.

-- Interestingly, if history repeats itself, the over could be a fun bet. The last nine times the Rams have closed as the underdog, the over has cashed eight times.

-- The Bills made for a very fun bet in the playoffs prior to losing to Kansas City. They scored 27 points in every game and went 4-0-1 against the spread (ATS) down the stretch.