​NFL Draft Betting: How Early Will the Top Edge Rushers Be Drafted?
There's a fairly well-accepted adage that "the most valuable football positions are quarterback and anyone who can get to the quarterback." We all know that the passing game -- both on offense and defense -- has become the premier phase of NFL play, so it makes sense that prospects who affect it should demand attention in the NFL Draft. Especially in an NFL prospect cycle with no clear-cut, superstar-to-be quarterbacks, the edge-rushing talent is the show in town for 2022 draftniks.
Edge rusher is also a position you should be paying attention to if you want to bet the NFL Draft this year. NFL odds has player draft position props available for a number of NFL prospects: they give an overall draft slot number and you can bet on whether that prospect will be selected "over" (later in the draft) or "under" (earlier) that pick.
All four edge rushers with draft slot props have lines suggesting they'll be top-10 selections. Will the top picks be dominated by defensive ends, or will any of these elite edge players slip down the board in the 2022 NFL Draft?
Methodology
I use a combination of data sources, including mock drafts and my own draft pick model to help project players into draft slots. The mock draft data I use sources the "pulse of the people" via Grinding the Mocks and their Expected Draft Position (EDP), as well as an "expert consensus mock" of the nine most accurate mockers over the last five years, per The Huddle Report.
The draft value model compares college production and athletic ability of past players to their actual draft slots. We're not looking to project which players' resumes indicate they'll be the most successful in the pros; we're just identifying how NFL teams look at these players in the draft, and which qualities they weigh most heavily in their prospect evaluation. The athleticism scores I use come from Kent Lee Platte's Relative Athletic Score (RAS).
Aidan Hutchinson, Michigan
Line: 1.5 | Over: +182, Under: -250
Our own Neil Dutton broke down the FanDuel Sportsbook odds on the first overall pick in January and examined the prospect case for Michigan's Aidan Hutchinson as part of that piece. Back then, the implied odds of Hutchinson's line assumed a 37.7% chance he would be the 1.01 in this draft; today, Hutchinson is -250 (71.4% implied odds) on that prop, which aligns with his under here. That's really the only question at play when your line for individual draft position is 1.5: are you going to be the first pick in the draft?
In terms of biographies, Hutchinson probably has the clearest case for the top spot of any prospect. He won three major individual awards in his senior season while finishing second in Heisman Trophy voting, guiding his program to the number-two ranking in AP Polls prior to the College Football Playoff and racking up the third-most sacks in the country. He tested as a truly elite athlete, with his RAS coming in at a whopping 9.88 -- just behind previous top talent like Jevon Kearse and 19th among edge players since 1987. His EDP is 1.2, ranking him an unquestioned first among all prospects (the second-highest EDP is 4.1), and he ranks first in eight out of 10 experts' mocks, as well. Put simply -- he has an ironclad case to go at the pinnacle of this draft.
There is a temptation to take plus odds on the off-chance the Jacksonville Jaguars do something weird first overall, and Hutchinson's odds have lengthened from the -400 they were at just weeks ago. At this point, though, it seems unlikely that they trade the pick, and I can't find any real reason to be concerned about this recent movement. The real draft starts at 1.02 in my eyes, so this is still a fine price at which to get a ticket on Hutchinson.
Recommendation: Risk 1 unit on "Under 1.5" to win 0.4 units.
Travon Walker, Georgia
Line: 3.5 | Over: +152, Under: -205
The main contender to Hutchinson's throne atop the draft, Georgia defender Travon Walker has seen a meteoric rise in this class since testing out of his shoes at the NFL Combine.
At kickoff of the last college football season, Walker wasn't even regularly mocked. By December, he was -- at best -- an early second-round pick by EDP. He has been a lock at the number-two spot since February, however, when he posted an absurd 9.99 RAS -- the highest mark in the 2022 edge rusher class and the third-highest EDGE athleticism score all-time. Among the experts, Walker's lowest draft spot is third, dancing the line of 3.5 for this prop.
The problem with Walker's case for the top of the draft is a lack of production. In his final season, Walker earned a pressure rate of 8.9%, ranking 125th out of 187 Division I FBS edge rushers to play 250 or more pass-rushing snaps. For context, Hutchinson ranks sixth in this metric with a 17.4% pressure rate. By pass-rush win rate -- measured by Pro Football Focus (PFF) -- Walker ranks 146th of 187 in this metric; Hutchinson is fourth.
Assuming rational front-office decisions never seems like a winning strategy, but we have to operate with the best information we have. Walker moves like a player with generational talent, but right now any team selecting him is projecting solely based on athletic traits. A team in the top five could be enamored with these skills and ignore the results, but I'm not willing to risk my money on a player who has skyrocketed out of nowhere and could just as easily plummet back to earth on Draft Day.
Recommendation: Pass, or risk 0.5 units on "Over 3.5" to win 0.76 units.
Kayvon Thibodeaux, Oregon
Line: 5.5 | Over: -136, Under: +102
One of the more interesting players to observe in #DraftTwitter this year has been Oregon edge rusher Kayvon Thibodeaux. Having been projected as the top player in this class basically since his recruitment to college, Thibodeaux started to slip from his perch in mocks right around when Hutchinson's incredible final season in school began to manifest.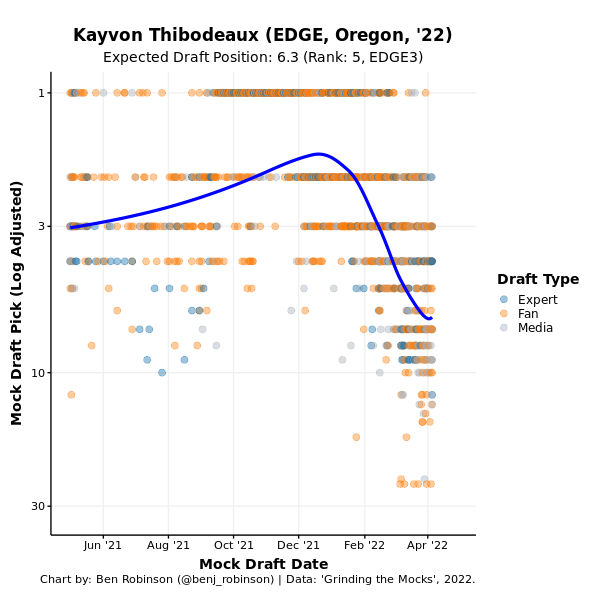 Probably, though, we as a collective industry are suffering a bit of prospect fatigue on Thibs. This year has had an element of "will they, won't they" between him and draft analysts, and we've finally settled on "won't they" in terms of the top spot. That said, as I outlined in a piece not long ago, Thibodeaux has a mighty strong case for the second pick overall -- arguably a stronger case than Walker, who has resoundingly passed him in mocks.
While Thibs never saw the peak production across the board that Hutchinson earned in 2021 and he is more of a pure wide edge rusher than a front-four movable piece like Hutch or Walker, he still put up numbers. In his final and best season at Oregon, Thibodeaux's 16.3% pressure rate ranks 10th-best out of 187 qualifying edge players last year, and his win rate on those pressures (22.8%) was 11th-highest.
With three teams in the top three who desperately need players who can get pressure on the quarterback and as arguably the second-best player at the position, Thibodeaux feels like a clear top-five lock.
Recommendation: Risk 1 unit on "Under 5.5" to win 1.02 units.
Jermaine Johnson II, Florida State
Line: 9.5 | Over: +124, Under: -166
The odd man out in this quartet is Jermaine Johnson II. Johnson -- who I'm legally obliged to mention is a fellow Minnesotan -- transferred to Florida State from Georgia for his redshirt senior 2021 season, making him the oldest top-tier edge rusher in the class. Part of why he transferred, surely, is the fact that he played a total of fewer than 350 snaps for the dynamic Bulldogs defense.
It's worth noting, though, that that means his 2021 season workload of 690 snaps was the most he has played against high-level competition by far; this isn't an outright disqualifying factor for being a top-10 draft pick, but it's something to keep in mind in an incredibly top-heavy and talented class.
In addition, once he made it onto the field, Johnson was very good, but by no means incredible. Per PFF's grades, Johnson was the 35th-best edge rusher among the 245 who played at least 450 snaps in 2021. The puzzling element is that he does everything well but has no true calling card: Johnson's run stop rate was top-60, his pressure rate was top-80, and his pass-rush win rate was top-90 at his position, but none of those abilities really leap off the page.
Similarly, his athleticism is great compared to the average NFL prospect, but it is just above-average for an NFL contributor -- very fast in a straight line but not particularly explosive, twitchy, or large.
The "wisdom of the crowd" mock has Johnson landing in the 13 to 16 range overall, well below his line of 9.5. On average, the experts slot JJ2 in at 10th overall, though that is due to five having him landing seventh or eighth and four putting him 13th or 14th.
By my reckoning, the first draft slot where Johnson has a clear case as the best player available and has a team fit is eighth to the Atlanta Falcons. Their pass rush currently depends on new arrival Lorenzo Carter, a fifth-round second-year player, and former seventh-rounders or UDFAs. That said, Atlanta has a bevy of other needs that could be addressed with a premium pick, so there's no guarantee Johnson is the selection over a quarterback or wide receiver.
The Seattle Seahawks at nine also have a need at edge rusher, but far greater needs at quarterback and offensive tackle can be filled with prospects who will likely be available.
I think Johnson has a good chance to slip through this gauntlet and fall over his line.
Recommendation: Risk 0.5 units on "Over 9.5" to win 0.62 units.