Fantasy Football: 3 Things We Learned in Week 4
Perhaps more than anything, fantasy football is a game of adjustments. Season-long fantasy doesn't end at the draft, and smart managers learn to take the trends and data that each week of games offers and apply it to their roster decisions moving forward.
This weekly piece will look at trends from the previous slate of games and determine which trends in snaps, usage, and matchups are actionable moving forward. Let's dive in and look at some interesting pieces of information from Week 4.
Sam Darnold Confirmed Our Biases
Sam Darnold is the latest scientific experiment to come out of the "Extraction From Adam Gase's Influence" laboratory. And just like the myriad of examples we have seen emerge from that research facility, Darnold has been able to flourish on his new team with the Gase-sized gorilla off his back.
In any fantasy format you can find, Darnold is the QB6 through four weeks, and he is getting it done in a multitude of ways. Passing yards? He is sixth in the NFL. Passing touchdowns? He has six on the year. Does that sound low? Well, he also leads all NFL players with five rushing touchdowns. If you changed his position to running back, Darnold would be an every-week flex play at RB36.
Part of the emergence surely is due to the skill players Darnold has at his disposal. He has not been able to play with teammates of the caliber of D.J. Moore and Christian McCaffrey in New York. But the change in scheme and offensive direction is paying huge dividends for Darnold. Matt Rhule and his offensive gameplan -- which heavily relies on running back pass involvement and D.J. Moore intermediate to deep passes -- have found a way to unlock Darnold's best assets in his fourth season.
As Warren Sharp pointed out, Darnold is 5-for-14 (35.7%) in passing plays more than 20 yards downfield this season. So we shouldn't be surprised that this was Darnold's passing chart from Sunday. Every completion and touchdown was under 20 yards.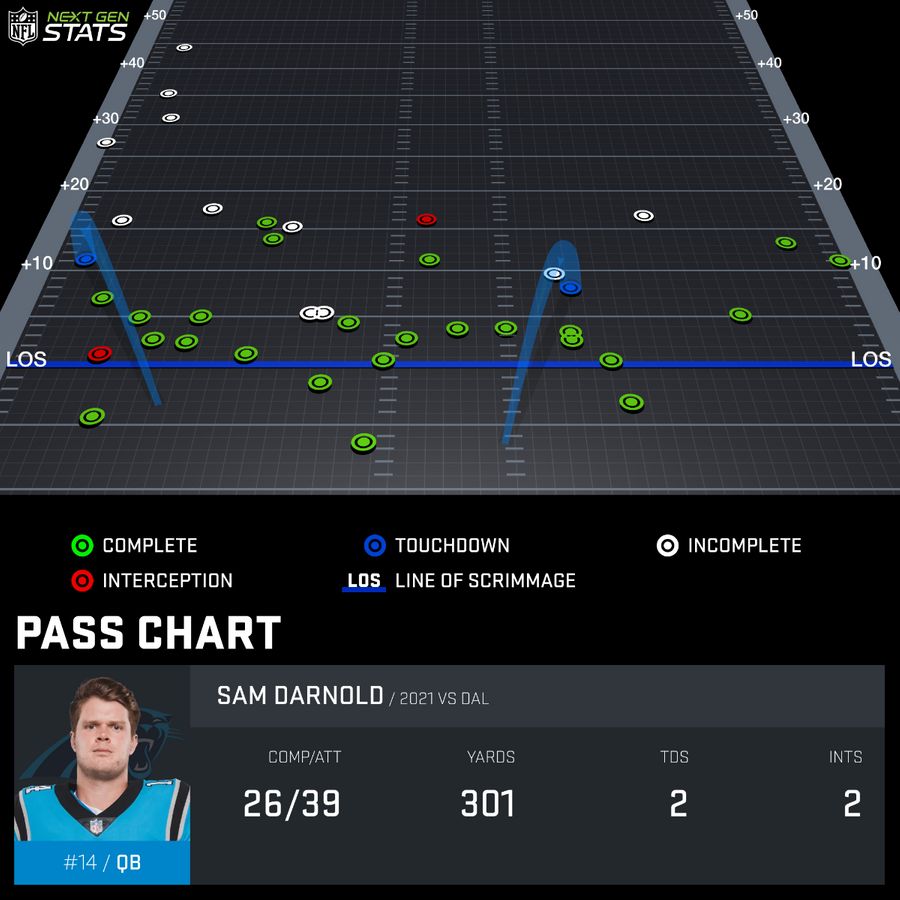 Darnold faced an emerging Dallas Cowboys defense on Sunday and didn't throw up one of the patented three-interception games from when he was in New York. This is a different player this year, and he is clearly a player to add to your roster if you are quarterback desperate through the quarter pole of the season.
This is Allen Robinson's Last Stand
It's looking like now or never for one of the top-12 wide receivers in 2021 drafts. The offensive situation for Allen Robinson has gotten so bad that he finds himself as the WR60 in PPR formats -- in close proximity to Tim Patrick. But with news that David Montgomery will miss at least the next month with a knee sprain, this is the best chance Robinson will have to salvage his season.
Robinson's season started well enough with 11 targets, although fantasy managers were likely curious that he only had six catches and 35 yards in that first game. He salvaged his Week 2 matchup with a touchdown to go along with his 24 yards as well. But in the past two weeks, Robinson has 90 total receiving yards, no scores, and -- most frightening - -only nine targets. He still does not have a game where he has reached 10 half-PPR fantasy points this season.
The advanced numbers don't look great for Robinson either. He ranks 30th among all wide receivers in his share of the Chicago Bears' air yards, and his average depth of target is the same as Albert Wilson's. The 25% target share still looks decent (22nd overall), but his 21 targets rank only 33rd among pass-catchers. His yards after the catch (37) rank 60th as well. Perhaps most disappointing is Robinson's lack of contributions on the targets he does receive. Among wide receivers with at least 20 targets this year, Robinson ranks 40th in net expected points per target -- a disappointing total for one of the best in the game.
The Bears have a mixed bag of a schedule over the next four weeks, facing the Raiders, Packers, Buccaneers, and 49ers. The Raiders and Packers are both top-ten in fewest fantasy points allowed to wide receivers this year. The 49ers are right in the middle of the pack, but Tampa Bay allows the second-most points to the position. However, all the favorable games and skills in the world couldn't overcome poor quarterback play and incompetent coaching.
Can Robinson overcome the tendencies of Matt Nagy and the rookie struggles of Justin Fields? Time is running out.
Kenneth Gainwell Deserves a Spot on Your Roster
If we were to ever play poker with the Philadelphia Eagles, we would already have picked up their tell only a few hands into this 17-week season.
Through four weeks, incumbent Miles Sanders does still seem to have the lion's share of the workload of the Eagles' backfield. Here are the broad numbers for their usage this season:
#Eagles RB usage through 4 weeks

- Miles Sanders: 65% snaps, 9.3 carries per game, 3.5 targets per game, 11.7 fantasy PPG

- Kenny Gainwell: 35% snaps, 4.8 carries per game, 4.5 targets per game, 10.1 fantasy PPG
— Michael F. Florio (@MichaelFFlorio) October 4, 2021

But these facts hide a couple of truths that have been developing over the course of the past two weeks that should make Miles Sanders managers very nervous. Kenneth Gainwell is clearly becoming the preferred pass-catching back on the team. In fact, Gainwell ranks second only to Cordarrelle Patterson in targets per routes run by running backs (33%). When he is on the field, it's a decent bet Gainwell is going to get a target on his routes.
Additionally, the Eagles clearly prefer Gainwell in the red zone and at the goal line. According to FantasyData, Sanders has 4 red-zone carries for a total of -3 yards. Gainwell has 3 red-zone attempts for 16 yards. Gainwell also leads Sanders in targets in that area, five to two. When the ball is in closer, Gainwell seems to have the advantage again. Sanders has -7 yards on his two rushes inside the 10-yard line, while Gainwell has seen both of his carries in that area go for touchdowns. It's becoming clear the Eagles want Gainwell on the field in high-leverage situations, and to be fair, he is having more success with them.
At only 29% rostered in Yahoo leagues, that number should at least double before Week 5 kicks off in a couple of days. Run to your league's waiver wire to see if he is still available.