FanDuel Single-Game Daily Fantasy Football Helper: Week 5 Tuesday Night (Bills at Titans)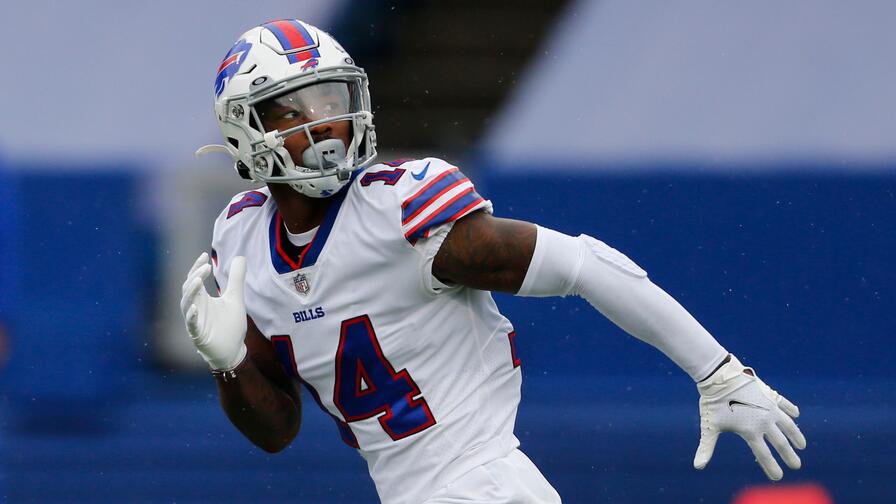 Are you ready for some Tuesday Night Football?
Well, that's what we're getting for today's matchup between the Buffalo Bills and Tennessee Titans, making for an intriguing (to say the least) single-game slate on FanDuel.
Which plays stand out for the single-game slate?
Before we dig in, don't forget to brush up on some single-game perfect lineup trends and leverage our Sharpstack single-game optimizer for correlated lineup plays. Let's dig into overall strategy and MVP considerations and flex possibilities, as well.
Slate Breakdown
Using numberFire's projections, the most likely top-scorers on the slate are, unsurprisingly, Josh Allen ($16,000) at 41.4%, Derrick Henry ($14,500) at 24.2%, and Ryan Tannehill ($15,000) at 15.2%. At the median level, numberFire projects Allen for 22.8 FanDuel points with Henry at 18.0 and Tannehill at 16.9.
Usually, quarterbacks are rostered as MVPs more often than they should be, and there's actual running back leverage, based on trends in optimal lineups.
The Titans have a ton of question marks with injuries, so a full write-up is tricky, and we'll have to wait to see who's inactive.
Bills Overview
Starting with Allen, if you're rostering him as your MVP, a logical flow to consider would be one of his receivers brought back with an opposing receiver. Historically, it's difficult to get both quarterbacks into your lineup and have enough salary to find big performances. With a lack of standout (or certain) value plays, it's a one-quarterback night most likely.
Even before factoring in that Zack Moss ($7,500) and John Brown ($10,000) are questionable, the obvious stacking candidate with Allen is Stefon Diggs ($13,500), who has a 23.6% target share. Nobody else in this game has better than a 19.2% target share for either team (Adam Humphries ($7,000; on the COVID list) and Jonnu Smith ($10,500)). Diggs is also the only player in the game to average at least 1.5 downfield targets per game, and he's up at 2.3 while also seeing 1.3 red zone targets per game. It's hard to avoid Diggs with Allen, though Allen's rushing does give him appeal without a wide receiver if you really want to differentiate. Diggs deserves some MVP love himself, as receivers are a good leverage spot for MVP selections. You should be seeking players who are popular (i.e. not off-the-radar) but who just aren't rostered as MVPs often. Diggs should fit there.
Gabriel Davis ($7,000) played 74.2% of the snaps in Week 3 when Brown was limited. Davis' 12.6-yard average depth of target puts him on the value radar if Brown is out. Dawson Knox's ($6,500) return in Week 4 brought Tyler Kroft's ($6,000) snap rate down from 71.0% to 32.8%, so the tight ends are difficult sells unless you're fishing for a multi-touchdown game.
Moss' return would definitely ding Devin Singletary ($12,000). In two games with Moss, Singletary averaged 9.5 rushes and 5.0 targets. In two games without him, those numbers are 15.5 and 4.5, respectively. Singletary played 88.6% of the snaps, on average, without Moss and 57.2% with Moss active. Neither are likely MVPs if both are healthy. Singletary's unproven red-zone role also puts his MVP status into question. I think he's best left as a flex.
Titans Overview
This team obviously revolves around Henry, who is the favorite to lead the Titans in fantasy points, but he and Allen should be the chalk MVP picks. Henry has averaged a robust 27.3 carries and okay 2.7 targets through three games. With pass-catching back Darrynton Evans active in Week 3, Henry still played 74.7% of snaps. Evans played 8 total snaps (10.7%), though if you play an Allen or Diggs MVP lineup, you could bring it back with Evans in the hopes that the Bills play from ahead and force the Titans into a negative game script, thus limiting Henry. Other than that, Henry is a tough fade due to the unmatched volume in this game by any other player.

Tannehill, like Allen, has been great this year. Tannehill is averaging 0.30 Passing Net Expected Points (NEP) per drop back; the NFL average is at 0.15 right now (Allen is at 0.48). Although his receivers are depleted, he'll get a big boost by way of the return of A.J. Brown ($11,500). In Week 1, Brown played 81.5% of snaps and had an 18.6% target share (8 total targets). Tannehill is an easy way to get a floor without being drastically different at your MVP spot. The biggest downside is that only 8.7% of his passes have traveled at least 16 yards downfield this year (NFL average is 17.1%). Tannehill's upside may not be quite what it was last year, though Brown's return could help them stretch the field once again.
Brown himself is intriguing. As mentioned already, nobody on this team has higher than a 19.2% target share on the season in active games. Brown easily would be the best candidate for a 25.0% target share in tonight's game with the state of the team's receivers. There's legitimate risk, as he should see plenty of Tre'Davious White in coverage, but few wideouts have Brown's overall ceiling in the league, and volume seems guaranteed if he's healthy. Pivoting to Brown from Henry is an easy way to be different without being reckless.
It's really tough to make the case for any MVP pick from Tennessee other than Henry, Tannehill, or Brown, given how they distribute the ball and the uncertainty behind them with who winds up being healthy. Jonnu Smith has a 19.2% target share albeit on an average target depth of 6.6 yards. He's run a route on 63.7% of the team's drop backs and figures to see legitimate volume with the Titans' thin depth chart.
Overall Takeaways
There are definitely chalky MVP picks for this game with Henry and Allen, but they make a lot of sense given their workloads. The easiest way to get different is to go with Tannehill or with Diggs or Brown, which is my preference (Diggs ranking ahead of Brown and Tannehill).
A lot of the value is dependent on health (the Titans' pass-catchers depending on who plays, Gabriel Davis depending on if John Brown plays, and Devin Singletary depending on Zack Moss' status).