Emmanuel Sanders' Fantasy Football Value Gets a Lift in New Orleans
In terms of fantasy impact, one of the best free agent signings of the the early 2020 NFL Free Agency period might wind up being Emmanuel Sanders to the New Orleans Saints on a two-year deal worth $16 million.
Sanders can make history this season by becoming the first player to make four Super Bowls with four different teams as the Saints are going to be a contender once again. Sanders found success with the San Francisco 49ers last year after being dealt from the Denver Broncos midseason.
What kind of fantasy season will he have in New Orleans in 2020?
The Immediate Impact
This past year was Sanders' third Super Bowl appearance (XLV, L, LIV). He's lost as a member of the Pittsburgh Steelers (XLV) and 49ers (LIV), but he won Super Bowl 50 (L) with the Broncos. As of now, the Saints have the fourth-best odds to win Super Bowl LV (+1300), per FanDuel Sportsbook. Adding Sanders -- among other offseason moves -- has moved New Orleans' line down from +1600, meaning you lost $300 of potential winnings for the $100 bettor once Sanders inked his deal with New Orleans.
New Orleans was in desperate need of a second option opposite of All-Pro Michael Thomas, who had 119 more catches than any other Saints wideout last season. Running back Alvin Kamara has been second on the team in receptions for two consecutive seasons, and only he and Thomas have had more than 44 receptions in a single season over the last two years.
Sanders finished his 49ers' tenure with 41 receptions on 61 targets for 573 yards and 3 touchdowns in 13 total games with San Fran, including three postseason contests. With his Broncos numbers included, he had 66 receptions on 97 targets for 869 yards and 5 touchdowns in 17 regular season games games played (10 for the Niners, 7 with Denver). He caught 67.2% of his targets from Jimmy Garoppolo last season, and with Drew Brees inking a two-year deal to finish his career in New Orleans, this seems like an even better scenario for Sanders to flourish in 2020.
The fantasy market agrees.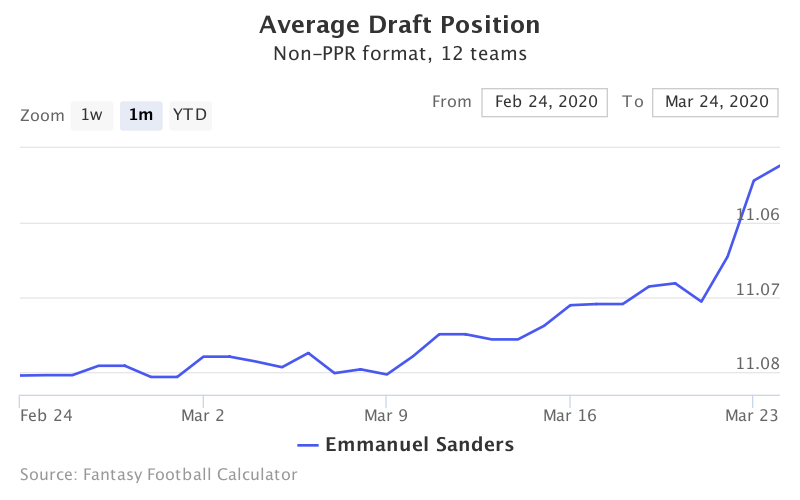 Per Fantasy Football Calculator, Sanders' ADP has been on the rise -- albeit only slightly -- since he signed with the Saints, and that trend may continue, possibly pushing him up a round or two from here as the offseason progresses.
Sanders' Track Record as a No. 2 Option
Sanders has already proven in Denver and Pittsburgh that he is quite the weapon as the No. 2 option.
During his last two seasons in Pittsburgh, Sanders become a primary threat alongside Antonio Brown before the Steelers ultimately paid Brown and passed on Sanders, which led to Manny pairing with Demaryius Thomas in the Mile High City. Sanders had 111 receptions for 1,366 yards and 7 touchdowns in his last two regular seasons with the Steelers, including six touchdowns in 2013-14 before joining Denver.
Working with Thomas in Denver, Sanders posted 368 receptions (on 576 targets), 4,786 yards, and 25 touchdowns in 67 regular season games, spanning from the beginning of the 2014 campaign and ending after Week 8 of the 2018 season, when Thomas was traded. Sanders averaged 5.5 receptions on 8.6 targets per game, 71.4 yards and one touchdown reception in every three games (0.37) as a Bronco from 2014-18.
Some of those numbers were with Peyton Manning as quarterback, and without Thomas last season, Sanders' numbers in Denver weren't as impressive. His receptions per game (4.6), yards per game (52.2), and targets per game (7.0) all dropped once Thomas left. He played 11 games in Denver without Thomas, recording 51 receptions, 575 yards, and 3 touchdowns before being dealt to the 49ers.
In his first two games with the 49ers this past year, Sanders found his way to the end zone in each game, but he managed to find pay-dirt just once over the next 11, counting the postseason. In the three games Sanders did score, he posted 18 receptions for 294 yards and 3 touchdowns, topping 100 yards twice. Despite having limited time with Garoppolo and to learn the playbook, Sanders seemed to fit in systematically and gave the 49ers' offense another playmaker they were sorely missing.
Sanders played all of last year after rupturing his Achilles in 2018. Despite the severe injury and Sanders' age (last year was his age-32 season), not only was he able to recover in time for the season, he performed fairly well on two offenses that were run-heavy attacks. With a full offseason to get healthy and a shift to a more pass-heavy offense in New Orleans, Sanders should be in for a solid 2020 output.
Sanders in New Orleans
As fate would have it, Sanders' best game of the 2019 campaign came against the Saints in New Orleans during the 49ers' thrilling 48-46 win -- a game in which he recorded 7 receptions for 175 yards and a score.
Brees has be jumping for joy after lacking a quality number-two receiver for the last three seasons, with deep-threat Ted Ginn Jr. filling the role. Thomas received 31.8% of targets from three different quarterbacks in New Orleans last year. All of the team's other wide receivers combined saw just 92 of 581 targets (15.8%) last season, and Thomas had 185 himself -- more than double the Saints' other four qualifying wideouts. The wide receiver group without Thomas caught only 59.7% of their targets. Last season Sanders finished with 78.1% catchable target rate on 75 targets as he played with two new quarterbacks, finishing with just three drops.
Regardless of being 33-years-old and only a year removed from the Achilles injury, Sanders hasn't slowed down with age, averaging 96.3 targets over the last three seasons, with questionable quarterbacks tossing him the rock during most of his last three seasons in Denver.
Sanders averaged an 80.4% snap share last season, and 22.07% of his snaps came from the slot, a role he could see a lot of in New Orleans. Sanders could see more touchdown opportunities thrown his way as a result of teams attempting to slow down Thomas after Thomas broke Marvin Harrison's all-time single season record for receptions with 149 last season.
All in all, the move to one of the NFL's premier offenses gives Sanders' fantasy value a slight boost and raises his floor. Our JJ Zachariason projects Manny for 85.1 targets, 64.2 receptions, 789.2 yards, 5.7 touchdowns. That puts him in the WR3/4 neighborhood, and given the other receiver options around Sanders' current ADP -- guys like Parris Campbell, J.J. Arcega-Whiteside and Corey Davis -- Sanders' floor makes him an appealing selection at his price.