Fantasy Football: Drafting Randall Cobb In the Later Rounds Is Worth It
This might not be the biggest move of the NFL free agency period, but Randall Cobb has signed with the Houston Texans, and we want to take a look at it from a fantasy perspective.
How Much Fantasy Value Does Cobb Have?
With the Texans trading DeAndre Hopkins to the Arizona Cardinals, there is an immediate opening in their passing game and plenty of production to grab. The last time Hopkins didn't lead the team in targets, receptions, and yards was the 2014 season -- when Andre Johnson led the team. In every single season since then, Hopkins has not only led the team in each of those categories but often dominated the receiving production by nearly 50 targets or receptions. This shouldn't come as a surprise -- Hopkins is an elite receiver and averages 9.5 targets per game in his career.
Hopkins is now gone, and the Texans have to fill that production with a few players, one of which should be Cobb. Currently on their roster they have Will Fuller, Kenny Stills, and Keke Coutee as their main receivers -- adding Cobb into the mix for this season. Both Fuller and Coutee have dealt with injuries for most of their NFL careers -- bringing a level of uncertainty to their potential production. What does this all mean for Cobb?
Stock On The Rise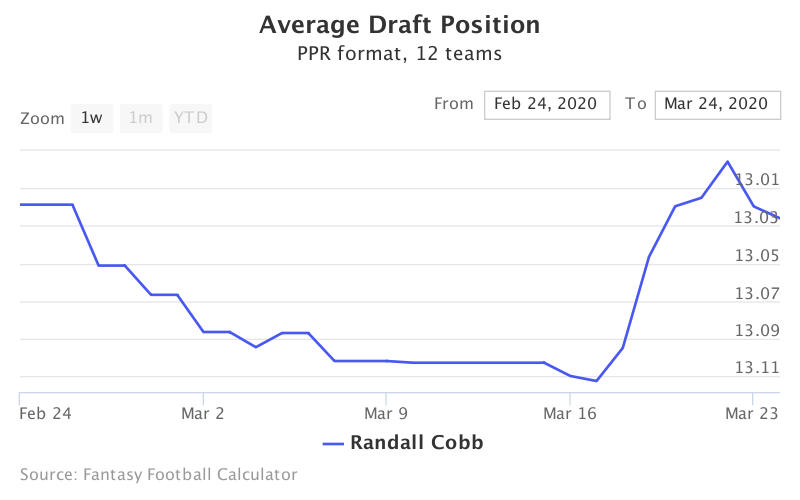 Over the last month, Cobb's ADP has seen some noticeable changes, and this could only be the beginning. According to FantasyFootbllCalculator's Cobb's ADP has jumped from the end of the 13th round to the start of the 13th round. Now, this is a small sample size over the past week since Hopkins was traded away, but this could be a sign of things to come. Hopkins held 30% of the Texans' target market share last season. That, combined with the fact they are seemingly always injury issues with some of their current receivers, leads to a very clear opening for Cobb.
Grab Him At His Current ADP
This might be the most important part of the Cobb to the Texans and should be treated as such. Grab Cobb at his current ADP and monitor it as the season gets closer. He has great value now in later rounds, but if his ADP jumps any higher -- you should consider passing on him.