Super Bowl LV: 3 Long-Shot Value Bets to Win It All Next Season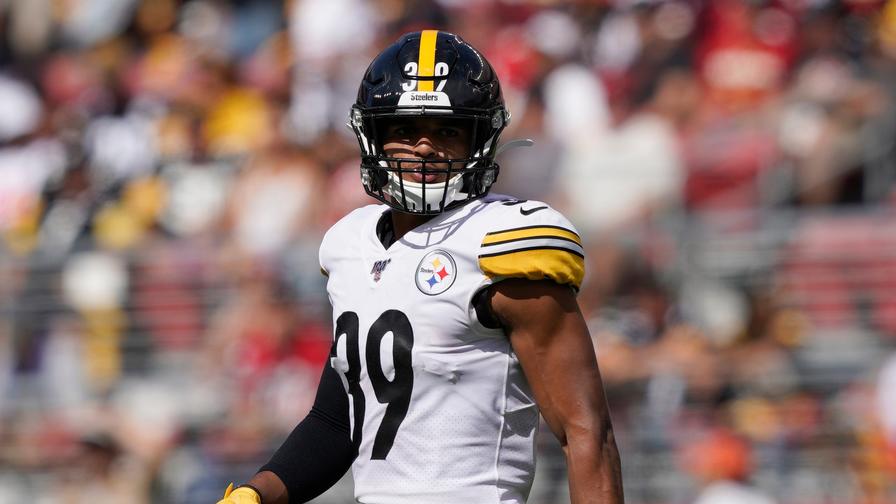 It's never too early to start thinking about next season. With that in mind, let's take a look at three value bets to win Super Bowl LV.
For the sake of clarity, I'm not going to plug any of the teams with the lowest odds. You don't need me to tell you squads like the Kansas City Chiefs (+600) and Baltimore Ravens (+700) -- the two teams with the best odds, per Super Bowl odds -- have a decent chance to win it all next year. The goal here is to identify some teams with longer odds that may be a tad undervalued. Of course, it's not an accident these teams have the odds they have, but there are a few reasons to be bullish on each of them.
Leggo.
Pittsburgh Steelers
Odds: +2200
The Pittsburgh Steelers lost Ben Roethlisberger in Week 2 last year, and for all intents and purposes, that basically ended their season -- or at least any real shot at a title.
But the 2019 campaign wasn't a total waste for Mike Tomlin and company. Pittsburgh was in contention for a playoff spot in Week 17, and they finished the season ranked 14th by our nERD metric. That's not too bad considering Mason Rudolph and Devlin Hodges started a combined 14 games.
Much of the success the Steelers had can be attributed to their defense. With T.J. Watt recording 14.5 sacks, rookie linebacker Devin Bush looking like a stud and Minkah Fitzpatrick upgrading the secondary after coming over in a midseason trade, Pittsburgh finished with the league's third-ranked defense, per our schedule-adjusted metrics. That trio -- all of whom were first-round picks -- had a combined two years of NFL experience prior to 2019, so with a defensive core that is young and talented, there isn't much of a reason to expect the Steelers' D to be anything but very good in 2020.
Offensively, things should pick up, as well, as long as Big Ben is back to 100%. That's no given considering he had a significant elbow injury and will be going into his age-38 season. He was still slinging it pretty well in 2018, though, tossing 34 touchdowns and pacing the league with 5,129 yards while averaging a solid 7.04 adjusted net yards per attempt, which checked in ninth.
For Pittsburgh to be a title contender, they don't need Roethlisberger to be elite; they just need him to be decent. This team flirted with the playoffs in 2019 while being hamstrung by the league's second-worst offense and third-worst passing game, according to our metrics. Big Ben, even at a notch or two below where he was in 2018, figures to be a sizable improvement on what Pittsburgh had under center this last season.
One of the big red flags with Pittsburgh is that they share a division with Baltimore, the best squad in the league in 2019, per nERD. The Green Bay Packers were the last Wild Card team to make it to the Super Bowl, and that came back in 2010 (against the Steelers, ironically). That doesn't bode well for the black and gold. However, the rest of the schedule is pretty dope as they'll face off with the NFC East and AFC South, two divisions with a total of two teams in the top 15 in nERD this past season (Dallas Cowboys and Tennessee Titans).
If Big Ben can play at a league-average level, Pittsburgh should be a playoff-caliber team given their elite defense. If he can be better than that and/or the Ravens regress, Pittsburgh can do big things in 2020.
Tampa Bay Buccaneers
Odds: +3500
Fourteen teams in the NFL had a positive point differential a year ago. Quietly, the Tampa Bay Buccaneers were one of them, at +9. That ranked just 13th, but it was actually better than the Seattle Seahawks' point differential of +7. Seattle is +2000 to win it all next season, the 10th-best odds, while Tampa is way down with the 20th-best odds (+3500).
Of course, point differential isn't the be-all and end-all, but it does hint at the Bucs being a better team than their 7-9 record indicates.
On offense, the Bucs lit up the scoreboard. They scored 458 points, the same number as the New Orleans Saints and seven more than the Chiefs. It was the second-most points in the NFC and third-most overall. They did that despite having the fifth-worst turnover differential (-13) in the league, doomed by Jameis Winston throwing 30 picks.
Winston, who just played out the final year of his rookie deal, might not be back in Tampa in 2020, with the team reportedly exploring all options. It's going to be an interesting offseason with guys like Tom Brady and Philip Rivers on the market. I could be way off here, but for my money, the most likely scenario with Winston is him coming back on the franchise tag, allowing the Bucs and Bruce Arians one more year to figure out what they want to do long term under center.
But whether they have Winston or a new guy at quarterback for 2020, this Bucs team is capable of making a run.
The defense is legit. They finished fourth in the NFL last year, according to our schedule-adjusted metrics, sitting second versus the run and seventh against the pass. Offensively, Winston's 30 picks kept the unit from rating out well in any efficiency metric, but like we said above, the Bucs still put up plenty of points.
Winston has had turnover issues dating back to college, so he's probably not coming out next year and turning into a new dude who suddenly takes care of the ball. With that said, it's extremely hard to throw 30 picks in a season. Only five guys in the history of the game have done it, and there have been plenty of quarterbacks a lot worse than Winston. So while Winston's propensity for taking risks deserves a lot of the blame, when an outlier season like his 30-pick campaign happens, there's some bad luck at play, as well.
There's also another side to Winston, one where he's pretty darn good. Even with all the interceptions in 2019, he finished 15th in Passing Net Expected Points (NEP) per drop back, 15th in QBR and 18th in adjusted net yards per attempt. Essentially, he was a league-average quarterback while throwing 30 picks -- that's pretty impressive (in a roundabout way). Overall for his career, Winston has been in the top 15 in Passing NEP per drop back five times in five seasons, including seventh in 2017.
It may be difficult to imagine a guy with a 30-pick season on his resume hoisting the Lombardi. I get that. But it probably wouldn't be as hard to picture, say, Carson Wentz doing it. Well, by our numbers -- specifically Passing NEP per drop back -- Wentz and Watson are extremely similar, tying in the metric each of the last two years.
There are a lot of moving parts here -- Winston may be elsewhere in 2020 or Drew Brees could retire, weakening the best team in the Bucs' division. But all in all, Tampa Bay, with a top-notch defense and explosive playmakers at receiver, isn't a bad bet at these odds. If they get some better play at quarterback -- from Winston or someone new -- they could be legit contenders.
Detroit Lions
Odds: +6600
Before you laugh and show yourself out, give me a minute.
Yes, it's very unlikely the Detroit Lions win the Super Bowl next season. We all know that, which is why we're getting +6600 odds here. But you can certainly make a case for the Lions being hard done by on their way to a 3-12-1 record this past campaign.
Obviously, the injury to Matthew Stafford was a killer. Stafford was balling out prior to getting hurt as he ended the year fourth in Passing NEP per drop back. Not only was it the best single-season output of his career by our metric, three of his four best-ever seasons in Passing NEP per drop back have come in the past four years, so he's getting better with age.
After Stafford went out (Week 10 on), the Lions were forced to turn to Jeff Driskel and David Blough, and that didn't go well, as you'd expect, with the team losing each of its last eight contests. In that eight-game slide, Detroit scored 24-plus points only one time. In eight games with Stafford at the controls, the Lions went for at least 24 points six times, with a 22-point game in there, too.
In all, the team scored 25.5 points per game in Stafford's eight starts, which would've been good enough to tie for seventh over the full season. They actually led at some point in every game he started, and they kept up that trend for the first four games sans Stafford, becoming one of just three 2019 teams to lead in every game through each of their first 12 contests. The other two squads to do it were the Chiefs and San Francisco 49ers -- heard much about those two lately?
Speaking of the Niners, they're a decent reference point for the Lions. In 2018, San Fran ranked seventh-worst in Total NEP per game, having to deal with losing their starting quarterback to injury and not having a defense -- eighth-worst by our metrics -- that was good enough to carry the team. That's pretty much exactly what happened to Detroit this last year as Stafford's injury paired with the league's sixth-worst D was too much to overcome.
While Detroit blowing so many leads had to be excruciating to watch for Lions fans this past season, it improved their draft pick. They're sitting third, a prime spot to select an impact player -- like Jeff Okudah or Derrick Brown -- to help their porous defense, or they may have a shot to trade back to get more draft picks and depth if someone wants to come up to nab Tua Tagovailoa.
If Stafford resumes playing at the level he was in 2019, the defense improves, and the Lions get some better late-game luck, they could make a leap next season. Sure, it's hard to lay out a path where they win it all, but you could've said that about the Niners 12 months ago.