Fantasy Football: Gdula's Game Notes for Week 9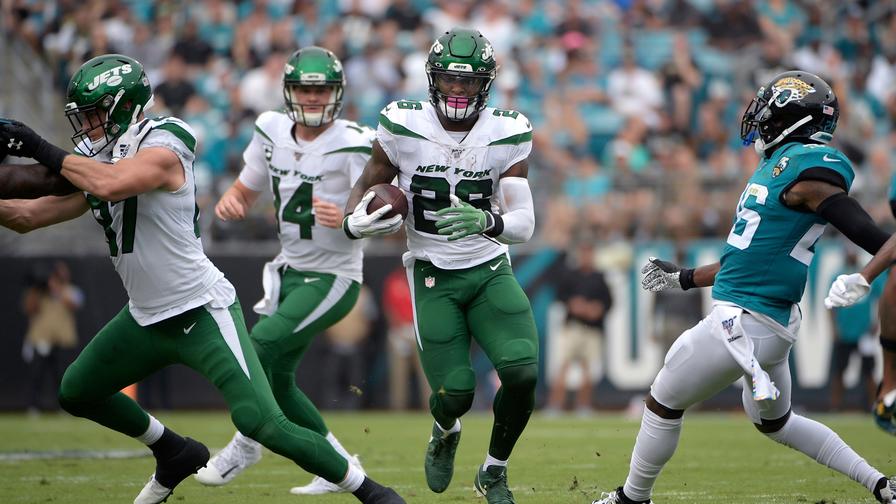 The Week 9 main slate offers us 10 games, but they don't look super juicy by any means. Of course, someone will have to score fantasy points -- there just may not be a lot of touchdowns and yardage racked up overall.
Of course, numberFire has no shortage of tools -- lineup generators, fantasy projections, and more -- to help you round out your rosters, but some extra prep never hurt anyone. So, here are some notes to know about each and every game on FanDuel's main slate for Week 9.
The Slate
NY Jets at Miami
Chicago at Philadelphia
Minnesota at Kansas City
Tennessee at Carolina
Washington at Buffalo
Indianapolis at Pittsburgh
Tampa Bay at Seattle
Detroit at Oakland
Cleveland at Denver
Green Bay at LA Chargers
NY Jets at Miami

Game Overview
- Two weak defenses and fast offenses can lead to this game hitting the over, though that would require the Miami Dolphins to score, which they haven't done with much consistency. Mini game stacks make sense.
NY Jets Offense Notes
- Le'Veon Bell ($7,000) should be given core play treatment against the NFL's 31st-ranked adjusted rush defense. Bell has played at least 82% of snaps in every game but has seen a workload dip over his past three games, but that's nitpicking at this salary.
- Sam Darnold ($7,300) has a matchup with the NFL's worst adjusted pass defense, one that doesn't generate pressure. Darnold, in two games against bottom-half pass defenses, has thrown for 255.0 yards, 3 touchdowns, and 1 interception with well-below-average efficiency, but this is as good as it gets.
- In three games with Darnold back under center, the New York Jets' target distribution is: 22 for Robby Anderson ($6,200), 19 for Jamison Crowder ($5,800), and 19 for Demaryius Thomas ($4,800), giving them all target shares of at least 20%. Thomas actually leads with 10 downfield targets, while Anderson has 9 and Crowder has 4. Miami is 31st in deep-ball defense.

Miami Offense Notes
- The touchdown equity for Mark Walton ($5,700) isn't high, but he did play 86.7% of snaps and run 81.0% of routes on Monday night without Kenyan Drake. That led to 11 carries and 6 targets, giving him 6 targets in two of his past three games.
- Ryan Fitzpatrick ($7,000) has thrown 27.3% of his passes the past two games to DeVante Parker ($5,800) and 22.7% to Preston Williams ($5,500), though Williams has a 4-to-1 deep target share between them. They're both viable if stacking this game.
Core Plays: Le'Veon Bell
Secondary Plays: Sam Darnold, Demaryius Thomas, Mark Walton
Tournament Plays: Robby Anderson, Preston Williams, DeVante Parker

Chicago at Philadelphia

Game Overview
- There's extra money on the over, but the most likely scenario based on the betting action is a Philadelphia Eagles romp, but this one doesn't offer many standout plays.
Chicago Offense Notes
- Mitchell Trubisky ($6,500) is quite cheap for a FanDuel quarterback and grades out as a top-five value in my simulations, including third when using 75th-percentile value outcomes, but he's tournament territory only. In two weeks since returning, he's been bad, racking up -0.05 Passing Net Expected Points (NEP) per drop back (league average is 0.11) and 5.66 yards per attempt (league average is 7.40).
- In his past two starts, Trubisky has thrown 27.4% of his attempts toward Allen Robinson ($7,200), 17.9% to Tarik Cohen ($5,300), and 14.3% to Anthony Miller ($5,100). The Eagles are 23rd against receivers in Target Success Rate allowed, so there's upside, but only Robinson has the workload worth targeting outside of game stacks.
- We'll see what's in store for David Montgomery ($6,600) as a road underdog after he played 73.2% of snaps last week and had 27 carries with 5 targets. He ran 47.6% of pass routes. He may be phased out, and the risk is probably not worth the reward when the Chicago Bears' implied total is just 18.5 points.
Philadelphia Offense Notes
- Carson Wentz ($7,400) has been wholly league average in per-attempt and per-drop back basis and has thrown for fewer than 200 yards in four of his past five games; a matchup with the Bears' sixth-ranked pass defense at a still-high price isn't necessarily ideal.
- Getting DeSean Jackson ($6,100) back would help open up the offense, so we'll have to keep tabs on his practice schedule this week. Since Week 4 with Alshon Jeffery ($6,600) back in the lineup, he has a 27.6% target share (8.0 per game), but he has maxed out at 76 yards receiving this year. He also has not had more than 90 air yards in a game. With just 60 air yards per game, he ranks 54th among receivers, but hey, it's a revenge game.
- Zach Ertz ($6,000) has a 22.8% share (6.6), fourth-best among tight ends but is losing work to Dallas Goedert ($5,000), who has a 15.9% target share (4.6) since Week 4. Since Goedert's role grew three games ago, he has 5.7 targets per game, compared to 6.0 for Ertz. They each rank top-12 in that stat among the position. For all of Chicago's strengths defensively, they're worst against tight ends (21st in Target Success Rate).
- Jordan Howard ($6,300) also is in a revenge game here and could hold value if Miles Sanders ($5,800) misses, but that sounds unlikely. As it stands, Eagles backs are never priority DFS plays.
Core Plays: None
Secondary Plays: Allen Robinson, Zach Ertz
Tournament Plays: Mitchell Trubisky, David Montgomery, Dallas Goedert
Minnesota at Kansas City

Game Overview
- The Kansas City Chiefs are home underdogs, as it looks like it's another week without Patrick Mahomes -- though not a guarantee. Even with that, this game is shaping up to be one of the best on the Week 9 main slate, and stack opportunities are abundant.
Minnesota Offense Notes
- Dalvin Cook ($9,000) is priced up but still grades out as a top-three running back value against a bottom-five adjusted rush defense. The Kansas City Chiefs are 32nd in Rushing Success Rate allowed to backs -- and 19th in Target Success Rate allowed. Cook has at least 18 opportunities in every game and averages 23.8.
- Kirk Cousins ($7,800) started slow but has averaged 0.27 Passing NEP per drop back on the full season, more than twice the league average. Factoring out sacks, he's at 0.43 Passing NEP per pass attempt (league average is 0.24). Kansas City is 13th in adjusted pressure rate and 8th in adjusted pass defense overall.
- Adam Thielen ($7,100) should be back, and he's priced down -- relative to Stefon Diggs ($7,900). Thielen had a 27.7% target share (6.3 per game) and 39.5% of the Minnesota Vikings' air yards through Week 6 before missing virtually two games. The Chiefs are ninth in slot yards per snap allowed.
- Diggs has had at least 7 targets in four of his past five games, a sample in which he has 26.8% of the Vikings' targets and 49.3% of the air yards on a 15.4-yard average depth of target. Kansas City is fifth in adjusted yards per attempt allowed on deep passes, so he could have to rely on some underneath work to keep producing like a stud.
Kansas City Offense Notes
- The Chiefs will run with Matt Moore ($6,500) again this week. Moore's Passing NEP per drop back (0.14) puts him on the right side of league average, though that comes with just 6.86 yards per attempt. He has thrown just 7 of his 56 attempts at least 16 yards downfield, ranking him 38th in deep-ball rate among qualified passers.
- Moore's target distribution: 14 for Tyreek Hill ($7,700), 13 for Travis Kelce ($6,700), 8 for Sammy Watkins ($6,000), and 5 for Demarcus Robinson ($5,200) and LeSean McCoy ($6,000). Last week with Watkins back, the targets were nine for Hill, eight for Watkins and Kelce, and four for McCoy. The deep targets went to Hill (three) and Kelce and Watkins (one each). Minnesota is 25th in Target Success Rate allowed to receivers but 9th against tight ends. Kelce still stands out, but we can bump up Hill and Watkins.
- The running backs are a guessing game. Damien Williams ($5,400) played 42.4% of snaps last week after playing 29.5% in Week 7. McCoy's snap rate stayed somewhat the same (42.6% in Week 7 and 39.0% last week). It's uncommon for a Chiefs back to get past a 50% snap rate, so they're just low-ceiling options.
Core Plays: Dalvin Cook, Travis Kelce
Secondary Plays: Adam Thielen, Kirk Cousins
Tournament Plays: Stefon Diggs, Tyreek Hill, Sammy Watkins, Matt Moore
Tennessee at Carolina

Game Overview
- This feels like a perfect Week 9 game for the slate: low total, two solid defenses, second-string quarterbacks, problematic market shares for just about every player. There is action on the over, and low prices help at least.
Tennessee Offense Notes
- Ryan Tannehill ($7,100) has been an above-average passer (0.19 Passing NEP per drop back) this year, and he's been around 20 fantasy points in each start, but that hasn't necessarily made his pass-catchers relevant.
- With Tannehill starting, Corey Davis ($5,300) has 13 targets for 196 yards; A.J. Brown ($5,500) has 11 for 88; Jonnu Smith ($5,500) and Adam Humphries ($5,100) have 10 for 142 and 64, respectively. The air yards share favors Davis (36.9%), but he's still at a 21.0% target share in a run-heavy offense. The Carolina Panthers are ninth in Target Success Rate allowed to receivers.
- Derrick Henry ($6,800) is a road underdog and has just two targets from Tannehill and no more than three in a game this year. The Panthers are 32nd in adjusted rush defense after getting gashed last week and all season, but Henry is tournament only based on his lack of receiving work and ability to get scripted out.
Carolina Offense Notes
- Christian McCaffrey ($9,700) faces a Tennessee Titans defense that ranks fifth in Adjusted Defensive Rushing NEP per play, second in Rushing Success Rate allowed to running backs, and ninth in Target Success Rate allowed to running backs. Despite that, he's at worst a secondary play but may not be a must in cash games due to the salary. I'll still be trying to work him into cash-game formats.
- We have at least one more week of Kyle Allen ($6,800) under center. As his sample grows this season, he has lost a lot of points on sacks, causing him to have a Passing NEP per drop back of -0.03, but removing them, he's been about league average in per-attempt passing efficiency.
- Since Week 3, Allen has thrown 23.7% of his attempts to Curtis Samuel ($5,600), 21.8% to D.J. Moore ($5,400), 21.2% to McCaffrey, and 14.1% to Greg Olsen ($5,300). Samuel also has the highest share of deep and red zone targets among he and Moore, as well as an edge in air yards share (42.7% to 28.8%) over Moore. Tennessee is 16th in Target Success Rate allowed to receivers but 10th against the deep ball.
- The Titans are 22nd against tight ends by Target Success Rate, so Olsen has the best individual matchup here. He had just two targets last week and has averaged 4.4 from Allen, ranking him 15th among tight ends since Week 3.
Core Plays: Christian McCaffrey, Greg Olsen
Secondary Plays: Curtis Samuel
Tournament Plays: D.J. Moore, Corey Davis, Derrick Henry
Washington at Buffalo

Game Overview
- You have to squint to see Washington's implied team total, and their run-first approach won't help this game hit the over, so that's a ding on the Buffalo Bills' offense, as well. A slight majority of the betting is on the over, but even that doesn't mean that this will resemble a shootout.
Washington Offense Notes
- In three games under Bill Callahan, Washington ranks 27th in pace and 28th in pass rate when using win probability to adjust for game context. Simply put: they want to take the air out of the ball.
- Case Keenum ($6,300) is in concussion protocol, but he'll start if healthy. If not, it'll be Dwayne Haskins ($6,100). As a team, Washington ranks 24th in adjusted passing offense.
- Terry McLaurin ($5,700) is priced down enough to consider, as he has a 26.3% target share in three games since the coaching change, but that's equated to 5.0 targets per game, ranking 52nd among receivers in that span. He still gets a majority share of high-leverage looks, though.
- Adrian Peterson ($5,700) has averaged 20.3 carries per game under Callahan but has not gotten to 15.0 FanDuel points in any game, as he lacks receiving work and significant touchdown equity.
Buffalo Offense Notes
- Josh Allen ($7,700) has posted poor efficiency marks this season, ranking 29th in Passing NEP per drop back on the year. Even in five games against bottom-half adjusted pass defenses, he has been subpar (0.08 Passing NEP per drop back; league average against all opponents is 0.11). In such matchups, he has averaged 224.2 yards and 1.4 passing touchdowns. He has run for at least 21 yards in every game but has too many concerns to make him a cash-game play.
- John Brown ($6,200) has a 23.7% target share and 35.9% air yards share on the season, and his 105.0 air yards per game rank him 9th among all receivers. Washington ranks 25th in adjusted yards per attempt allowed on deep passes. Brown just hasn't shown a target floor worth cash games, so he's a tournament option here at a price that isn't exactly low.
- Cole Beasley ($5,600) has earned a 23.2% target share (6.5 per game) since the team parted ways with Zay Jones, but that has led to just 57 yards (and 2 touchdowns).
Core Plays: None
Secondary Plays: Josh Allen
Tournament Plays: John Brown, Terry McLaurin
Indianapolis at Pittsburgh

Game Overview
- A pair of top-12 pass defenses and bottom-half offensive paces lead to a low over/under with a lot of the action coming on the under. It's not the best game to stack, but mini-stacks could be in play.
Indianapolis Offense Notes
- Marlon Mack ($6,900) is affordable but is a road underdog against the NFL's second-best adjusted rush defense. Pittsburgh also ranks a solid 11th in Rushing Success Rate allowed to backs. With no more than three targets in a game this season, Mack is a tough sell unless you're building lineups with the assumption that the Indianapolis Colts lead.
- Jacoby Brissett ($7,300) has held league-average passing efficiency in four games against top-half pass defenses, though he has churned out 206.3 passing yards and 1.8 touchdowns per game on 6.82 yards per attempt in them. Even at this price, he's not a cash-game consideration for me.
- T.Y. Hilton ($7,400) gets the open end of Pittsburgh's funnel defense, as they generally stifle the middle of the field but are 20th in Target Success Rate allowed to receivers and are 23rd in yards per slot snap allowed, as well. He's a bounce-back candidate after a six-target dud against Chris Harris.
- Eric Ebron ($5,200) has been capped at 5 targets and around 55.0% of the team's routes this season. Jack Doyle ($5,000) typically runs more routes, but that doesn't necessarily lead to significantly more volume. Pittsburgh ranks 23rd in FanDuel points per target allowed to the position but 6th in Target Success Rate.
Pittsburgh Offense Notes
- Mason Rudolph ($6,800) returned to post plus efficiency against a terrible Miami pass defense, but he did it with big plays (0.19 Passing NEP per drop back but just a 36.8% Passing Success Rate). He has played four pass defenses outside the top 20 in numberFire's metrics and the San Francisco 49ers' top-ranked pass defense, against whom he was dreadful. He grades out with the best 75th-percentile value in my simulations, though I will still keep my ownership in check.
- Rudolph's target distribution this season: 22.3% for JuJu Smith-Schuster ($7,300), 20.8% for Diontae Johnson ($5,000), 12.3% for James Washington ($5,000) and James Conner ($7,300). Rudolph ranks 10th in deep-attempt rate, though a third of his 27 deep throws have gone to Washington, while Johnson has 6 and Smith-Schuster has 5.
- Vance McDonald ($5,300) is a home favorite, and Indy ranks 24th in Target Success Rate allowed to tight ends, but that's about all we can say; his pass-game usage has been dreadful (9.2% from Rudolph).
- Conner doesn't need a full practice to play, but he'd draw a bottom-10 adjusted rush defense as a home favorite. If he doesn't go, Jaylen Samuels ($5,000) would slot in as a top-tier value play. If Conner plays, he's a top-five running back value.
Core Plays: James Conner (if he's out, then Jaylen Samuels)
Secondary Plays: T.Y. Hilton, Mason Rudolph
Tournament Plays: JuJu Smith-Schuster, Jack Doyle, Eric Ebron, Marlon Mack
Tampa Bay at Seattle

Game Overview
- This one features two weak pass defenses and capable offenses, so the 51.5-point over/under seems quite nice -- and appropriate. If the Tampa Bay Buccaneers can keep pace, the Seattle Seahawks' offense could erupt.
Tampa Bay Offense Notes
- Given their prices, Mike Evans ($8,100) and Chris Godwin ($8,200) are tough sells in cash games when we should prioritize spending up for running backs most slates on FanDuel. The matchup should favor Godwin in the slot, as Seattle ranks 27th in yards per slot snap but 11th overall against receivers in Target Success Rate. On the year, Godwin has a 24.4% target share and 25.8% of the air yards; Evans is at 26.4% and 36.6%, respectively. While the workload favors Evans, recency bias and matchup should make Godwin the preferred play.
- Jameis Winston ($7,500) ranks just 27th in Passing NEP per drop back but is 13th in deep attempt rate; Seattle is 24th against the deep pass. He has returned at least 17 FanDuel points in his past five games, and Seattle ranks 32nd in adjusted pressure rate.
- Without O.J. Howard, Cameron Brate ($5,100) ran 71.2% of pass routes last week, and Seattle is 20th in Target Success Rate allowed to tight ends, if you want to throw him into stacks.
Seattle Offense Notes
- Seattle's starting center Justin Britt is out for the season with a torn ACL. He ranked eighth among centers in run block grade, via ProFootballFocus. Tampa Bay ranks 29th in adjusted pressure rate defensively.
- Russell Wilson ($8,600) is so good (fourth in Passing NEP per drop back) that the only thing that ever really slows him down is Seattle's reliance on the run (they're 29th in pass rate over expectation). Against Tampa's elite rush defense, Seattle could pound the ball into a wall or use an elite passer to pick apart a weak secondary. We know what should happen, but we can't pretend like optimal coaching exists.
- Wilson has spread the ball around, as usual, this season, giving a team-high 22.7% target share to Tyler Lockett ($7,500); that's 6.8 per game, 41st among receivers. Lockett has 1.9 deep targets per game (18th among receivers), same as D.K. Metcalf ($6,700), who owns an 18.9% target share (5.6 per game, 57th among receivers). Frankly, they're both significantly overpriced given the actual volume, but the matchup should allow them to pop off against the Bucs, who are 22nd in deep-attempt defense.
- Chris Carson ($8,200) is also pricey and faces a Bucs team that ranks first in adjusted rush defense overall and first in Rushing Success Rate and Target Success Rate allowed to backs. His workload is great, though the yardage rarely comes. To me, Carson is frankly just a secondary play despite the game script.
Core Plays: Jameis Winston, Chris Godwin, Russell Wilson
Secondary Plays: Mike Evans, Tyler Lockett, Chris Carson, D.K. Metcalf
Tournament Plays: Cameron Brate
Detroit at Oakland

Game Overview
- A high total and close spread keep this game as a potential shootout, especially with Oakland's pass defense grading out as a bottom-five unit and with some playmakers on both sides (mostly Detroit, but still).
Detroit Offense Notes
- Matthew Stafford ($7,900) has been great in 2019, ranking 8th in Passing NEP per drop back, and he has averaged 0.29 Passing NEP per drop back in four matchups with bottom-half pass defenses. I'll be considering him in cash games again this week.
- The price gap between Kenny Golladay ($7,600) and Marvin Jones ($5,700) is really noteworthy again. After a Week 7 eruption, had just 5 targets for 22 yards (58 air yards) in Week 8, a 14.0% air yards share, same as Danny Amendola ($6,000). Oakland is dead last in deep attempt defense and also 31st in yards per slot snap allowed. Beatable everywhere, all three have a great matchup. Given price and usage, I'm ranking them Jones, Golladay, Amendola.
- Ty Johnson ($5,500) led the Lions' backfield with a 39.7% snap rate. Tra Carson ($5,700; 30.2%) and J.D. McKissic ($5,000; 25.4%) followed him. None are playable outside of game stacks with that type of workload, even against Oakland.
Oakland Offense Notes
- Darren Waller ($6,800) is up against the NFL's 28th-ranked tight end defense by Target Success Rate, and with Detroit sitting 4th against receivers, he should see a high target floor. He has had at least eight targets in four of his past five games.
- Derek Carr ($7,300) is affordable but has yet to get to 300 yards passing in a game this season. He's been close with 293 and 285 the past two games, but it'll take a real shootout to unlock upside.
- Tyrell Williams ($6,300) returned last week to 6 targets, of which he caught 3 for 91 yards and a touchdown. Each of the 6 targets were at least 16 yards downfield; on such passes, Detroit ranks 20th in adjusted yards per attempt defensively.
- Josh Jacobs ($7,200) has played 53.7%, 68.5%, 56.1%, and 55.4% of snaps the past four games while averaging 22.5 opportunities. The snap rate won't blow you away, but he gets looks when on the field, and Detroit ranks just 28th against running backs on the ground via Success Rate.
Core Plays: Matthew Stafford, Darren Waller
Secondary Plays: Marvin Jones, Kenny Golladay, Josh Jacobs
Tournament Plays: Tyrell Williams, Danny Amendola, Derek Carr
Cleveland at Denver

Game Overview
- Two struggling teams face off with an implied total below 40 points, one that features Brandon Allen ($6,000) at quarterback for the Denver Broncos. Even at the low total, everyone is on the under.
Cleveland Offense Notes
- The Broncos rank 22nd in adjusted rush defense but are 10th in Rushing Success Rate allowed to backs, meaning Nick Chubb ($8,100) should have to rely more on big plays than sustained successes this week, something he can surely do. At the price, on the road, and with a low implied team total, he's not a priority play.
- Baker Mayfield ($7,200) is up against a top-five pass defense, so he's facing his fifth top-half adjusted pass defense of the season. In the prior four games, he has averaged 193.5 yards, 0.8 touchdowns, 1.8 interceptions, and -0.34 Passing NEP per drop back. The NFL average against top-half opponents: 241.8, 1.3, and 0.9 for 0.01 Passing NEP per drop back.
- Odell Beckham ($7,000) is priced down but should see shadow coverage from Chris Harris, against whom T.Y. Hilton caught 2 of 6 passes for 54 yards last week, via ProFootballFocus. That matchup should free up Jarvis Landry ($6,200), who has to score at some point this year. He has a 24.2% target share but has cleared 75 yards just once.
Denver Offense Notes
- With Brandon Allen under center, it's a really tough sell for any of the pass-catchers, even without Emmanuel Sanders in the mix. Their route rates in Week 8 were 94.4% for Courtland Sutton ($6,400), 75.0% for Noah Fant ($4,600), 69.4% for DaeSean Hamilton ($4,800), and 63.9% for Fred Brown ($4,500). We should expect Denver to run the ball early and often.
- Royce Freeman ($6,100) is still cheaper than Phillip Lindsay ($6,200) despite earning more snaps in five straight games (58.1% to 45.5%, on average). Freeman also has run 151 routes, compared to 116 for Lindsay. He's the priority, but both have some low-end DFS value if Denver sticks heavily on the run. However, uncertain touchdown distribution makes both secondary plays at best and caps their realistic ceilings. Cleveland is 23rd in Rushing Success Rate allowed to backs.
Core Plays: None
Secondary Plays: Royce Freeman, Courtland Sutton
Tournament Plays: Phillip Lindsay, Nick Chubb, Odell Beckham, Jarvis Landry, Noah Fant
Green Bay at LA Chargers

Game Overview
- The Green Bay Packers face a bottom-barrel defense in the Los Angeles Chargers, a team that likes to slow down the pace when they can. A lot of action is on the over here, so this could be a popular game stack on FanDuel, and I'll be buying into that, as well.
Green Bay Offense Notes
- Aaron Jones ($7,700) blew up in an island game on Sunday night in Week 7 and is priced up against the NFL's 29th-ranked adjusted rush defense, which also sits a less worse 18th in Rushing Success Rate allowed to backs. Jones has averaged a 59.2% snap rate over his past four games with 20.5 opportunities. He's outside a core play for me but is a priority. Jamaal Williams ($5,400) is significantly cheaper and has played 46.4% of snaps, on average, over the past three games with opportunity marks of 19, 8, and 10. He's still viable in game stacks at the salary.
- Davante Adams ($8,000) would return to a plush spot, but we'll have to wait and see. In two games with Allen Lazard ($4,900) seeing an expanded role, Jones actually leads the team with a 20.0% target share. Lazard and Jimmy Graham ($6,000) are second at 15.0%. Jamaal Williams and Geronimo Allison ($5,400) are tied at 13.3% apiece. Marquez Valdes-Scantling ($6,300) has 8.3%.
- The Chargers are 10th in Target Success Rate allowed to tight ends but 28th against receivers, but the market shares make it hard to love any wideout even without Adams.
- Aaron Rodgers ($8,100) is, therefore, hard to stack but has Green Bay ranking fourth in Adjusted Passing NEP per play on the season. He's in the cash-game conversation.
LA Chargers Offense Notes
- In three games with Melvin Gordon ($6,300), Mike Williams ($5,700), and Hunter Henry ($6,400) back, we've seen a pretty even split in work.
- Gordon has handled 68.9% of the running back carries, with Austin Ekeler ($6,500) seeing 28.9%.
- The target tree favors Keenan Allen ($7,300) at 25.0%, followed by Henry (21.3%), Williams (20.4%), Ekeler (13.9%), and Gordon (9.3%). Allen leads with 12 deep targets in this span; Williams has 7, and Henry has 5. Allen has a tough matchup with Green Bay, but the peripherals point to a blowup spot eventually. Williams is also very affordable.
- Philip Rivers ($7,200) has faced top-half adjusted pass defenses in seven of eight games. In those, he has thrown for an average of 286.4 yards, 1.4 touchdowns, and 1.0 interceptions for 0.12 Passing NEP per drop back. The NFL average in such matchups is 0.01.
Core Plays: Hunter Henry
Secondary Plays: Keenan Allen, Aaron Rodgers, Aaron Jones, Mike Williams, Melvin Gordon, Philip Rivers
Tournament Plays: Austin Ekeler, Jamaal Williams