Fantasy Football: Evan Engram Could Be in Line for a Monster Season
Every time I take a peek at the New York Giants' roster and think about poor Saquon Barkley and Evan Engram, I am reminded of the movie Twins.
To jog your memory, Arnold Schwarzenegger and Danny Devito are twins separated at birth and reunited many years later. There is a scene where they meet the doctor who delivered them and he tells the brothers that Julius (Schwarzenegger) was born with all the purity and strength as the doctors tried to create the world's most perfectly developed human. Vincent (Devito), however, was unexpected and was made up of all the crap that was left over.
Engram and Barkley, my friends, are the Giants made of the purity and strength from the world's most perfectly developed athlete. The rest of the Giants' roster: it's made up from all the crap that is left over.
Pro Football Focus ranks the offensive line 18th, the rush defense 21st, the quarterback 29th, the wide receiver corps 27th, and the secondary 24th. It's a sad day when Giants fan are clamoring for Daniel Jones to get a shot to play quarterback for an actual NFL team, but here we are.
Despite all of this, Engram and Barkley are positional standouts in fantasy football in 2019. Barkley is a consensus top-two running back going into the season and is widely considered one of the elite of his position, and while Engram is being drafted at the end of the fifth round as the fifth tight end off the board, it's possible we may still be underrating him.
Here's why.
Athletic Profile
It's widely documented that Engram was (and is still is) a physical freak coming out of college, where he was an All-American at Mississippi in 2016. According to PlayerProfiler, his 40-yard dash time was in the 100th percentile for tight ends, and his speed score was in the 97th percentile. Moving up the body, his catch radius was measured in the 93rd percentile.
At 6'3" and 234 pounds, he is essentially Josh Gordon with a few more pounds of muscle. Despite all of this, NFL.com gave him a draft grade of only 5.97 -- a label meaning "chance to become an NFL starter." LOL. Engram would go on to set the rookie record for most consecutive games with more than four catches, more than 50 receiving yards, and at least one touchdown.
His combination of size and speed is almost unheard of for a player at his position. Engram's profile includes one of the more fascinating set of statistics you will find from 2018. PlayerProfiler tracks several things on each NFL play, including cushion (how many yards a defender allows at the line of scrimmage) and target separation (a receiver's distance from their defender when the ball arrives). Engram was given the fourth-largest average cushion at his position -- 3.0 yards per route run. Even with that space allowed by his defender, Engram gained the second-highest target separation among tight ends at 2.16 yards per target.
Even when the defenders gave him a relatively massive amount of space, Engram is still able to blow past them and create unparalleled separation.
Quarterbacks Don't Matter (for Engram)
One variable seemingly working against Engram is the fact that he is lining up for the Giants in the twilight of Eli Manning's career. The Giants selected the aforementioned Daniel Jones early in the first round in the 2019 draft for a reason, and that reason is Manning #bad.
Using simple quarterback rating (yes, I know QB rating is flawed -- it's like the Eli Manning of stats -- stick with me), Manning finished 21st among qualified quarterbacks with a clip of 92.4, slightly better than Marcus Mariota and Nick Mullens. When targeting Engram, however, Manning's QB rating leaps up to 113.9, according to PlayerProfiler. In context, Patrick Mahomes had a QB rating of 113.8 last season.
The combination of Engram's catch radius, his separation abilities, and his knack for yards after catch are able to cover a multitude of quarterback sins. Manning also has eyes for Engram in the end zone as more than 15% of the team's total end zone targets went to Engram, an exceptionally high number considering Barkley and Odell Beckham were on the team last year and Engram also missed five games.
For Engram, it shouldn't matter whether Manning finishes out the season or a transition is made to the rookie. His post-up body type, strong catch ability and yards-after-catch potential set Engram apart from the rest of the pass catchers on his team.
Available Targets
The Giants are going to have to heavily lean on Engram and Barkley to have any realistic shot of surpassing their Vegas-projected win total of six.
For a short time in the preseason, it looked as though Barkley and Engram might be the only two experienced pass-catchers available for the Giants at the start of the season. Beckham was famously traded away to the Cleveland Browns in March. Excluding his injury-filled 2017 season, Beckham averaged more than 145 targets per season, targets that will need a new home in 2019. In addition, newly signed Golden Tate (and his 128 targets per season the last five years) has been suspended for the first four games of the 2019 season. And don't forget Sterling Shepard, who is still shaking off the rust after fracturing his left thumb and may need some time to get back into game shape.
Beyond Shepard, the Giants receiver depth chart right now boats names like Bennie Fowler, Cody Latimer, and Russell Shepard. As intimidating as that group may appear to be, Engram is going to have an opportunity to assert his authority on this team as a featured piece of the audience for at least a quarter of the season (until Tate is back). If Engram's health holds up --- he missed five games with various MCL and hamstring issues -- he is a near lock to surpass the 6.8 targets per game he has averaged in his career.
Another underrated part of Engram's game is the ability to do more with his targets than any other tight end in the league. With Manning "passing" the ball in 2018, Engram had the lowest average depth of target (aDOT) of any tight end with at least 50 targets (5.3 yards). However, Engram's 398 total yards after the catch (YAC) were the third highest in the league at the position, even with him missing those five games. Only George Kittle and Travis Kelce had more YAC, both of whom played the full 16-game schedule last season.
With Barkley demanding the ball in the short field, the Giants may lean on Engram to stretch the field more, giving him targets in the mid- and long-range distance.
Jump On the Engram Bandwagon
Recent drafters have started to buy into the Engram hype as his ADP has been slowing creeping up into the back end of the 5th round in PPR leagues, per Fantasy Football Calculator, with the third-year tight end leaving the board around pick 57 overall.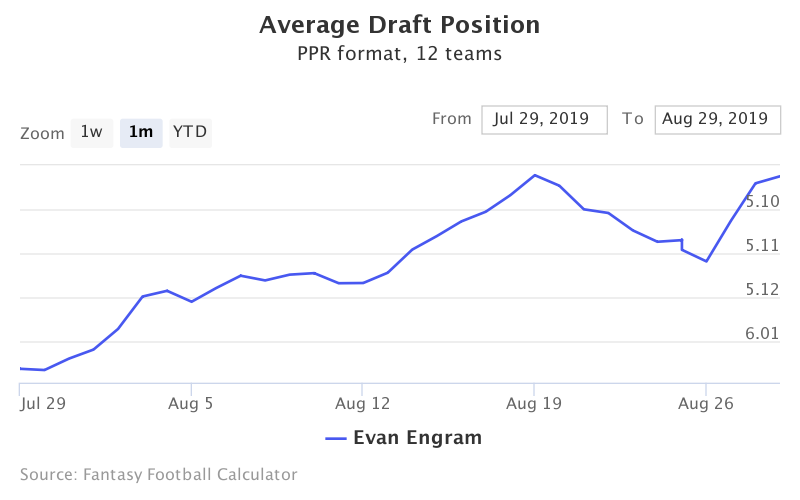 In that range, question marks abound. Players such as Calvin Ridley (likely regression), A.J. Green (injury), Jarvis Landry (reduced role), and Josh Gordon (always a risk) all are drafted similarly.
Give me the consistency and mega-ceiling of someone like Engram, who has proven he can provide elite production no matter who is throwing him the ball and no matter where they get it to him. Considering the drop-off in tight end talent after the top six, securing the services of Engram provides a set-it-and-forget-it consistency that is nearly impossible to find with tight ends later in the draft.
We currently have Engram projected to score the sixth-most points among tight ends in 2019, pegging him for roughly 70 catches, 800 yards, and five touchdowns. With even a 10%-to-15% bump in target share from previous seasons, Engram could begin to approach the holy trinity of tight ends (Kelce, Kittle and Zach Ertz) and strongly outperform his ADP.