DeSean Jackson Boosts the Fantasy Football Outlook of the Entire Eagles' Offense
DeSean Jackson is just what the Philadelphia Eagles have been missing.
While Philadelphia has had one of the deepest rosters at every position the last few years, one spot they've been missing in Carson Wentz's career is a dynamic field stretcher. Elite deep threats often require extra attention from defenses due to their ability to score from any part of the field.
The added help frees up fellow weapons in the passing game and can remove safeties from the box, bringing a potential boost to all aspects of the offense. And it just so happens that Jackson is one of the most prolific deep threats of all time.
An Elite Deep Threat
Jackson ranked second among receivers in yards per reception last season, at 18.9. He hit that figure with consistent success on deep targets, averaging 7.9 completed air yards per target, which ranked fourth among receivers with at least 50 targets. Four of his five touchdowns also came on deep shots of 30 yards or more.
This element of speed brings a new dimension to the Eagles. Of Philly's starting skill players a year ago, Nelson Agholor and Golden Tate boasted the best wheels with 4.42 speed (per their combine numbers). The Eagles didn't take advantage of them, as they both played a slot/flanker role, posting an average target depth less than 11.0 yards. Alshon Jeffery was also rarely utilized deep, as his average target was just 11.3 yards, which was outside the top-50 receivers.
Zach Ertz was Philly's busiest weapon in 2018 with 156 targets. Ertz only ran a 4.76 40-yard dash and saw an average target distance of just 7.6 yards.
This lack of speed limited the Eagles offense last year as Wentz ranked 19th in deep ball attempts (throws of 20-plus yards) with just 4.0 per game. He was also extremely inefficient on those deep shots, posting just a 38.1 completion percentage.
Carson Wentz excels throwing the routes that DeSean Jackson runs best. This is an extremely underrated acquisition. pic.twitter.com/VYnJkSmgGh
— Warren Sharp (@SharpFootball) March 11, 2019

This is where Jackson comes in. As we mentioned earlier, the speedster saw an average target distance of 18.9 yards last season, ranking second among all receivers. Eagles head coach Doug Pederson should deploy Jackson in a similar manner, taking advantage of his speed and pedigree.
Jackson is getting long in the tooth, as he will turn 33 this season, but his efficiency last season indicates that his legs can still come close to the 4.35 40-yard dash he ran at the 2008 NFL Combine.
On receptions of 20-plus yards, Jackson posted a Reception Net Expected Points (NEP) per catch of 3.19 last year. That ranked seventh among all receivers with 10 or more deep receptions, showing that Jackson still has some juice.
Boost to Everyone
D-Jax's presence should add another element to Wentz as a fantasy option. In his 2017 campaign, Wentz was a wizard at evading sacks and giving his receivers time to get open deep. He posted a third-ranked 0.26 Passing NEP per drop back that season, the highest of his career.
Last season, his sack rate jumped to 7.2 percent, 1.2 percentage points higher than his 2017 season. This played a factor in his Passing NEP per drop back dipping outside the top 10 (to 0.16). This can be partially explained by his season-ending knee surgery from 2017, which may have cost him some elusiveness in the pocket. Now with extra recovery time and the best deep threat of his career, Wentz should be completing deep shots more often.
The mere threat of Jackson should also help his teammates get open. The Eagles' pass catchers saw just 1.36 yards of separation when targeted last season, which was 17th in the NFL, according to PlayerProfiler.
Jackson's former team, the Tampa Bay Buccaneers, ranked fifth and ninth in that stat over the last two seasons. While Jackson shouldn't receive full credit for his teammates' ability to get open, his presence clearly draws coverage away from them.
How to Handle Philly in Fantasy
Despite all these positives, this is still a tough situation to take advantage of in fantasy football. Philly's roster is stocked with reliable pass-catchers at all skill positions.
Eagles veteran players now signed for at least 3 more seasons:
* QB Carson Wentz
* TE Zach Ertz
* DT Fletcher Cox
* C Jason Kelce
* OT Lane Johnson
* DE Brandon Graham
* WR Alshon Jeffery
* DT Malik Jackson
* WR DeSean Jackson
* LB Nigel Bradham
* G Isaac Seumalo

Stacked.
— Field Yates (@FieldYates) June 6, 2019

Because of the Eagles' depth at skill positions, Jackson's talents are best reserved for best-ball drafts and DFS formats. Our experts agree, as we have him ranked outside the top 40 receivers.
The rest of the offense will likely be more efficient on a per-target basis thanks to D-Jax, but there is only one ball on the field and this target distribution is a challenge to project. The biggest bump in fantasy potential likely belongs to Wentz, but he is currently being selected as the QB6, according to Fantasy Football Calculator.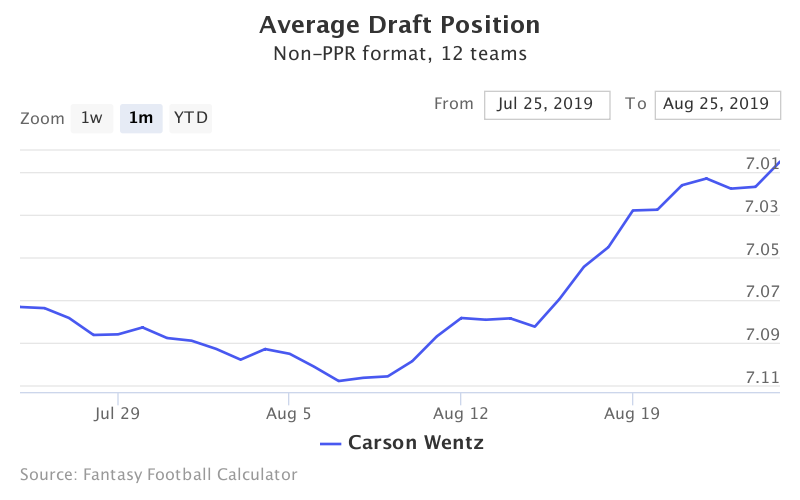 If drafters want to take advantage of this booming offense in redraft, they'll have to spend a sixth-rounder on the quarterback position. That is rarely a sound strategy in fantasy football, but if Wentz manages to return to his 2017 form with Jackson in the fold, it might be worth it.