Is Curtis Samuel Still a Fantasy Football Sleeper Despite His Rising Stock?
Entering his third year in the league, Carolina Panthers wide receiver Curtis Samuel is set to assume a more significant role in the offense, making him a popular pick as a breakout candidate this season.
Sometimes the trendy sleeper pick is the one to avoid, but in Samuel's case, there is a good amount of evidence in his favor. The most obvious is the departure of Devin Funchess, who signed with the Indianapolis Colts this offseason, leaving Samuel and D.J. Moore atop the Panthers depth chart at receiver.
Without Funchess in his way, more targets are likely to come his direction, but there are also reasons to believe Samuel will be more productive on those opportunities this season.
Settling into His Role
While playing for Urban Meyer at Ohio State, Samuel filled the hybrid receiver-running back role -- the same role played by Percy Harvin when Meyer was at Florida. During his final season with the Buckeyes, Samuel had more carries (97) than receptions (74).
Upon entering the NFL in 2017, Panthers offensive coordinator Mike Shula opted to move Samuel into the slot, where he had some experience in college. But when Norv Turner took over in 2018, Samuel's primary position was altered once again to the outside.
Here's the breakdown of where Samuel's lined up for his targets over the past three seasons, via Sports Info Solutions.
| Year/Team | Backfield | Slot | Wide |
| --- | --- | --- | --- |
| 2018 CAR | 1.5% | 24.6% | 73.8% |
| 2017 CAR | 0.0% | 76.9% | 23.1% |
| 2016 OSU | 17.2% | 80.8% | 2.0% |

Clearly, it's been a gradual transition to the outside for Samuel, and 2019 will be the first time his role within the offense remains consistent since his days suiting up for the Buckeyes. Presumably, this will make Samuel more comfortable and will likely allow him to develop better chemistry with Cam Newton.
More Downfield Opportunities
During his first season with the Panthers, when Samuel saw over 75 percent of his targets from the slot, he was targeted 15 or more yards downfield just five times, according to Sports Info Solutions. In 2018, that number jumped to 17 targets -- 26 percent of his total and tied with Moore for second on the team behind Funchess.
Due to Funchess' departure (27 targets at 15 yards downfield), there will be more downfield targets to spread around. A healthy Newton should also help increase those opportunities.
In 2018, Newton threw the ball 15 yards downfield on just 15.9 percent of his attempts, which ranked 28th out of 33 quarterbacks (minimum 200 total attempts), according to Sports Info Solutions. The previous year when Newton was healthy, 22 percent of his attempts traveled at least 15 yards -- the 12th highest rate in the league.
Assuming Newton's shoulder is fully healed and he reverts back to his previous level of aggressiveness, there should be significantly more big-play opportunities for the Samuel.
Fantasy Steal?
If you've already drafted your squad, you may have been able to land Samuel at a considerable discount, but his stock has been steadily climbing. Here's a breakdown of his average draft position (ADP) over the past month from Fantasy Football Calculator.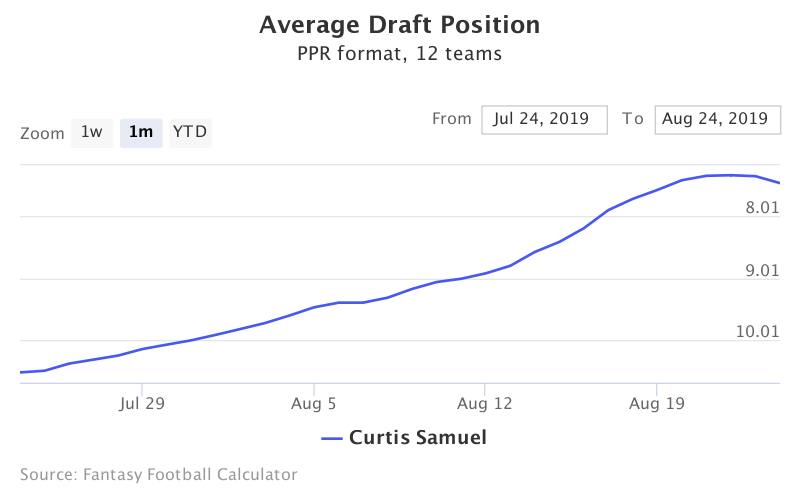 In late July, Samuel was available for a 10th round pick in most leagues. Now he's coming off the board in the 7th round with an ADP of WR34 in PPR leagues.
It appears as though the general public has started to value Samuel for all the same reasons referenced above. So should you still be interested in him at his current price?
In 2018, Samuel finished the year as WR48 in PPR leagues. That was while missing three games due to an irregular heartbeat, sitting behind the since-departed Funchess in the wide receiver pecking order, playing a portion of the season with an obviously-injured Newton and then wrapping up the year with Taylor Heinicke and Kyle Allen throwing him the ball over the final two weeks.
The fact that Samuel remained on the fringe of fantasy relevancy with all those factors stacked against him is a testament to his talent.
In 2019, Samuel has been bumped up the depth chart thanks to Funchess leaving for the Colts and has Cam Newton, who appears to be fully healthy. Based on those factors and his past production in less-than-ideal circumstances, it's not hard to envision Samuel finishing the year around the WR34 range.
So while Samuel may no longer be a draft-day steal, he also isn't being over-valued. You should feel comfortable snagging Samuel near his current ADP, and could probably justify a slight reach if you're particularly high on him.