Dalvin Cook Has a Lot Going For Him in Fantasy Football This Season
Dalvin Cook is a player who likely frustrated fantasy owners last season, considering that he probably cost you a first- or second-round pick. He came on late in the year for some games that helped salvaged his season, but ultimately he did not pay off the draft equity you used on him.
Now this year, he is getting drafted highly once again. Will he be a disappointment? I don't think so.
Here are some reasons why he is more likely to satisfy owners this season.
He Should Be Back to 100%
The most obvious reason that Cook should put up better numbers in 2019 is health. He tore his ACL during his rookie season of 2017, and then he had hamstring issues caused him to miss five of the first nine games in 2018. From the outside, it seems like he tried to come back too early, as when he was on the field, his efficiency was very poor, per our Net Expected Points (NEP) metric, which you can read more about in our glossary.
He averaged a woeful -0.35 Rushing NEP per carry and had a Rushing Success Rate of 22.22% over his first three games. To put those numbers into context, the league averages in 2018 were 0.00 Rushing NEP per carry and a 41.22% Success Rate. (Yes, 0.00 was the average, because rushing is more inefficient than passing.)
When Cook came back in Week 9, he seemed to be back to full strength. In the Week 9 game against the Detroit Lions, he had a 70-yard touchdown run in which he hit a top speed of 22.07 miles per hour, according to Next-Gen Stats. That was the second-fastest recorded top speed from a ball carrier all season. After that game, he got back to running the ball effectively during the remainder of the season.
Despite the injuries, Dalvin Cook forced 0.27 missed tackles per touch in 2018, which led the #NFL and ranks 5th-best by any RB this past decade.

From Week 11 (his first week off the injury report) until the end of last season, Cook averaged 15.7 fantasy points per game.
— PFF Fantasy Football (@PFF_Fantasy) July 29, 2019

From Week 9 on, his Rushing NEP per carry jumped up to .05, and his Success Rate was 41.24%, both above the league average.
Chance for an Increased Workload
When John Defilippo was dismissed after Week 14, head coach Mike Zimmer expressed interest in wanting to run the ball more. The Minnesota Vikings finished fourth in the NFL in pass-to-run ratio at 1.81 in 2018. Zimmer spoke out again this offseason about wanting to be more committed to the run game. So he went out and hired Gary Kubiak to be an assistant head coach/offensive advisor.
As Ian Hartitz noted, Kubiak has been a huge positive for running backs who have had him as a play caller.
Top-12 RBs in PPR per game under Gary Kubiak (now with the Vikings) from 1995-2016:

TD (x4)
Foster (x3)
Slaton (x2)
Portis (x2)
Anderson, Forsett, Gary (x1)

Avg. touches per season for Kubiak's RB1: 291

Dalvin Cook is about to ball out in 2019: https://t.co/paAUNNoLt2 pic.twitter.com/2BDLSnjalV
— Ian Hartitz (@Ihartitz) August 2, 2019


Even after Cook was off the injury report in Week 11 and beyond, Latavius Murray got 35% of the running back carries. His departure to the New Orleans Saints opens the door to more carries for Cook, and based on Kubiak's past preferences, he will likely get the majority of those touches ahead of rookie Alexander Mattison.
Improvements Around Cook
There are more positives going in Cook's favor heading in to this season.
After a few brutal years on the offensive line, the Vikings made investments to improve this area. They used their first-round draft pick on Garrett Bradbury, a center from North Carolina State. They signed Josh Kline to play right guard after he had success playing the position for the Tennessee Titans, starting 32 consecutive games. And Kubiak isn't the only new coach working with the Vikings' offense as Rick Dennison was hired to be the offensive line coach/run game coordinator. Dennison previously worked with Kubiak with the Denver Broncos when they won Super Bowl 50.
Minnesota has been below average in Football Outsiders adjusted line yards, so at this point, changing up the personnel and coaching staff cannot make things much worse. These moves have the potential to benefit Cook in a big way.
Where Should You Take Him?
Cook's second round average draft position in PPR formats, per Fantasy Football Calculator, seems reasonable. He's not in the upper-echelon of running backs but has potential to break into that tier if things go well.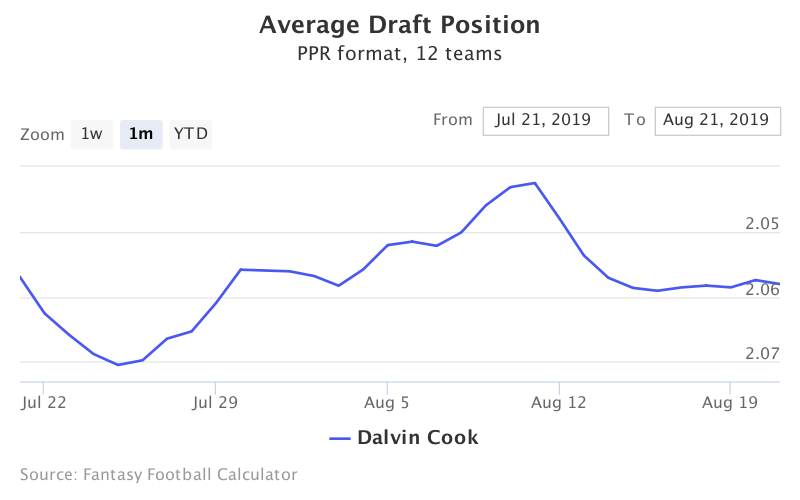 An underrated aspect of Cook's game is how much volume he gets in the passing game. He caught 40 passes in the 11 games he played last season, and numberFire's projections have him for 68 receptions this season, the seventh-most among running backs. Because of this, leagues that use a full-PPR or half-PPR scoring system give Cook more value than most people realize.
The upside he offers with the increase in workload, being healthier this season and an improved offensive line and running scheme makes him a second-round pick to get excited about.
The only real concern would be how injuries have slowed him down during his NFL career. But every running back has some chance of getting hurt and missing games throughout the season, and Cook showed with his blazing speed last year that he's still got it.
Whether you went with another running back in the first round and want a solid second back or took a wide receiver or tight end and want Cook to be your top running back, he is a player you can feel good about targeting in the early to middle part of the second round of 12-team drafts.