Fantasy Football: We Should Pump the Brakes on Austin Ekeler's Rising Stock
One of the more dramatic ADP trends you will find right now comes from fantasy's headache-of-the-year, Melvin Gordon.
It reminds me of that game that's played on The Price is Right called Cliffhangers. You've seen it. It's the game where contestants guess prices of some assortment of undesirable products and try to keep the yodeler from falling off the cliff. If you succeed, all the prizes are yours. But if you overbid, that poor guy falls off the cliff and you leave with nothing.
Welcome to Melvin Gordon in 2019. Falling off a cliff is just about the perfect way to describe Gordon's draft stock these days (image from Fantasy Football Calculator).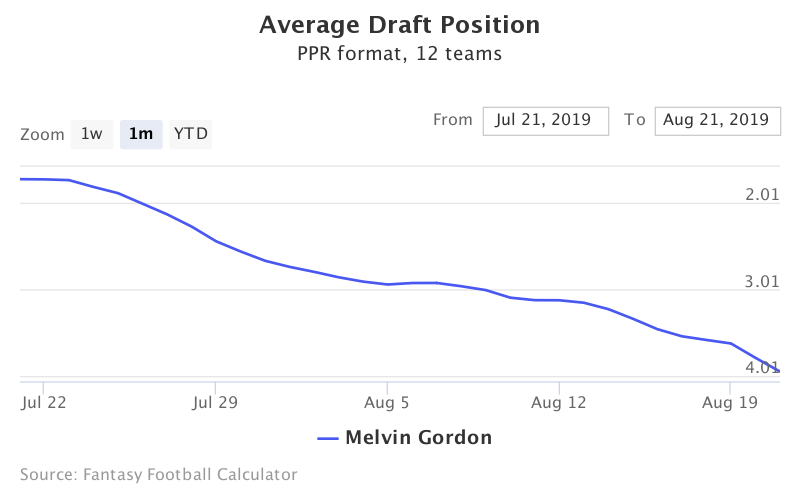 Perhaps the final nail in the coffin of Gordon's ownership this year, Ian Rapoport tweeted today the most discouraging news yet in this Gordon saga.
At this point, #Chargers RB Melvin Gordon's holdout is expected to continue into the season, sources say. Contract talks have not progressed as he hoped, and he'll continue to train in Florida for the foreseeable future.
— Ian Rapoport (@RapSheet) August 21, 2019

With this recent update, drafters must begin planning for Los Angeles Chargers life without Gordon, who could very well pull a Le'Veon Bell and sit this season out the whole year if he is not happy with incoming contract offers. The next man up is presumably Austin Ekeler, a running back whose stock is trending in the exact opposite direction from Gordon's.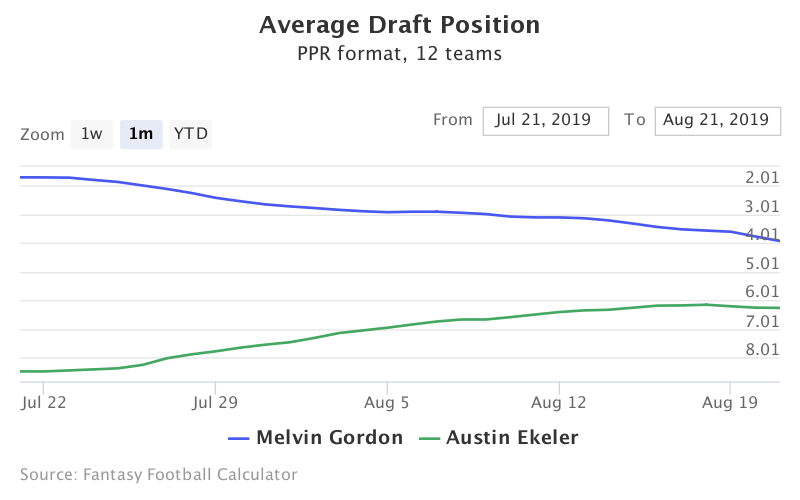 Ekeler has seen a two-round price increase over the past month. While Ekeler might be the shiny new toy available to season-long players as we rapidly approach Week 1, smart drafters would be wise to pump the brakes should Ekeler's ADP continue to rise.
Here's why.
Increased Workload Concerns
There is no question that Gordon, the Chargers' bell-cow running back (over 14 touches per game), had an outstanding 2018. Despite 19 other rushers carrying the ball more often -- Gordon missed four games with injury -- he ended the year with the third-highest total Rushing Net Expected Points (NEP) in the league. (You can read more about NEP in our glossary.)
His success despite missing a quarter of the season is directly attributed to Gordon also ranking third in Rushing NEP per carry (0.15) and 13th in Rushing Success Rate (45.14%) among all running backs with at least 100 carries. All this led him to amassing almost 23 points per game in PPR formats. He was a beast.
Ekeler, despite carving out a nice role for himself, averaged less than 10.5 touches per game, with more than a third of his total touches coming in games that Gordon was off the field. In that limited role, Ekeler did show well, per our numbers -- 16th in Rushing NEP per play (0.07) and 10th in Rushing Success Rate (46.23%) among all running backs with at least 100 rush attempts – but the more work he received, the more his production suffered.
It has been shown that statistics such as rushes per game and touches per game correlate most strongly to predicting future success of running backs. Ekeler's value, therefore, should be dissected in the context of when he was given the most opportunity. The two-game sample in Week 13 and Week 14 of 2018 provides the best indication of what Ekeler might be able to do with an increased workload.
In those two games with Gordon out, Ekeler rushed 28 times for only 87 yards. His Rushing NEP per carry plummeted from his season average of 0.07 to -0.04 (on par with players like Doug Martin, Jamaal Williams, and Kenyan Drake). His Rushing Success Rate similarly suffered, falling from a season average of 46.23% to 42.86%. In Week 7, another game where Ekeler was asked to take over for an ailing Gordon, Ekeler's numbers were even worse: a Rushing NEP per play of -0.10, or the same as T.J. Yeldon's and Peyton Barber's number for the year.
The receiving game tells a similar story. Ekeler averaged 0.65 Receiving NEP per catch and 0.29 Target NEP per reception on the year, but he saw those numbers drop to 0.48 and -0.08 in the Week 13 and Week 14 two-game sample.
Loss of Russell Okung
According to Football Outsiders, the Chargers' offensive line – anchored by left tackle Russell Okung – generated the fifth-most Adjusted Line Yards in the NFL in 2018. This dominant line allowed the Chargers' backfield to generate 4.7 yards per rush and 16 rushing touchdowns and was a source of strength for the team throughout the year. But news out of training camp the past two months does not bode well for the Bolts repeating those numbers.
Now confirmed by multiple sources, Okung was diagnosed with a pulmonary embolism, a condition brought upon by blood clots that will likely cause him to miss at least the first six games of the 2019 season. The Chargers will try to fill the massive rush-lane-opening, quarterback-protecting hole left by Okung with either Sam Tevi or Trent Scott, which makes repeating 2018's success a tall order.
Pro Football Focus (PFF) ranked Los Angeles as having the fourth-worst offensive line entering 2019, and that was before Okung was ruled out for part of the season. There are multiple reasons why Okung was and still is vital to the success of the Chargers' offensive line, but perhaps most important to Ekeler's outlook is that PFF rates Okung as the 10th-best left tackle at creating positive run blocks in the league. Without his presence on the line, those lanes will be much harder to come by in 2019.
The Next Next Man Up
Assuming Ekeler steps in to the Gordon role in 2019, someone has to step into the vacated Ekeler role. Enter Justin Jackson.
Despite Jackson receiving only 65 touches in 2018, when we compare Ekeler and Jackson to one another, who should lock down the Chargers' lead-back role isn't so clear.
| Name | Carries | Rush Yards | Rush TDs | Rush NEP Per Carry | Success Rate | Targets | Rec NEP Per Catch | Target NEP Per Target | Rec Success Rate |
| --- | --- | --- | --- | --- | --- | --- | --- | --- | --- |
| Ekeler | 106 | 554 | 3 | 0.09 | 47.2% | 53 | 0.67 | 0.30 | 79.5% |
| Jackson | 50 | 206 | 2 | 0.07 | 44.0% | 19 | 0.63 | 0.39 | 86.7% |

While Jackson's sample size is small and Ekeler's isn't all that huge, either, Ekeler and Jackson rate similarly across all rushing and receiving rate stats from 2018, per our numbers, perhaps leading to some deliberation as to which one is more valuable at their current ADP (Ekeler at 64th overall and rising or Jackson at 128th).
Jackson would seem to be the logical fit for a third-down back should Gordon remain out for an extended period of time. Being drafted currently in the 12th round, Jackson is earning high praise from people all over the Chargers' training camp, with even Ekeler believing Jackson has some "razzle-dazzle" in him when he runs.
Proceed With Caution
Over the next two weeks, Ekeler's season-long projections and ADP are going to skyrocket as long as Gordon remains away from camp. Our own projections at numberFire presently remain conservative on Ekeler for the season, despite the fact that it looks increasingly likely he will have a major role for Los Angeles, but that's because we're still expecting big things from Gordon, who we have slotted in as the RB10. If Gordon is out the picture, Ekeler's and Jackson's projections are going to look a lot different.
If Ekeler continues to move up in ADP based on news (or lack of news) out of Los Angeles and he ends up going in the fourth or fifth round, hovering around names such as Sony Michel, Mark Ingram and Marlon Mack, that is where drafters should think about jumping ship.
The Chargers' running game is too much of an enigma right now to invest an early-round pick in a player who could quickly be relegated back to the bench should Gordon decide to have a sudden change of heart. In the top third of drafts, I need a player who has shown me proven, sustainable success, and Ekeler presently doesn't fit the bill.