Fantasy Football: Marlon Mack's Dropping Price Creates a Buying Opportunity
The Indianapolis Colts had one of the worst starts to the 2018 season. The New England Patriots offensive coordinator, Josh McDaniels, was set to be the next head coach of the team, but he backed out mere weeks before the season kicked off.
The Colts then pivoted to Frank Reich, who took over with questions still surrounding Andrew Luck and the shoulder injury that cost him the entire 2017 campaign. Then Indy started the season with a 1-5 record, including losses to the Cincinnati Bengals and New York Jets, putting a playoff run in serious doubt.
But Indianapolis flipped a switch in Week 7, claiming the AFC South crown with nine wins in 10 weeks to close out the season. Running back Marlon Mack was a monster over this stretch as he averaged 15.9 PPR points per game with four top-8 positional finishes in that span. What's even more impressive is that he posted those monster outings while averaging just 1.5 receptions per game over that span.
Does that lack of pass-game involvement limit his fantasy upside, and in general, how should we view Mack in fantasy in 2019?
Ground and Pound
The meat of Mack's fantasy value comes from his elite ground efficiency. Among running backs with 150 carries, he posted the third-best Rushing Success Rate and the fourth-best Rushing Net Expected Points (NEP) per carry, per our numbers.
Much of this efficiency should be attributed to the retooled offensive line led by rookie All-Pro guard Quentin Nelson.
The Colts offensive line has given the team's backs more room to run than any other recent year, and it's paid off for Marlon Mack. pic.twitter.com/k0cwNUTOEz
— PFF Fantasy Football (@PFF_Fantasy) November 6, 2018

According to Football Outsiders, the Colts line produced the fourth-most Adjusted Line Yards per carry for their running backs. Mack should experience that same run-blocking efficiency in 2019, as all five projected starters return.
While many running backs would succeed in Mack's 2018 situation, the team gave him a vote of confidence in the offseason. The Colts didn't select a running back in the 2019 NFL Draft with any of their 10 draft picks.
The team added minimal depth in free agency, as well, claiming D'Onta Foreman off waivers and signing Spencer Ware. Ware is already on Injured Reserve, and Foreman is trying to recover from a torn Achilles. These are very strong signs that Mack is primed for heavy ground usage this season.
Receiving Resurgence
One area where his fantasy value can improve is in the passing game. Among the 65 backs with at least 20 targets in 2018, Mack's -0.35 Reception NEP per target ranked dead last. This should undoubtedly bounce back at least somewhat, as Mack ranked 11th with a 0.35 NEP per target as a rookie in 2017.
His rookie receiving efficiency was no fluke. Mack was a strong pass-catcher dating back to his college days at South Florida as evidenced by his 10.9 percent college target share. That ranked in the 78th-percentile of college running backs, according to PlayerProfiler.
If the Colts take advantage of his natural skill in the passing game and scheme him into high-leverage situations, his receiving efficiency should see some positive regression. Of course, Nyheim Hines is in the mix, as well, and Hines showed as a rookie that he's a very skilled pass catcher, hauling in 63 of 81 targets. Hines' presence does cap Mack's pass-game usage, but Mack should be more efficient going forward with the looks he does get.
Quarterback Concerns
Question marks are already surrounding the health of the Colts' starting quarterback again. Luck is currently battling calf and ankle issues, and his Week 1 status is up in the air.
There is a "guarded optimism" about Andrew Luck being ready for the @Colts regular season opener. Guarded, for obvious reason, but maybe the optimism is a surprise
— Chris Mortensen (@mortreport) August 15, 2019


According to FanDuel Sportsbook, the Colts still hold the sixth-best Super Bowl odds at +1500, so perhaps this Luck injury isn't quite the death blow that some are making it out to be. Indy projects to win plenty of games again this season regardless of the starting gunslinger, meaning Mack is set up to carry a hefty workload on the ground in 2019.
The team also has an experienced backup in Jacoby Brissett, who started 15 games in 2017 filling in for Luck. That Colts team finished 31st in Total NEP per game under Brissett, but he was acquired via trade a week prior to the start of the season. With a significant head coaching upgrade and another year with the team, Brissett should be able to execute the offense in the absence of Luck, though the outlook for the Colts' attack obviously dims if Luck were to miss time.
2019 Fantasy Outlook
A few weeks ago, Mack was being taken in the early part of the third-round in PPR leagues, according to Fantasy Football Calculator. But his ADP has to the RB19 in the late third round, meaning he can be had at a nice discount, with the Luck injury woes possibly being the reason for Mack's falling price.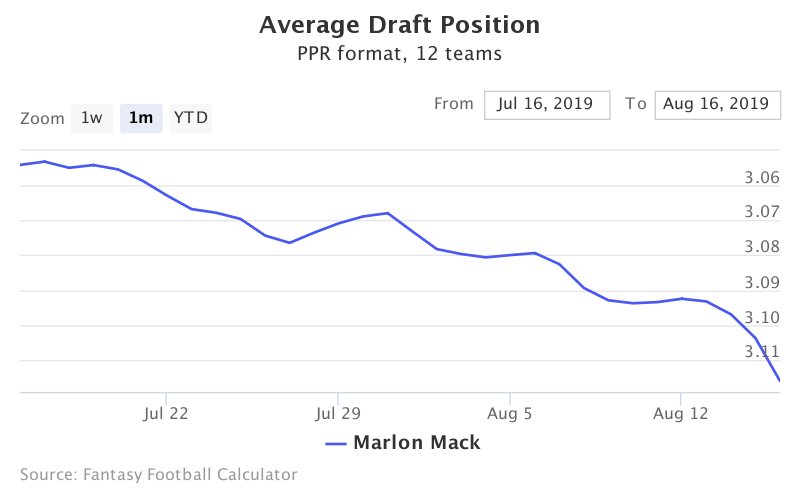 Warren Buffett once said to be, "Fearful when others are greedy and greedy when others are fearful." Fantasy gamers should be scooping up the value surrounding Luck's uncertainty. Mack can beat his declining ADP regardless of Luck's status with consistent ground usage and positive regression in the passing game.
While it takes a bit of faith, Mack should be viewed as an undervalued RB2 with RB1 upside. Our models project Mack as the RB18, planting him firmly in the RB2 range.