Fantasy Football: How High is Nick Chubb's Ceiling?
The Cleveland Browns are no longer the laughing stock of the NFL.
After a 3-36-1 record under the command of Hue Jackson, the team finally cut the dead weight after Week 8 of the 2018 season. From that point on, the Browns' offense posted an Adjusted Net Expected Points (NEP) per play of 0.13, which would have been tied for ninth over the whole 2018 season.
Freddie Kitchens will now command the offense for a full season, and he is surrounding himself with talent.
The Tampa Bay Buccaneers' 2018 offensive coordinator, Todd Monken, is now in Cleveland. He orchestrated the resurgence of Ryan Fitzpatrick and his deep ball consistency last year.
The Browns then added one of the most explosive receivers in football to the mix by trading for Odell Beckham.
With these additions, they should spend plenty of time in the red zone, and running back Nick Chubb should be the primary beneficiary.
Chubb was incredible to start the season, posting a Rushing NEP per play of 0.63 through the first six weeks of 2018. He hit that ridiculous number with a high rate of splash plays on his 16 total carries. Meanwhile, Carlos Hyde received 114 carries and put up a Rushing NEP per play of -0.06. Not to trample on the man's grave, but what was Hue watching?
John Dorsey took the decision out of Hue's hands by shipping Hyde to the Jaguars prior to Week 7, setting up Chubb for workhorse touches. Chubb was leaned on heavily for the rest of the year, averaging 17.6 carries per game. His rushing efficiency took a dip on the increased volume, falling to 0.03 Rushing NEP per carry. But he still managed to finish tied for 10th in Rushing NEP per play among backs with 150 carries.
Now beginning the season with a big role on a Browns team that looks to be on the upswing, can Chubb meet rising expectations in 2019?
Offensive Line Continuity
For starters, the offensive line projects to be a solid unit. The strength of the line is still on the left side, where according to Football Outsiders, the Browns were above average running behind left tackle Greg Robinson, left guard Joel Bitonio, and center JC Tretter. If they stick to their strengths, Chubb's efficiency should be just fine.
The Browns did part ways with their talented right guard, Kevin Zeitler, as part of the Beckham deal, though. The effects of this move are unknown yet, as Zeitler was Pro Football Focus' top ranked pass-blocking guard in football and was average in run-blocking.
#Browns hype is fun and I'm on board as it relates to Baker Mayfield, Odell Beckham, Nick Chubb, Freddie Kitchens, and obviously the genius Todd Monken. But GM John Dorsey's exuberance for flash came at direct expense of offensive line play (1/2).
— Evan Silva (@evansilva) May 31, 2019
This thrusts Austin Corbett into the spotlight as the new starting right guard. The sophomore swing lineman didn't flash much as a rookie, but he was learning a new position. He now has a year of experience under his belt, and his teammates are saying he's on the right track.
Expanded Passing Game Role
But the most encouraging development throughout 2018 was Chubb's passing game role.
From Week 7-17, Chubb averaged 2.8 targets per game. On those targets, he actually outperformed pass-catching specialist, Duke Johnson, in both Receiving NEP per reception and Receiving Success Rate. Chubb was never deemed a strong pass-catcher at Georgia, so the fact that he translated his athleticism into receiving efficiency as a rookie bodes well for his future.
The Browns clearly felt the same way, as they fulfilled Johnson's trade request by sending him to the Houston Texans in August. That move freed up 3.9 targets per game, and Chubb doesn't have significant backfield competition until Week 9 when Kareem Hunt returns from suspension. It is also entirely possible that Chubb and the Browns are rolling so well that Hunt can't even get on the field.
2019 Fantasy Outlook
This means that Chubb will be the unquestioned bell cow of the 2019 Browns for at least the first half of the year. Given the high expectations for the team as a whole, this is something that everyone should target in fantasy football leagues.
The numberFire projections have Chubb slotted in as the RB8 in standard leagues with 218.85 fantasy points.
If the Browns expand his passing game role, and they might not have a choice, Chubb could easily outperform that projection in PPR leagues. Fantasy gamers have realized this, as his PPR average draft position on Fantasy Football Calculator has soared from the late-second round to the early-second.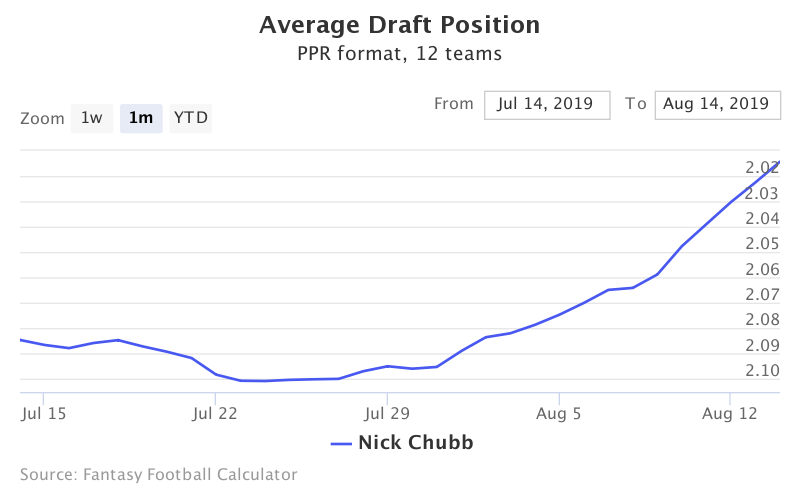 This price change is warranted, as Chubb's ceiling is a high-end RB1 in an explosive offense. If the Browns realize their potential as a team, Chubb will pay off regardless of his ADP.