Is There Fantasy Football Value in the New York Jets' Receivers?
All off-season, the talk around the New York Jets has been the progression of Sam Darnold in his second season. Many people are expecting Darnold to take a step forward this year, continuing on from a strong end to last season.
In the last four games of 2018, Darnold averaged 0.17 Passing Net Expected Points (NEP) per drop back and had a 50% Passing Success Rate, both better than the season-long league averages of 0.11 and 47.6%, respectively.
While Darnold did show improvement, it's not enough to warrant much interest in most fantasy football leagues with such a deep quarterback position. If we want exposure to this Jets passing attack, it makes more sense to find it through the wide receivers.
The Deep Threat
The number-one beneficiary of Darnold's late-season surge in 2018 was Robby Anderson. In those last four games, Anderson had 23 catches on 39 targets for 336 yards and 3 touchdowns. According to airyards.com, his 528 air yards in that stretch were the third-most in the span, behind only Mike Evans and DeAndre Hopkins.
Throughout his time in the NFL, Anderson has been a quality deep threat, and he had an average depth of target of 15.7 yards in 2018. New Jets coach Adam Gase had a similar type of player with the Miami Dolphins in Kenny Stills, who scored nine touchdowns in 2016 and had an above league average clip in Reception NEP per target each of the three seasons that Gase was in Miami.
Anderson has the advantage of likely seeing more target volume than Stills ever got, and he also hopefully will see better quarterback play than what the Dolphins had seen in the past three seasons. Anderson's average draft position (ADP), per Fantasy Football Calculator, is WR29 in half-PPR leagues. Our projections have him at WR25. His ADP seems to be reasonable, and he makes for a decent selection, especially in best ball drafts, where his volatile nature won't hurt you.
The Slot Guy
Jamison Crowder came over during free agency from Washington and looks like he's inherit the role in the slot based on training camp and the first preseason game.

How Jamison Crowder can be Jets' slot machine, help Sam Darnold https://t.co/yCqv9XUw6G pic.twitter.com/aEwMoCkDPa
— ESPN New York (@ESPNNewYork) August 13, 2019

The slot receivers in Gase's offense have been historically targeted heavily. Danny Amendola saw the most targets on the Dolphins in 2018, and the two years prior to that, Jarvis Landry saw a whopping 27% of Miami's targets playing mostly from the slot. Darnold showed an affinity for throwing to the slot receiver last season, weather that was Quincy Enunwa or Jermaine Kearse.
Crowder has been successful in this role in the past, with his best season coming in 2016, when his Reception NEP per target was 0.74, better than the league average of 0.66 for wideouts. The group of receivers he played with during that season is similar to the one he will play with this year, with DeSean Jackson being the deep threat and Pierre Garcon being a possession receiver, similar to Enunwa.
The new acquisition has been showing a great rapport with Darnold in training camp, according to reports, and in the preseason game versus the New York Giants, the pair connected twice for 31 yards and a touchdown on the only drive they played in the game. The fantasy community has taken notice, with his price jumping in the last week.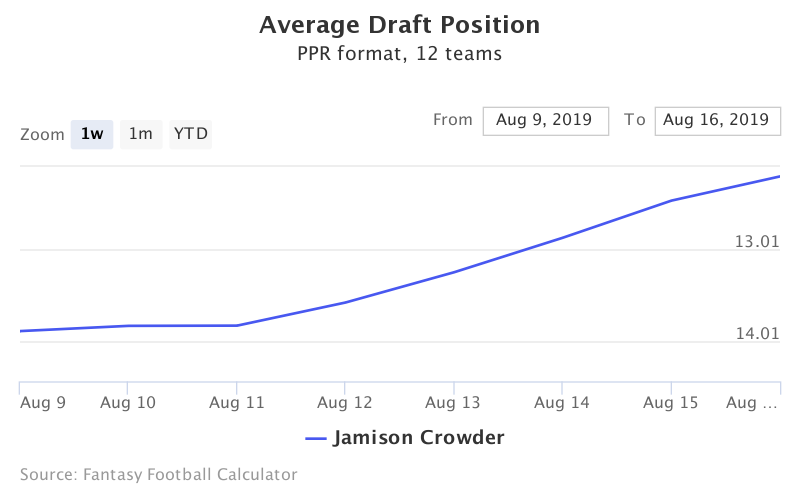 Crowder is most useful in PPR leagues, and his ADP is WR56 in those drafts. That is right in line with where we have him projected, as he comes in at WR58, per our numbers, but Crowder could exceed that value with the number of targets he could amass in this offense. He makes for a safe floor pick as a late-round wide receiver.
The Rest
The rest of the receiver corps is nothing special and not really worth much in most fantasy leagues. Enunwa will be playing as an outside receiver this year, and he could end up being low on the pecking order for targets when you include the passes that will go in the direction of Le'Veon Bell and second-year tight end Chris Herndon (when he returns from suspension). Others like Josh Bellamy or Deonte Thompson won't see the field much barring something unforeseen like an injury.
In Conclusion
Robby Anderson and Jamison Crowder are both intriguing bets this season, but ones that the draft market has valued pretty fairly. If the Jets' passing game does take a leap forward, these are the players who will likely benefit most, though they're fine picks even if Gang Green's offense doesn't make a huge jump.
Between the two, the value is on Crowder's side as he is going close to 30 receivers after Anderson is and could be the Jets' leader in targets. Crowder's floor is safer than some of the receivers going before him -- such as D.K. Metcalf, Emmanuel Sanders and Josh Gordon -- all of whom have various question marks that make them more of a risk, though they may offer more upside.