3 Quarterbacks Who Are Massive Values to Lead the NFL in Passing Yards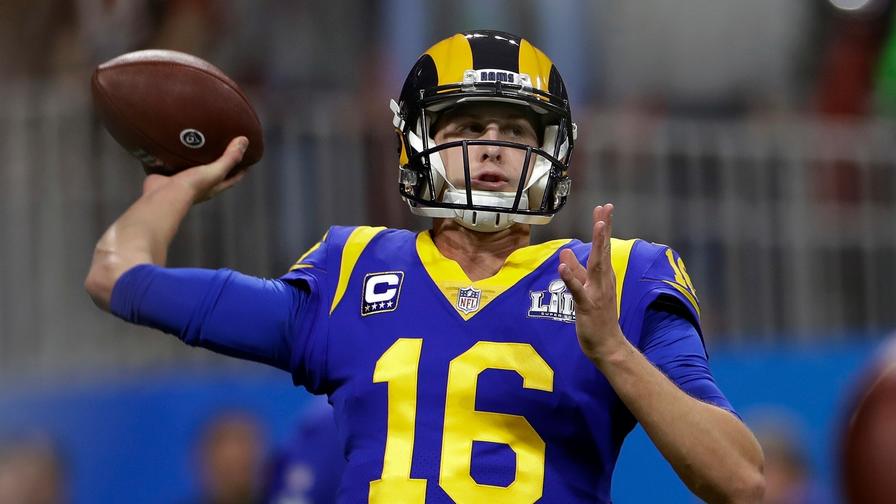 Every NFL season is unique -- and uniquely unpredictable.
Obviously, each year, teams have slightly different rosters, slightly different coaching staffs, and moderately different schedules, but projecting a season requires some guesswork. More appropriately, projecting a season should work with the underlying assumption that things can go wrong (or right) for teams and players. Variance is real, and range of outcomes matter. Especially when seeking value in props and over/unders.
Rather than rely solely on numberFire's projections -- the most likely outcome for every player this season -- I wanted to dig into the "what-ifs" for every player over a full season.
That helped me find betting value on passing yardage leaders on FanDuel Sportsbook.
The Process
It's pretty simple. I simulated the NFL season 10,000 times, using numberFire's projections (and standard deviations) as the basis.
This showed me the probability that a given player would lead the league in passing yards in 2019.
This should work well to bake in volatility and risk in each player's profile and help us figure out who has the upside to lead the league in passing yardage. A few notable players get cut right out of the mix, and that helps our process when scouring the board for bets to back.
The Odds
Per FanDuel Sportsbook, it's Patrick Mahomes who is the odds-on favorite to lead the NFL in passing yards in 2019. Mahomes is +360, implying more than a 20% chance that he'll win the passing title. The simulations disagree, but we'll get there. Here's a snapshot of the passers' odds.
| Player | Odds | Player | Odds |
| --- | --- | --- | --- |
| Patrick Mahomes | +360 | Derek Carr | +5000 |
| Matt Ryan | +500 | Russell Wilson | +6000 |
| Andrew Luck | +700 | Dak Prescott | +8000 |
| Ben Roethlisberger | +800 | Sam Darnold | +10000 |
| Aaron Rodgers | +800 | Andy Dalton | +10000 |
| Philip Rivers | +1100 | Cam Newton | +10000 |
| Baker Mayfield | +1500 | Nick Foles | +10000 |
| Drew Brees | +1600 | Case Keenum | +15000 |
| Jameis Winston | +1700 | Dwayne Haskins | +15000 |
| Tom Brady | +1700 | Eli Manning | +15000 |
| Jared Goff | +2300 | Joe Flacco | +15000 |
| Kirk Cousins | +2600 | Marcus Mariota | +15000 |
| Carson Wentz | +3000 | Mitch Trubisky | +15000 |
| Deshaun Watson | +3000 | Ryan Fitzpatrick | +15000 |
| Kyler Murray | +3000 | Josh Allen | +20000 |
| Jimmy Garoppolo | +3200 | Josh Rosen | +20000 |
| Matthew Stafford | +3400 | Lamar Jackson | +20000 |

Honestly, to me, this is a pretty strong list at first glance, but that doesn't mean there aren't value opportunities -- and situations to avoid. What do the sims have to say?
Avoid
Patrick Mahomes (+360) - Mahomes could very easily play a significant portion -- if not all -- of the season without his deep threat, Tyreek Hill. There probably isn't a bigger fan of Chris Conley's on the planet than I am, but he's now with the Jacksonville Jaguars, cutting out any rapport that he and Mahomes built during Conley's extended play in 2018. Obviously, Travis Kelce and Sammy Watkins go a long way toward big yardage totals, and we actually project Mahomes to finish third in yardage at 4,673. So he's in the mix, of course. He led the league in yardage in a solid 11.35% of the simulated seasons, but that's well off the pace of his +360 mark (21.74%). With Hill's uncertain status, it's best to look elsewhere.
Matt Ryan (+500) - Ryan is also overvalued, per the simulations. At +500, he should have about a 16.67% chance to lead in passing, but the numbers put him below 8% (7.27%, actually). On average, our projections put Ryan fourth in passing yards (4,627) and fifth in attempts (602), but that's still not enough to get value at that number when accounting for a wide range of outcomes.
Target
Jared Goff (+2300) - Goff qualifies as a long shot to lead the league in passing according to the betting odds, but he's projected to finish second in yardage, and he actually led the league in passing in 17.10% of the simulated seasons. As a reminder, Mahomes did it in just 11.35% by comparison. Goff also topped 5,000 yards 24.78% of the time and is really being considered an afterthought in the betting market. Goff's efficiency metrics from 2018 were nearly identical to Ryan's, who is -- again -- listed at +500. Goff's Passing Net Expected Points (NEP) per drop back mark of 0.25 bested Ryan's 0.24 (league-average was 0.11), and their Passing Success Rates were nearly the same, too (52.80% for Ryan and 52.77% for Goff).

Ben Roethlisberger (+800) - Roethlisberger is the algorithm's pick to lead the league in passing (4,813), so that's a green flag for us right there. Roethlisberger is also slated for the third-most pass attempts in the league, helping while seeking straight up passing yardage volume. Simulating the season shows a 19.12% chance that he leads the league in passing yards, and he broke the 5,000-yard barrier more than 27% of the time in the simulations. He should have to throw often, and even without Antonio Brown, Roethlisberger has a bonafide number-one receiver to go to in JuJu Smith-Schuster. He's a clear value on FanDuel Sportsbook both for yardage leader and touchdown leader.
Baker Mayfield (+1500) - Mayfield is one of four passers who led the league in yardage in at least 10% of the simulated seasons, joining Roethlisberger, Goff, and Mahomes. Mayfield did so 10.74% of the time, outperforming his odds of 6.25% at +1500. Mayfield saw a huge swing in efficiency in 2018 after Week 8 when Freddie Kitchens took control of the Cleveland Browns. Prior to the coaching change, Mayfield posted a -0.06 Passing NEP per drop back (yes, negative), a 41.15% Passing Success Rate, and 6.60 yards per attempt. After the shift, his marks jumped to 0.27, 52.24%, and 8.57, respectively. With Odell Beckham and a loaded offense, Mayfield really stands out as a bet to back.
Others to Consider: Jameis Winston (+1700, 6.94% likely to lead the NFL in passing); Carson Wentz (+3000, 3.28%)