Fantasy Football: Tyler Lockett Will Thrive As Seattle's Top Receiver
If it weren't for Patrick Mahomes, 2018 might have been known as Tyler Lockett #SZN. Russell Wilson famously recorded a perfect passer rating (158.3) when targeting Lockett, and with Doug Baldwin at less than 100 percent for most of the season, Lockett operated as the Seahawks' best wideout, scoring 10 touchdowns.
Lockett was incredibly efficient last year -- so efficient that it'll be nearly impossible for him to maintain the same per-target efficiency in 2019. Does that make him an easy player to fade in fantasy drafts this year?
Just How Good Was Lockett?
Let's dive into this by looking at our Net Expected Points (NEP) metric.
NEP tracks the expected points added or subtracted on each play throughout the season. As opposed to a yards-per-play-type metric, NEP is able to quantify the difference between a three-yard completion on 3rd and 2 and a three-yard completion on 3rd and 4, helping us better understand the impact of players Our database goes back to 2000. Y2K had just brought the Earth to its knees, and Faith Hill's Breathe brought it to tears as the No. 1 charting song. There was truly no better time to start recording football data.
In 2018, Lockett recorded a 1.14 Target NEP per target on 71 targets. That means nothing to you without a reference point, so here goes -- since 2000, no player with at least 30 targets in a season has a better Target NEP per target clip than what Lockett posted in 2018.
On a per-target basis, Lockett had one of the best receiver seasons in recent history. But massive outlier seasons like that are outliers for a reason -- they're very hard to do.
Impending Regression
Lockett will likely come back earth in terms of his otherworldly per-target numbers, and he'll almost surely see some negative regression in the touchdown department after scoring a whopping 10 times on just 71 targets last year.
Since 2000, 58 receivers have scored a touchdown on 10% of their targets in a season (among players with 50 or more targets). Only three of them -- Randy Moss, Donald Driver, and James Jones -- improved their touchdown rate in the following season. Lockett (14.1%) will be fighting an uphill battle to follow in their footsteps next year.
But even if the expected regression hits Lockett, a possible boost in targets could help offset it.
Available Volume
Lockett will get the benefit of no longer competing with Doug Baldwin. Despite sitting three games and generally being banged up all season, Baldwin still led Seattle in targets last year (73). Before last season, Baldwin averaged 114.7 targets from 2015 to 2017, and his departure opens up a lot of opportunity.
The Seahawks did add rookie receivers D.K. Metcalf and Gary Jennings Jr., with both players testing as big-time athletes. Per Player Profiler, Jennings recorded a 95th-percentile SPARQ-x score at the combine. Not to be outdone by his future teammate, Metcalf earned himself a 99th-percentile SPARQ-x score while running a 4.33 40-yard dash -- something that shouldn't be possible at his size.
However, those two combined for just a single 1,000-yard season in seven years of college play, with Jennings achieving that campaign in 2017. Despite their athleticism, neither player was dominant in college. Coming into the NFL, it may take the two young receivers some time to develop.
That leaves Lockett in the position to see more looks -- maybe a lot more -- than the 70 targets he got in 2018, which was actually one fewer target than he saw in 2017. In fact, he's seen between 66 and 71 targets in all four of his NFL seasons. His target total could venture into newfound territory this fall.
The Seattle Offense
Seattle's antiquated offense peaked in its run-happy ways a season ago as they ran the ball 534 times and threw it just 427 times. They were the only team to run it more than they threw it.
Since Wilson became the starter for Seattle in 2012, the Seahawks have been a bottom-two team in pass-to-run ratio four different times. They have been in the top half of the league in that stat just once.
If there were a season when this could change, it would be 2019. In April, Wilson signed a $140 million extension as the team committed to him being the centerpiece of the franchise. On top of that, Seattle drafted three receivers (with John Ursua being the third) and an offensive lineman (Phil Haynes). Their offense will have a lot of new personnel this fall.
The Seahawks aren't going to all of the sudden turn into a pass-first attack, but given Wilson's skill level, even just a slight bump in pass attempts could have a big impact in fantasy. For what it's worth, our 2019 team power rankings have Seattle as the league's 14th-rated passing attack.
Where This Leaves Us
In the end, the dilemma of drafting Lockett boils down to his price. Luckily, the expected regression is already being baked into his cost while the boost in volume may not be fully accounted for quite yet.
He is currently being drafted as the WR25 in standard formats -- per Fantasy Football Calculator -- despite finishing as the standard-league WR11 last season, though his price has jumped nearly a full round since the Baldwin retirement.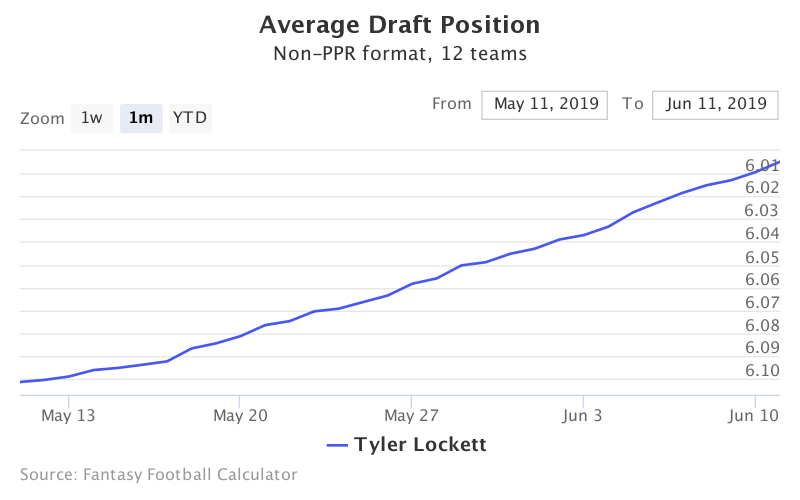 Our projections pretty much agree with Lockett's current cost. We rank him as the WR23, and we fully expect the touchdown regression to hit, forecasting him for 6.7 touchdowns.
Lockett now has a cleared runway to take off as Wilson's top target. A boost in volume should soften the impact of said regression to the point where Lockett is still a solid value. He's got a nice floor along with some appealing upside in the event that Seattle's rookies don't develop quickly.
All in all, Lockett is shaping up to be a very nice WR2 (top-24) target this season.