Fantasy Football: Has the Darrell Henderson Hype Gotten Out of Control?
With two games left in the 2018 regular season, the Los Angeles Rams seemingly chose to rest star running back Todd Gurley. He was dealing with a knee issue, and the Rams nearly had a first-round bye locked up. It made sense for LA to give him a break.
Then the playoffs rolled around. Gurley peaked at 16 rushing attempts in the Divisional Round. He was given 14 combined carries across the NFC Championship and Super Bowl -- with C.J. Anderson seeing 16 carries in the NFC title game -- and it was obvious something was up. As the offseason began, reports surfaced of Gurley's knee being a serious, long-term issue.
Then, in the eyes of many, those rumors were confirmed when the Rams traded up to take Darrell Henderson with the 70th overall pick. Since then, it has become increasingly clear that Gurley won't be touching the ball nearly as often as he has in past seasons.
This has a massive impact in fantasy football. Volume is king, and if Gurley is going to be getting the ball less, it means the door is open for someone else to see meaningful touches in one of the more fantasy-friendly offenses in the league.
The fantasy community thinks that someone is going to be Henderson, with his standard-league average draft position (ADP) skyrocketing over the past two months.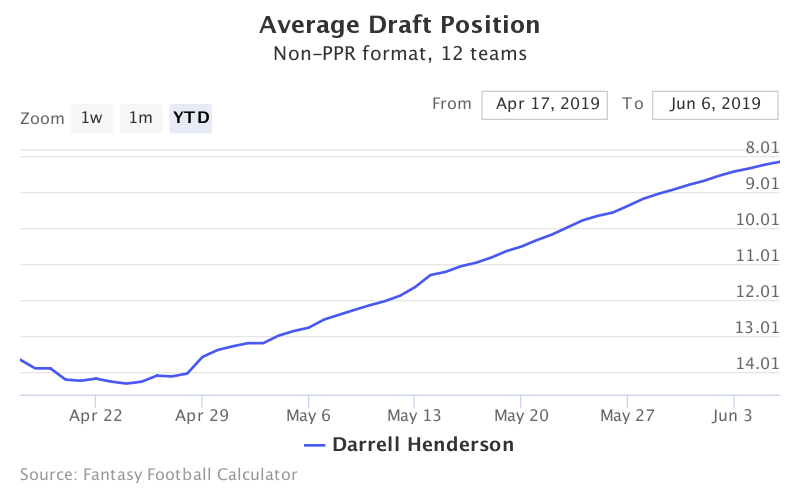 As Henderson's ADP climbs, is he still a worthwhile investment, or has the market overreacted?
Who Is Henderson?
Playing three years as a Memphis Tiger, Henderson wasn't a household name entering the draft. But he should have been.
According to Sports-Reference, no rusher, dating back to 1956, averaged more yards per carry over their career than Henderson's clip of 8.2. He was electric, ripping off a class-best 27 runs of 20 or more yards this last season, per Pro Football Focus. He also showed off his skills as a receiver, catching 19 passes as a junior while competing with receiving aficionado Tony Pollard, who wound up with the Dallas Cowboys this offseason.
At 5'8", Henderson isn't built like the prototypical workhorse running back, but he does weigh in at 208 pounds, putting him in the 80th percentile in Body Mass Index, according to PlayerProfiler.
In today's NFL, Henderson has the tools to be a real weapon, and he landed with one of the best offensive minds in football in Sean McVay.
What Can We Expect?
The short answer -- no one knows.
It's unclear just how bad Gurley's knee is and how much the Rams plan to scale back his work. However, even a low expectation for touches for Henderson nets a great return on his early eighth-round ADP (per Fantasy Football Calculator).
Our projections have Henderson getting 165 carries and 28 receptions, and we slot him as the RB33 for standard formats. The workload and fantasy points, per our projections, put Henderson right in line with Rashaad Penny (RB38), Latavius Murray (RB34) and Austin Ekeler (RB36) -- three other prominent backups who should see good volume.
The 165 attempts would have accounted for roughly 36% of the Rams' total carries from last season. If you're looking for a more bearish projection, you can bump down his market share to 30%. For a Rams back in 2018, 30% of the carries would have been 137.7 attempts.
Using the average per-carry efficiency of all Rams running backs from 2018, we can approximate Henderson's stats from those carries. Rams backs averaged exactly five yards per carry and scored a touchdown on 5.1% of their attempts. Those marks would bring Henderson to just 688 rushing yards. It's not a perfect extrapolation -- though our projections are close to it, forecasting Henderson for 710 rushing yards.
The rushing yardage total might not seem like a lot, but Henderson's touchdown potential in this offense is immense. At the rate of an average Rams back from 2018, Henderson would be expected to score just over seven times on 137.7 carries. That mark would have tied him with David Johnson and Christian McCaffrey in rushing scores last season. For what it's worth, we project Henderson to score 5.16 total touchdowns (4.09 rushing and 1.07 receiving).
The Floor
Of players being taken in the first 10 rounds, Henderson could have one of the lowest floors.
If Gurley is healthy and the reports on his knee have been exaggerated, Henderson would likely become a run-of-the-mill handcuff who fantasy drafters overpaid for. The good news (for Henderson) is that said scenario seems highly improbable.
Coachspeak and "reports" are all good and well, but what really matters is a team's actions. And just about everything the Rams have done since Gurley missed Week 16 and Week 17 tells us Gurley has a very real knee issue.
Not only did C.J. Anderson play over Gurley in the most important games of the season last winter and not only did the Rams draft Henderson early in the third round, they gave up an additional third rounder to move up and acquire the former Memphis star. On top of that, the Rams matched a second-round tender for Malcolm Brown to keep him on the team.
All of their actions point toward Gurley having legitimate knee issues, and a scaled-back Gurley means more touches for the rest of the Rams' backs.
The Ultimate Ceiling Play
Henderson is not a pick for volume or secure usage in any way. LeSean McCoy and Peyton Barber are both being taken directly after Henderson, and both players look like better bets for steady volume.
But in the eighth round, the time for finding high-floor players is usually long gone. Henderson's most likely outcome -- based on what we know now -- is that he spells Gurley and scores a few touchdowns. Henderson's big weeks may be hard to predict, but those big weeks could be game-changers, making him particularly appealing for best-ball leagues.
Should Gurley miss time, C.J. Anderson has already provided the blueprint. Anderson lead the Rams in carries four times from Week 16 on, counting the postseason. He eclipsed 120 rushing yards in three of the five games and scored six total touchdowns in that stretch (four rushing and two receiving).
The lead back in this Rams offense has every-week RB1 upside with a great floor, and if Gurley sits out at all in 2019, Henderson could shoulder the lead role.
Just Buy Henderson
The hype around Henderson will likely continue to grow throughout the summer as we keep getting reports of things like Gurley missing OTAs and sitting for the preseason.
Even as Henderson's price continues to rise, he will still offer the highest upside of any back beyond the top few tiers. Until you can choose a proven, successful starter over Henderson at his ADP, his upside is just too high to ignore in any format -- redraft, best-ball and dynasty.