Ryan Fitzpatrick Is an Upgrade Over Ryan Tannehill for the Dolphins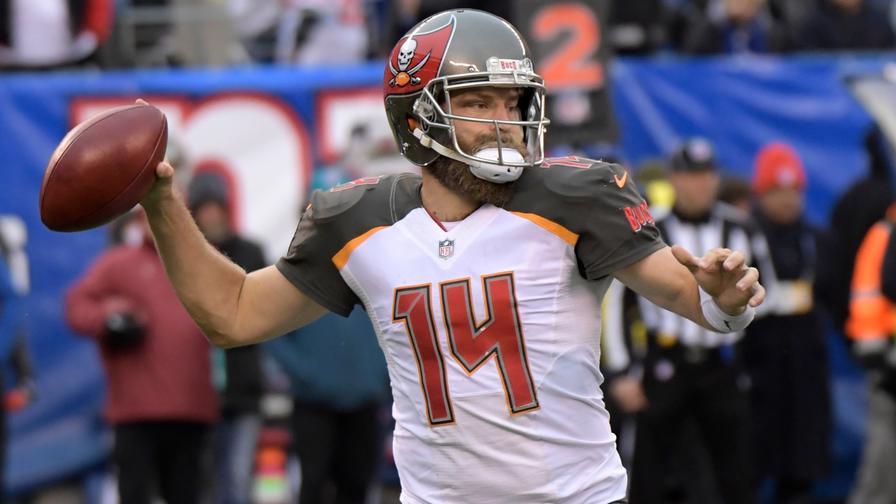 Last offseason, Ryan Tannehill was working his way back from an ACL injury that cost him the entirety of the 2017 campaign. With five years of experience under his belt, it was looking like he may at last have been developing into the quarterback the Miami Dolphins had drafted him to be.
He had left off in 2016 with career-best marks in both adjusted net yards per pass attempt (ANY/A) and Passing Net Expected Points (NEP) per drop back. Yours truly was scooping him up at the back end of deep fantasy football drafts.
He returned to us with one of the worst seasons we've seen out of him. His Passing NEP per drop back fell from 0.09 to -0.09 (meaning that on an average drop back, he cost his team 0.09 expected points, rather than adding that amount), and his ANY/A fell from 6.27 to 5.50.
Even still, the Miami Dolphins managed a 7-9 record in 2018. That finish didn't cause them to overlook Tannehill's poor play, though, and he was traded to the Tennessee Titans. That left the team with Jake Rudock and Luke Falk as the only quarterbacks on the roster, and it looked like they were set to blow it up and either lean heavily on a rookie quarterback or tank in 2019.
They went out and signed veteran Ryan Fitzpatrick just two days later, though, and Fitzpatrick could very well put them in a better position to win games this year than Tannehill would have.
2018 Comparison
Tannehill and Fitzpatrick went in drastically different directions last year.
One of the stranger, more fun stories of the year, Fitzpatrick played some absolutely ridiculous football over the first three weeks of the season, with at least 400 yards and 3 touchdowns in each of those games. He quickly cooled off, but some up-and-down play was enough for him to keep seeing playing time mixed in with Jameis Winston, and Fitz turned in an excellent 0.26 Passing NEP per drop back, which ranked fourth among the 43 quarterback who dropped back at least 100 times on the year.
Tannehill returned to action with a -0.09 Passing NEP per drop back, as mentioned above, and that was the fifth-worst mark in said 43-passer sample. Fitzpatrick also crushed Tannehill in adjusted net yards per attempt, posting a huge 8.04 clip, compared to Tannehill's 5.50.
It's hard to separate a quarterback's play from that of his receivers, though it is worth noting that in the same offense in which Fitzpatrick dominated, Jameis Winston posted a Passing NEP per drop back of 0.16 -- not bad by any means but not particularly close to Fitz's mark of 0.26.
Tannehill was playing without Jarvis Landry for the first time since 2014, but as noted last year, Landry sat only in the middle of the pack if we looked at Tannehill's efficiency targeting various receivers over his career. He was still playing with the players who had accounted for his most efficient and seventh-most efficient targets heading into the year.
If we update that chart to include 2018, we see his teammates from last year now rank rank third, sixth and seventh among the 17 players who Tanny has target at least 50 times over his career. And still, he turned in one of the worst seasons of his career.
Expanding Our View
With 2018 being such a sudden shift in Tannehill's numbers while also including a stretch of games from Fitzpatrick that wasn't going to be sustainable for any quarterback, it's fair to call into question the size of our sample there. In any of the other major sports, you wouldn't even begin to make broad-reaching comparisons between players based off 11- and 8-game samples.
So to make up for that, let's expand our view back to Tannehill's 2012 rookie season. And to account for the rapidly-shifting NFL landscape, we're not going to look at just the pair's respective efficiency, but also how they compared to the league-average among quarterbacks in Passing NEP per drop back.
First Tannehill:
| Year | ANY/A | PNEP/DB | League Average | Difference |
| --- | --- | --- | --- | --- |
| 2012 | 5.23 | -0.04 | 0.06 | -0.10 |
| 2013 | 5.00 | 0.00 | 0.05 | -0.05 |
| 2014 | 5.83 | 0.07 | 0.08 | -0.01 |
| 2015 | 5.91 | 0.05 | 0.11 | -0.06 |
| 2016 | 6.27 | 0.09 | 0.12 | -0.03 |
| 2018 | 5.50 | -0.09 | 0.11 | -0.19 |

And Fitzpatrick:
| Year | ANY/A | PNEP/DB | League Average | Difference |
| --- | --- | --- | --- | --- |
| 2012 | 5.61 | 0.03 | 0.06 | -0.03 |
| 2013 | 5.62 | 0.09 | 0.05 | 0.04 |
| 2014 | 7.15 | 0.08 | 0.08 | 0.00 |
| 2015 | 6.46 | 0.14 | 0.11 | 0.03 |
| 2016 | 4.99 | -0.01 | 0.12 | -0.13 |
| 2017 | 6.32 | 0.10 | 0.06 | 0.04 |
| 2018 | 8.04 | 0.26 | 0.11 | 0.15 |

The first thing that stands out for Tannehill is that we have never seen him finish a season with even league-average efficiency. At his best, he was very close to average in 2014.
Fitzpatrick has shown a low floor of his own, though the difference between -0.13 and -0.19 is not insignificant, and he's also shown a much better ceiling. He has been more efficient than the league average in four of the last seven years, and Fitz hit the league average in one of the other three.
And if we compare the two directly, ignoring 2017 because Tannehill didn't play, Fitzpatrick comes out ahead consistently. Tannehill beat Fitzpatrick in both Passing NEP per drop back and ANY/A in 2016. But in 2012, 2013, 2014 and 2018, the edge in both stats went to Fitzpatrick. And that sample gives us a wide variety of supporting casts for Fitzpatrick, as well, with him playing on five different teams in that stretch.
2019 Outlook
There's a big caveat here. The Dolphins' top priority may not be to win as many games as possible in 2019. Despite their 7-9 record last year, they had the league's third-worst average scoring differential, at -7.1 points per game.
Owners of the 13th overall pick in the 2019 NFL Draft, Miami is in play for both Kyler Murray and Dwayne Haskins this spring. In fact, FanDuel Sportsbook gives them the second-highest odds (+600) of drafting Murray and the fourth-highest odds (+500) of landing Haskins. The number is slightly inflated from the vig on the betting lines (adding all the team's implied probabilities goes over 100%), but those lines imply them for a 31% chance of taking one of the top two quarterbacks in the draft.
Even if those players don't give them the best chance to win games in 2019, a passer taken in the top-10 would be a real threat to take playing time from Fitzpatrick.
However, 31% is far from a lock, and if the 'Fins don't take a quarterback early, there's a much better chance that anyone they do draft sits on the bench for as long as their offense is showing any signs of life. FanDuel Sportsbook doesn't have lines on win totals up right now, but we can get a feel for the betting market by looking at each team's odds of winning their conference championships.
For Miami, at +6000, they're implied as the least likely team in the AFC and the second-least likely in the NFL to appear in the Super Bowl. They also own the worst odds to win the Super Bowl of any team, at +12000. Those are obviously long-shot bets, but it's notable that their Super Bowl odds have become longer since the Tannehill and Fitzpatrick moves, as they sat at +10000 on March 12.
I'm not out here telling you to bet on a 120-to-1 underdog to win the Super Bowl. But keep an eye when season win totals come out, because Miami's Super Bowl odds are a sign that betting markets aren't taking into account the Dolphins' improvement at the quarterback position, which could create some nice betting value when win-total lines drop.