5 Reasons Why the Los Angeles Rams Will Win Super Bowl LIII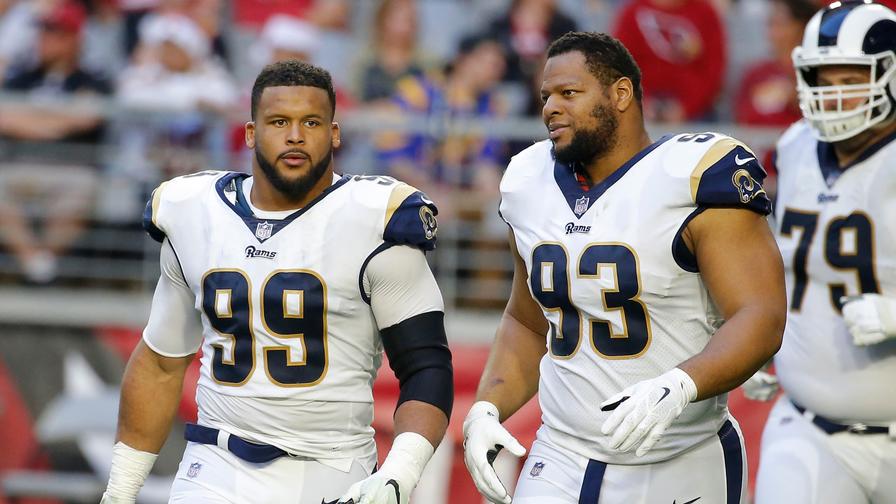 Set for this Sunday, Super Bowl LIII is almost here. Bookmakers currently have the line set at 2.0 points in favor of the New England Patriots, and the game total is installed at 57.0 points. This outcome closely mirrors what our models say as we currently predict the Patriots to win by a score of 28.92-27.05. However, with such a close game expected, obviously the outcome could swing either way.
If the Rams do come out of top, these five things will likely be a big reason why.
Todd Gurley's Three-Down Skill Set
But C.J. Anderson has been playing so well! Yes, Anderson has been effective of late, but Todd Gurley remains one of the Rams' biggest keys to victory.
Gurley absolutely dominated throughout 2018, averaging 89.34 yards on the ground and another 41.43 yards through the air. He also impressed going by our Net Expected Points (NEP) metric. Looking particularly at Rushing Success Rate, which is the percentage of his carries that resulted in an expected-point gain, Gurley's 49.61% Success Rate ranked first among the 21 running backs with at least 150 carries. In addition to his work on the ground, he impressed as a pass catcher, recording 59 receptions on 81 targets.
The Patriots own a middle-of-the-road run defense, per our schedule-adjusted metrics, but they have shown increased vulnerability to backs through the air. In the regular season, they allowed 49.25 receiving yards to backs per game, and they gave up 66 receiving yards to Damien Williams in the AFC Championship.
The Rams can attack this weakness, and if they do, it'll likely be with Gurley. Anderson has been good as a runner, but the Rams have called a run play 69.6% of the time Anderson is on the field, compared to 35.6% for Gurley.
Jared Goff's Ceiling
In his third season, Jared Goff shined under Sean McVay. In the regular season, Goff ranked fourth in passing yards (4,688) and threw for 32 touchdowns. He also excelled according to NEP. Among 18 passers with at least 500 drop backs, Goff's 0.25 Passing NEP per drop back ranked fourth in the NFL, and it was ahead of Tom Brady's 0.23 mark, though both clips are superb.
It should be noted that Goff ranked 28th in the NFL in passer rating when pressured (59.8), but the Rams ranked 6th in Football Outsiders' Adjusted Sack Rate. Conversely, the Patriots' defensive line ranked 30th in Adjusted Sack Rate, so Goff should pass from clean pockets if all goes according to plan. And if he stays clean, he should have a good outing as he posted a pristine 117.1 passer rating when not pressured.
Generating Interior Pressure
Aaron Donald and Ndamukong Suh have been causing problems for opposing offenses all season as LA generated a pressure rate from the interior of 16.6%, the highest figure in the NFL.
Suh and Donald combined for a massive 154 quarterback pressures in the regular season. No pair of defensive tackles had more -- and it wasn't close. The Pittsburgh Steelers' duo of Cameron Heyward and Stephon Tuitt ranked second with a combined 100 pressures.
Brady, like basically every signal caller in football history, is negatively impacted by pressure. In 2018, his passer rating dropped from 105.3 in a clean pocket down to 71.2 when he was under pressure. While the Patriots have a quality offensive line, one which allowed the third-fewest sacks this season, the Rams notched the league's third-highest pressure rate (53%).
Suh and Donald versus the Pats' offensive line will be one of the key matchups of the game, and the winner of the battle on the interior will likely win the contest. If LA can pressure Brady without having to blitz, they'll have a real chance to slow the Pats' attack.
Dominant Offensive Line Play
While Todd Gurley and the brilliance of Sean McVay often garner much of the credit for the Rams' offensive success, LA has perhaps the best offensive line in football.
Riding their offensive line, the Rams finished with the top-ranked run offense, per our metrics, and this front five made C.J. Anderson, who had been cut three times in 2018, look like an All-Pro. According to Football Outsiders, the Rams' O-Line ranked first in adjusted line yards per rush while New England's defensive line ranked 26th in that same metric.
With the ability to pass block and run block at an elite level, LA's offensive line could make life easier for Goff, Gurley and company.
Stout Boundary Coverage
In order to play truly shutdown defense, a strong pass rush must be combined with outstanding corner play. According to our metrics, the Rams' pass defense ranks 10th overall, but that's with corner Aqib Talib playing just eight games in the regular season.
With Talib back for the postseason, Marcus Peters on the other side and Nickell Robey-Coleman defending the slot, the Rams did not allow a New Orleans Saints receiver to eclipse 58 receiving yards in the NFC title bout.
Robey-Coleman in particular is going to play a key role in a one-on-one battle versus Julian Edelman. Robey-Coleman gave up just 253 receiving yards on 358 snaps during the 2018 regular season, and he ranked second in the NFL among qualified slot corners in fewest yards allowed per snap.
If Robey-Coleman wins the matchup against Edelman, it'll cause problems for the Pats' offense. Without Josh Gordon, who was the most efficient target of Tom Brady's career, Chris Hogan and Phillip Dorsett are New England's outside threats at receiver, and Talib and Peters probably like their chances versus that duo.