Biggest NFL Playoff Odds Movers: Week 14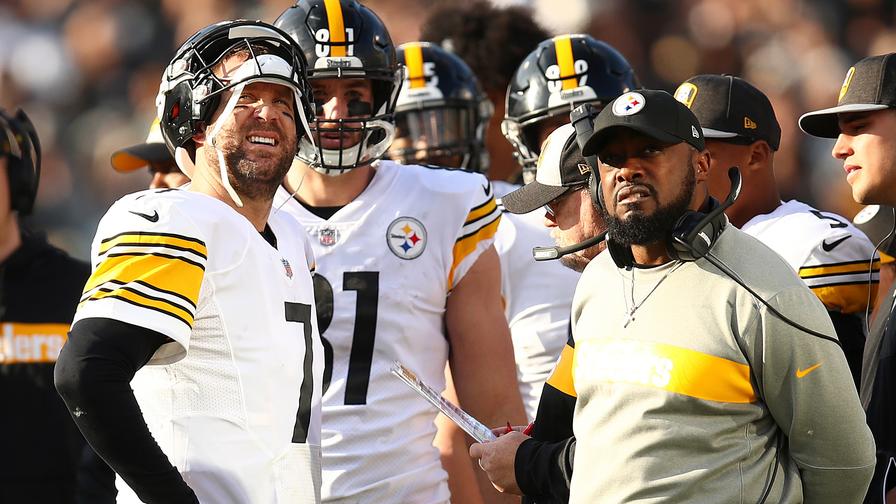 'Tis the season for obsessing over intricate webs of tiebreaker scenarios.
We've been running our playoff odds reports since early November but with just three weeks of the NFL regular season left, it is peak time for diving into the world of head-to-head matchups, intra-conference records, and maybe even winning percentages in common games.
It should come as little surprise that the two biggest increases in playoff odds came via pivotal division wins on Sunday; the Dallas Cowboys and Indianapolis Colts both saw their chance of making the playoffs increase by 21.2%, according to our models.
This identical rise in playoff odds is about the only similar thing about both teams' statuses, as while Indianapolis still has a ton of work left to do, Dallas all but wrapped up the NFC East title with its win over the Eagles.
Philadelphia's playoff odds naturally took a nosedive but the fall was not actually the biggest drop of the week. That distinction belongs to the Pittsburgh Steelers, who took an unexpected loss to the lowly Oakland Raiders.
Winners
Dallas Cowboys (8-5)
Playoff Odds Movement: +21.2%
Week 14 Result: Def. Philadelphia, 29-23
Odds Before Week 14: 77.4%
Odds After Week 14: 98.6%
Dallas has not officially clinched the division, but the Cowboys have a two-game lead over the Eagles and a head-to-head sweep.
This means it would only take one win or one Eagles loss to make their NFC East title official.
The Cowboys will almost certainly still play on wild card weekend, though, as to have a chance at a first-round bye, they would need to win out. They would then also need either the Saints or Rams to both lose out, or for one of them to lose out and for Chicago to take at least one loss. The latter scenario may not guarantee Dallas a bye, as if Chicago and Dallas both finish 11-5, they would be level in terms of conference record and record in common games, meaning the tie would be broken via strength of victory.
Indianapolis Colts (7-6)
Playoff Odds Movement: +21.2%
Week 14 Result: Def. Houston, 24-21
Odds Before Week 14: 13.7%
Odds After Week 14: 34.9%
A loss to Houston may not have mathematically eliminated the Colts, but taking another loss in the conference would have all but ended their season. Instead, Indianapolis is alive and got a boost in the hunt for the six-seed thanks to Baltimore's loss to the Chiefs.
The 7-6 Ravens still make the playoffs ahead of the Colts by virtue of a superior conference record, but the margin is slim here; Baltimore is 6-4 against the AFC while Indianapolis is 6-5.
Based on numberFire's power rankings, the Colts' remaining schedule features home games against the No. 14 Cowboy and No. 21 Giants, and a season-ending road tilt against No. 18 Tennessee. Baltimore hosts the No. 20 Buccaneers and No. 15 Browns, and has a road game against the No. 4 Chargers in the middle.
Indianapolis could also theoretically still win the division, but with the Texans owning a two-game lead with three games left, we only give this a 6.7% chance of happening.
Tennessee Titans (7-6)
Playoff Odds Movement: +13.6%
Week 14 Result: Def. Jacksonville, 30-9
Odds Before Week 14: 11.4%
Odds After Week 14: 25.0%
Tennessee won a division game of its own to maintain a reasonable chance of making the playoffs after demolishing Jacksonville on Thursday Night Football.
While the Titans have an identical record to the Ravens, Colts and Dolphins (who saw a 12.9% bump in playoff odds), they are in a less advantageous situation. This is due to the simple fact that they have lost to both the Colts and Dolphins and have an inferior conference record (5-6) to Baltimore.
Still, it is easy to see them staying alive heading into what could be a massive game against the Colts in Week 17, as they have winnable games against the Giants and Washington leading into it (they will play in New York before hosting Washington).
Losers
Pittsburgh Steelers (7-5-1)
Playoff Odds Movement: -23.8%
Week 14 Result: Lost to Oakland, 24-21
Odds Before Week 14: 86.3%
Odds After Week 14: 62.5%
Pittsburgh, which looked like it would waltz into the playoffs just a few weeks ago, has now seen its lead over the Ravens in the NFC North dwindle to a half-game.
The Steelers' odds have fallen by almost 34% during a three-game losing streak, with Sunday's upset loss in Oakland dealing the biggest blow. The playoff odds coming into the contest gave the Steelers a high chance of winning the game, so even though the Ravens lost themselves, the Pittsburgh loss still had a massive effect.
The schedule will do them little favors going ahead, as the Steelers host the No. 6 Patriots before traveling to No. 2 New Orleans. They then get somewhat of a reprieve with a home game against No. 22 Cincinnati in the season finale.
The odds remain in the Steelers' favor thanks in part to the lead they do have over the Ravens (who have a 39.6% chance of winning the division compared to Pittsburgh's 56.8%), but it still looks like it will be a stressful December for fans in the Steel City.
Denver Broncos (6-7)
Playoff Odds Movement: -19.4%
Week 14 Result: Lost to San Francisco, 24-21
Odds Before Week 14: 24.5%
Odds After Week 14: 5.1%
The combination of Denver's loss to the 49ers and wins by the Colts, Titans and Dolphins all but wraps up the Broncos' season.
Denver would almost certainly need to win out to still have a chance at making the playoffs, but while their schedule suggests this is possible (the Broncos close the season with games against Cleveland, Oakland and a Chargers team that might not have anything to play for in Week 17), it is also not likely for any team to win three games in a row. Even if Denver has a 70% chance of winning all three games, the odds they go 3-0 in this span are just 34.3%, and in reality, its chances are almost surely lower than that.
Plus, even if they do finish 9-7, they would need a considerable degree of help, as they would need the four teams ahead of them to all take at the very least one loss.
Philadelphia Eagles (6-7)
Playoff Odds Movement: -16.0%
Week 14 Result: Lost to Dallas, 29-23
Odds Before Week 14: 28.8%
Odds After Week 14: 12.8%
The Eagles are actually only a half-game behind 6-6-1 Minnesota for the NFC's final wild card spot, but their path back to the postseason is more daunting than it appears.
Philadelphia will also have to contend with Carolina, which is 6-7 itself but with a head-to-head win over the Eagles, as well as a challenging schedule. The Eagles will have to travel to face the top-ranked Rams before hosting the No. 10 Texans and finishing the season in Washington.
Carolina has a pair of games against New Orleans bookending a home date against the Falcons, while Minnesota should have a much easier time than both teams.
The Vikings do have to close the season with a home game against the No. 3 Bears, but before that, they host the No. 29 Dolphins and travel to No. 25 Detroit.