6 Wide Receivers With Great Cornerback Matchups in Week 8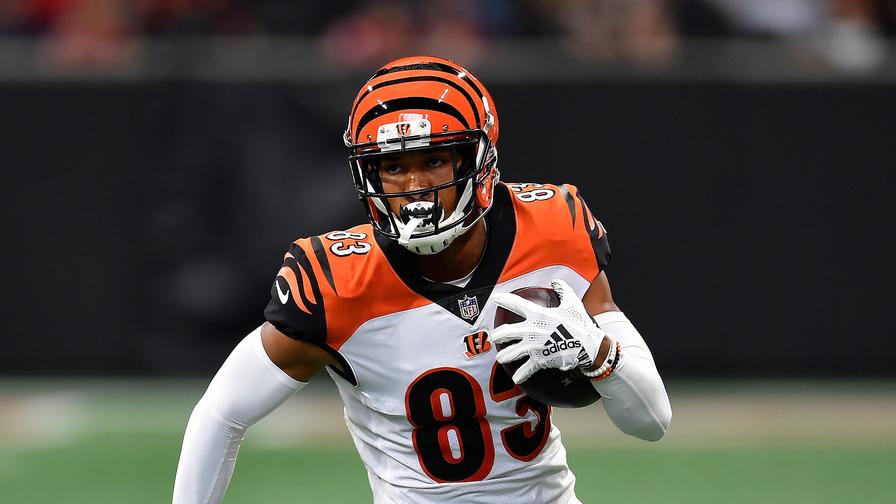 Have you ever put butter on a Pop-Tart? You'd think it would be a weird or gross combination, but this culinary creation from the mind of Family Guy protagonist Peter Griffin doesn't seem that bad when all is said and done.
Sometimes these offbeat mashups yield truly remarkable results, in fact. Had the inventors of the Reese's Peanut Butter Cups been afraid to get peanut butter on their chocolate and chocolate in their peanut butter, where would we be right now?
That is part of my mission in writing this column for you weekly: help you think through the matchups that might seem rough for your fantasy wide receivers on the surface and find the ones that will yield tasty results in the aftermath. This week, with four teams on bye, we will have to get a little more creative and look for some compelling combos to keep our fantasy football and DFS lineups delicious.
With that in mind, here are some wide receivers with delectable cornerback matchups in Week 8.
Last Week
One of the things I try to do is reflect on my process and focus on the successes and fix the failures, so that I can give you the best fantasy football advice possible. Each week, we'll look at the previous one's hits and misses.
I consider a PPR fantasy score of 14.0 (the average points of fantasy's WR12 last season) a hit for my Lineup Locks, and a score of 10.0 (the average points of fantasy's WR48 last season) a hit for my Good Stocks. A player with 8.0 PPR fantasy points or fewer as a Smoking Crater is a hit as well.
Lineup Locks: Julio Jones, Jarvis Landry, and Adam Thielen. Nailed it. Each of these players dazzled in their matchup, including the touchdown-less Jones -- who still caught 9 passes for more than 100 yards. These three averaged 103.6 receiving yards and 9.3 catches on 12.3 targets this past week -- 23.7 PPR fantasy points, on average.
Good Stocks: John Brown, Brandin Cooks, and Jermaine Kearse. Surprisingly, Brown did better than any of the Locks players, ripping off 134 receiving yards and a score on 7 catches out of 7 targets. Cooks was also top-20 this week, just a hair behind Julio, despite seeing only 5 targets. Kearse was our one miss here, seeing just two targets and getting blanked on both.
Smoking Craters: Allen Robinson and Josh Reynolds. Robinson caught just one of his five targets for 4 yards this week, and Reynolds was targeted once and caught it, but it went for an empty 19 yards. Both accrued fewer than 3.0 PPR fantasy points this week.
Three Lineup Locks
Odell Beckham vs. Josh Norman – This is exactly the matchup that I am most excited for this weekend, and not just for fantasy purposes. It's always a fun time for the family when New York Giants wide receiver Odell Beckham and Washington cornerback Josh Norman go head-to-head, as they should plenty in Week 8. Maybe the beef is squashed, but with any luck, we'll still get a nice side of burger here to go along with some tasty PPR fantasy points.
Per PlayerProfiler.com, Norman has been pretty vulnerable this year considering just a few seasons ago, he was pretty unshakeable. He has allowed 17.1 yards per reception (84th-lowest among qualifying cornerbacks) while giving up a 71.4 percent catch rate (76th-lowest) and 10.1 percent touchdown rate. He is even allowing receivers 1.43 yards of separation on average (65th-lowest). Teams haven't taken advantage of him much yet this year, however, targeting him on a league-low 14.1 percent of his routes defended, but hopefully the Giants will wake up to his weaknesses.
Beckham should be able to work over Norman in Week 8, as long as his offense gets him the ball effectively.
Adam Thielen vs. P.J. Williams – Can anyone stop Minnesota Vikings wide receiver Adam Thielen – a.k.a. Mr. Mankato, "More Than a Thielen" – this year? Thielen is currently on a two-month tear that has seen him tie the NFL record for consecutive games with at least 100 yards receiving, and now he and the Norsemen will host the New Orleans Saints in Week 8. The Saints' defense has allowed the fourth-most schedule-Adjusted Defensive Passing Net Expected Points (NEP) per play this year, and now Thielen will take on with cornerback P.J. Williams in a highly-explosive matchup.
Williams actually hasn't performed that horribly this year, giving up the 18th-lowest catch rate on targets among starting cornerbacks. This 55.6 percent catch rate is one reason people might avoid exposure to PJW's coverage this week, but it should be noted that he is giving up a high rate of yards per reception (14.7; 69th-lowest), is targeted on a solid 22 percent of his coverage routes, allows an 11.1 percent touchdown rate, and has a Burn Rate (percent of targets when the receiver is five or more yards away from the defender) of 3.7 percent (71st-lowest).
Williams can be beaten by the big play, and Thielen will almost certainly find a way to break a few open this week in the game with Week 8's fourth-highest over/under, per PaddyPower.com's odds.
Davante Adams vs. Marcus Peters – Not long ago, Los Angeles Rams cornerback Marcus Peters was a defender we were touting as a corner to avoid in this column. At this point, however, some gaps in his coverage armor have appeared, and he now has to take on Green Bay Packers wide receiver Davante Adams in Week 8.
When playing top-half passing offenses -- by schedule-Adjusted Passing NEP per play -- this year, Peters has given up 16 catches on 22 targets (72.7 percent catch rate) for 249 receiving yards (15.6 yards per reception) and 2 touchdowns (9.1 percent touchdown rate). Overall, Peters has also given up a 3.1 percent Burn Rate and allows a solid 1.13 average yards of separation to his receivers (45th-lowest). Good passing offenses can exploit Peters's vulnerabilities, and lucky for Adams, the Packers have a good passing attack.
Three Good Stocks
Tyler Boyd vs. M.J. Stewart – Tampa Bay Buccaneers cornerback M.J. Stewart and I need to make matching "BFF" bracelets, because he has become a weekly fixture in this column as someone to start your receivers against. For that reason, Cincinnati Bengals slot receiver Tyler Boyd is a start-worthy player in Week 8. This year, Stewart has gotten targeted on 28.5 percent of his routes defended (85th-least), giving up an 82.1 percent catch rate (88th-lowest), and has been burned on 5.1 percent of his targets (81st-fewest). He's also giving up 11.8 yards per reception out of the slot, giving both floor and upside to the players lining up against him.
Tyler Lockett vs. Teez Tabor – I've thought about including Detroit Lions cornerback Teez Tabor in this column previously this season, but he seemed to bounce back just when it looked like he'd started to crack. With season-long data beginning to stabilize, however, Seattle Seahawks wide receiver Tyler Lockett looks like he's about to get a prime matchup after all. Tabor gets targeted on 26.6 percent of his routes defended and has allowed a 70.6 percent catch rate and 12.6 yards per reception. Even better for the speed-based Lockett: Tabor's 5.9 percent Burn Rate would top the charts if he qualified among starting cornerbacks.
Stefon Diggs vs. Eli Apple – I considered putting Vikings wide receiver Stefon Diggs and Thielen together this week, but I want to highlight new Saints cornerback Eli Apple on his own, since he's a stark upgrade from the demoted Ken Crawley. Even still, Apple should be beatable: this year, Apple has been targeted on 26.5 percent of his routes defended, giving up a 68.6 percent catch rate (68th-lowest) and 14.4 yards per reception (66th-fewest). He has also been burned on 2.9 percent of his targets (61st-least), and while these are all solid rankings and not putrid, that should still leave plenty of room for Diggs to make hay.
Two Smoking Craters
Michael Floyd vs. B.W. Webb – Giants cornerback B.W. Webb has quietly been a star this season behind big names in the defensive backfield. Allowing the 15th-fewest yards of separation to his assignments, Webb hasn't been burned once this year. His 45.7 percent catch rate allowed ranks tops among qualifying cornerbacks, and he's giving up just 8.0 yards per reception (4th-fewest). The stingiest cornerback in terms of fantasy points per target allowed, Webb will be a nightmare for Washington wide receiver Michael Floyd this week.
Pierre Garcon vs. Patrick Peterson – San Francisco 49ers wide receiver Pierre Garcon has gotten nuked in recent weeks by rough cornerback matchups, and this week he gets another divisional rival and shutdown showdown with the Arizona Cardinals' Patrick Peterson. Peterson has allowed a 55.8 percent catch rate (19th-lowest) and 12.1 yards per reception (42nd-lowest), and his one weakness -- speed -- shouldn't be an issue against Garcon. The last time these two faced off, Garcon still earned 14.2 PPR fantasy points -- but solely due to a whopping 14 targets. That shouldn't happen again.
Week 8 Shadow Situations: Stefon Diggs (MIN) vs. Eli Apple (NO); Josh Gordon (NE) vs. Tre'Davious White (BUF); Michael Thomas (NO) vs. Xavier Rhodes (MIN); Antonio Brown vs. Denzel Ward (CLE).