Fantasy Football: 5 Quarterbacks With Sneaky Rushing Upside in 2018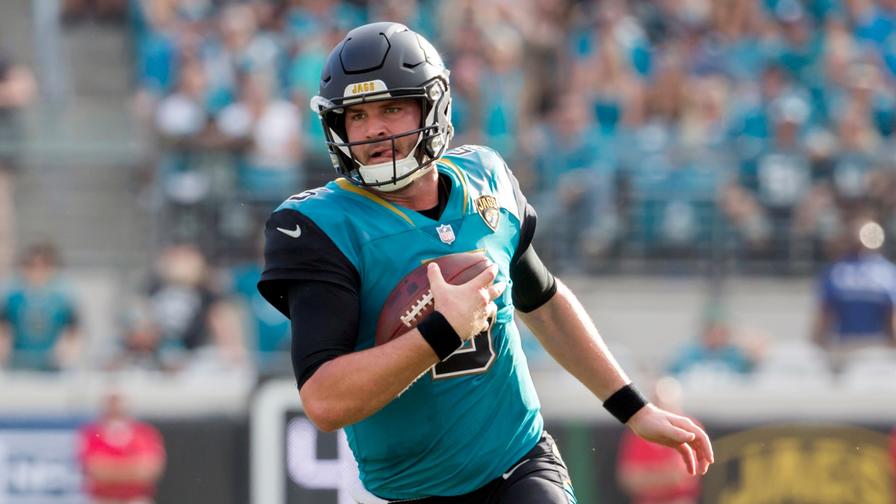 In the great game of fantasy football, we want our draft picks to produce as many points as possible, which often requires the ability to contribute in several scoring categories. From running backs who catch well to quarterbacks with rushing abilities, versatility is the common trait that gives these players a higher floor and ceiling, and overall a better chance of outproducing their draft position.
A recent example of the high demand for versatility can be best be seen in the drafting of dual-threat quarterbacks. According to Fantasy Football Calculator well-known mobile quarterbacks such as Russell Wilson and Cam Newton are being drafted, on average, in the fifth and seventh rounds of 12-man leagues, respectively. That comes as little surprise when you consider that both finished in the top three of all players in fantasy points (using standard scoring) a year ago.
With the top two options often off the board, other owners need to be creative in finding quarterbacks with running skills. Using our projections -- for rushing value only -- here at numberFire, here are five quarterbacks with sneaky rushing potential for this upcoming season.
Ryan Tannehill, Miami Dolphins
Projected Fantasy Points: 31.98
Ryan Tannehill has consistently shown an ability to produce fantasy points with his legs, averaging 213.0 rushing yards per season and 13.83 rushing yards per start. Considering his undrafted status in most leagues, Tannehill provides underrated value with our projections ranking him 24th among quarterbacks with 228.96 total fantasy points.
With improvements made at offensive line and another year under head coach Adam Gase, Tannehill has all the tools to be a useful streamer in season long leagues or a late-round pick in best ball drafts.
Patrick Mahomes, Kansas City Chiefs
Projected Fantasy Points: 37.33
Patrick Mahomes will take over the Kansas City Chiefs offense in a very fantasy-friendly situation, with premier options to work with and a crafty play caller in head coach Andy Reid. The former Texas Tech gunslinger is being drafted, on average, in the 11th round in 12-man leagues, making him an intriguing late-round option.
With 234.16 projected rushing yards on 65.20 attempts, fantasy owners should be confident about Mahomes' ability to be a dual-threat quarterback and ultimately outproduce his average draft position.
Mitchell Trubisky, Chicago Bears
Projected Fantasy Points: 40.39
Mitchell Trubisky already has shown playmaking skills with his mobility, as he accumulated 27.35% of his fantasy points via rushing in his rookie year. At his current average draft position in the 14th round, the youngster provides a nice ceiling as he ranks in the top 10 among quarterbacks with a projected 297.70yards on 61.27 rushing attempts.
With an innovative offensive head coach in Matt Nagy and free agent additions Allen Robinson and Trey Burton giving Trubisky more receiving options, there are plenty of reasons to be excited about the Chicago Bears' signal caller. Just don't forget about the added bonus that comes with his legs.
Andrew Luck, Indianapolis Colts
Projected Fantasy Points: 41.80
With Andrew Luck expected to consistently participate in training camp, early signs point toward a return in time for the start of the regular season. When 100% healthy, Luck has an impressive resume, exceeding 290 total fantasy points in three of his five NFL seasons.
Projecting Luck's production for this upcoming season can be tough considering he missed all of last year. Using our rankings as a guide, Luck is projected to be the 13th ranked quarterback with 270.31 fantasy points, a bargain at his current price in the 9th round.
It seems scary to invest in a quarterback coming off shoulder surgery, especially one that missed a full season, but the ceiling Luck offers is worth the risk.
Blake Bortles, Jacksonville Jaguars
Projected Fantasy Points: 50.36
Blake Bortles has a sneaky track record of rushing production, with 44.30 fantasy points via the ground last year and 63.50 points in 2016. Our projections have the Jaguars quarterback ranked 19th at his position, with 259.65 fantasy points, and in the top 10 in rushing yards, with 287.64 and 3.6 scores.
In the past, the Jaguars have heavily leaned on the run, but offensive coordinator Nathan Hackett recently expressed his interest in being more aggressive in the passing game this. With Pro Football Focus' 15th ranked offensive line, in addition to verticals threats Dede Westbrook and Keelan Cole, Bortles could be in for a nice year.