The Jaguars' Signing of Andrew Norwell Solidifies Their Future Offense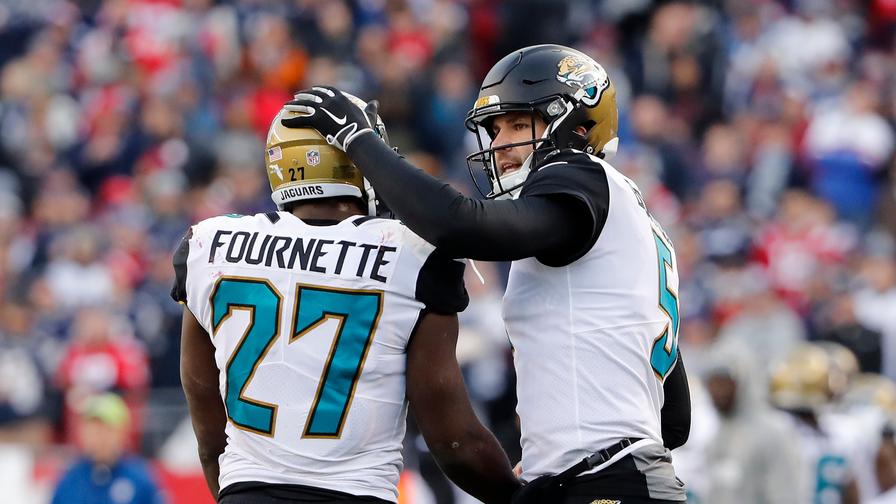 When I first learned about football as a kid, I was told, "Keep your eye on the ball." The offensive skill positions -- quarterback, running back, wide receiver, tight end -- are where most of us start when it comes to understanding the game, but many of us stop there.
Eventually, I started looking away from the ball, at the individuals trying to stop the opposing offense. But even after expanding my viewpoint, I found myself ignoring one of the most important position groups on the field: the offensive line.
Unlike me, the Jacksonville Jaguars are not ignoring the offensive line.
By signing free agent guard Andrew Norwell to a big contract this offseason, the Jaguars are clearly building for the future much like the Dallas Cowboys did in recent years -- that is, through constructing a young and talented offensive line.
Anchoring the Left Side
What does Norwell bring to the Jacksonville offense?
Over the last four years, Norwell has played almost exclusively at left guard for the Carolina Panthers. We can examine just how effective he's been in that role by looking at our signature metric, Net Expected Points (NEP).
NEP is a metric that describes the contribution a play (or player) makes to their team's chances of scoring. By adding down-and-distance value to the box score production, we can see just how much each play and each team as a whole influence the outcome of games. For more info on NEP, check out our glossary.
The chart below shows the Panthers' Rushing NEP value per attempt on runs to Norwell's (left) side and those away from his spot on the line.
Yeah, that tells you just about everything you need to know about Norwell's run-blocking ability. With Norwell anchoring the left side, Carolina runners, on average, produced like 2017 Dion Lewis, while those to the middle and to the right were basically Orleans Darkwa.
Of course, it's not just Norwell on the left side, so the Panthers' center and left tackle deserve credit, too. But it's not like this was a trend for only one year -- each of Norwell's four years in the league saw the Panthers put up no less than 0.09 Rushing NEP per attempt to the left side of the line, while the average running back attempt last year earned -0.05 Rushing NEP.
If that weren't enough to convince you of Norwell's value to the Jaguars, check this: over the last four years, the percentage of rushing attempts that generated a positive NEP value -- which we call Rushing Success Rate -- was six percentage-points higher than the right side of the line.
And that's the real benefit Norwell should bring to this run game. Running back Leonard Fournette and the Jaguars' backfield did fine rushing to the left side in 2017, averaging 5.53 yards per attempt with a 22.2 percent first down/touchdown rate. A great deal of that seems to have come from big plays or scoring plays, though, as Fournette's Rushing Success Rate ranked 37th among the 47 running backs to tote the rock at least 100 times last year.
The chart below -- broken down by direction -- shows the Panthers' Rushing Success Rates next to those of the 2017 Jaguars.
Furthermore, Pro Football Focus (PFF) shows Norwell as the second-best pass-blocking guard last year, with just 13 pressures allowed on 564 pass-blocking snaps (4.03 percent pressure rate for his career). It certainly can't hurt to give quarterback Blake Bortles as much help as possible.
Norwell's presence and the Jaguars' commitment to building through the line are big reasons to buy into Leonard Fournette's continued success for fantasy football next year and beyond. And it might be enough to keep Bortles as a solid streaming option for those who subscribe to the strategy.
Electric Company
How good could this Jags line be?
If you're not familiar with the Cowboys' 2016 offensive line, they were one of the better overall units in recent memory. It didn't matter that Doug Free's talents were waning with age or that La'el Collins was still growing into his role -- this group mauled. These modern-day hogs paved the way for Ezekiel Elliott's historic rookie season and helped Dak Prescott to go from fourth-round flier to rookie sensation.
Like Dallas, Jacksonville drafted three of their starters (all of them surprisingly outside the first round), but the addition of Norwell and right tackle Jermey Parnell in recent years show that the Jags are committed to building a strong offensive line, no matter the cost.
Three years back, our own Jim Sannes showed that drafting a lineman in the first round provided some immediate benefits, both in terms of rushing and passing value. Does the same thing hold true for signing a big-time free agent?
To test this, let's take a look at the 52 active NFL lineman that have made at least $3 million in free agency. We will attempt to evaluate their impact by compiling the schedule-adjusted Passing and Rushing NEP per play for their teams the year before their arrival (Year 0) and the two years after.
In addition, by cross-referencing Over the Cap's contract data with the effects of a lineman's signing on our metrics, we can also see if the amount teams spend on their O-line makes a difference. This highly-paid group is 20 players deep, and they make up at least 3.5 percent of their team's cap -- effectively double the average player.
The table below shows us the average change from Year 0 to Years 1 and 2, following the signing.
| Metric | Year 1 Change | Year 2 Change |
| --- | --- | --- |
| Pass NEP per Play | +0.035 | -0.005 |
| Rush NEP per Play | +0.011 | +0.018 |

As expected, the addition of a free agent offensive lineman increases efficiency immediately, especially in the passing game.
Consider the Los Angeles Rams as an example. After adding center John Sullivan and left tackle Andrew Whitworth this past offseason, they went from the league's worst passing offense to seventh-best overnight. Why?
Per NFL.com's Next Gen Stats, Jared Goff went from 2.54 seconds from snap to throw in 2016 to 2.93 in 2017, giving him added time to go through progressions.
It is worth noting that the run game's value progresses upward at a much slower pace, but that it continues into Year 2 (unlike the passing game benefits). In addition, Jaguars fans should feel some comfort in knowing that the Year 1 change is even bigger for big free agent linemen when it comes to passing the ball (+0.046), although it shrinks for rushing (+0.004) until Year 2 (+0.021).

The Jaguars may have an oddly-built offense for the pass-happy modern era, but Andrew Norwell's signing is a vital piece to the puzzle.