3 FanDuel Kickers to Target in Week 12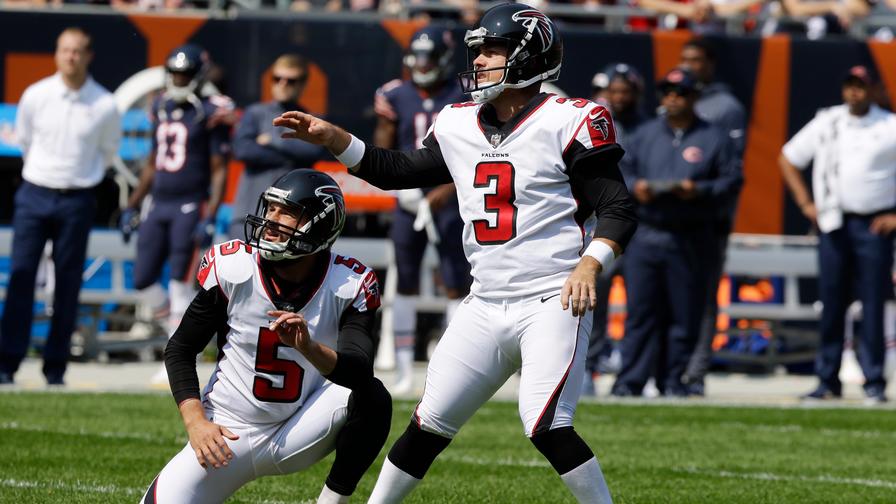 Kickers. Love 'em or hate 'em, they are a part of the game. Even in fantasy football.
While you may be tempted to do so, don't leave the position for last when building your FanDuel lineups. Just like you do with the rest of your roster, maximize your squad's potential by spending the extra minute and finding out the best options out there at kicker.
It's time to stop "punting" the spot and start giving the lonesome kicker the attention he deserves.
The following are the top-three kickers we are targeting in Week 12.
Matt Bryant, Atlanta Falcons
FanDuel Price: $4,900
After finishing 2016 as the top fantasy kicker (10.6 FanDuel points per game), Matt Bryant sits closer to the middle-of-the-pack (9.6 FanDuel points per game) due to the Atlanta Falcons' offense taking a step back this season. However, the Birds have gotten back on track of their past four games by scoring an average of 25.8 points, with Bryant attempting 2.3 field goals and 2.5 extra points during that time. Week 12 should continue the trend as the Falcons have a home date with the Tampa Bay Buccaneers.
When the Buccaneers have faced a top-12 offense (Minnesota, New England, New Orleans) this season, they have surrendered 10.7 FanDuel points and 2.7 field goal attempts per game to opposing kickers. Atlanta enters Week 12 as the NFL's 13th-best offense with regard to points per game. Add in Vegas' love for the Falcons this week, (10-point favorites with the second-highest implied point total), and Bryant is left with an elite game script while costing less than top-dollar options Stephen Gostkowski and Harrison Butker.
Chris Boswell, Pittsburgh Steelers
FanDuel Price: $4,800
Chris Boswell is coming off his best performance of the year -- 4 field goals and 4 extra points -- finishing with 19 FanDuel points against the Tennessee Titans. The Pittsburgh Steelers' kicker has ramped up his production over the past four weeks by attempting an average of 3.5 field goals per game, leaving Boswell third in the NFL with 27 field goal attempts on the year. While he's starting to find his groove, the Green Bay Packers -- who Pittsburgh will be facing in Week 12 -- have fallen apart.
They have gone 1-4 since Aaron Rodgers broke his collarbone in Week 6 and have given up 23.6 points per game. Opposing kickers have had a field day, too, averaging 3.0 field goal tries and 11.8 FanDuel points per game. They allow the fourth-most FanDuel points to kickers for the season. The 14.0-point spread in favor of the Steelers certainly doesn't hurt, along with a 27.5-point implied point total. Put it all together and Boswell has the ideal scenario for fantasy success this week.
Josh Lambo, Jacksonville Jaguars
FanDuel Price: $4,600
Behind their dominant rushing attack, the Jacksonville Jaguars have gone from the 25th-ranked scoring offense in the NFL last season to a top-eight unit this year. Their offensive turnaround, in conjunction with their stifling defense, has contributed to a 7-3 record, moving them from laughingstock status to playoff contender. Last year, they would have undoubtedly been underdogs in nearly any road contest, but are currently 4.5-point favorites as they travel to the Valley of the Sun to face the Arizona Cardinals.
Being out in front during most games has allowed the Jags to consistently put Josh Lambo in a good spot. In his four weeks with the team, Lambo has been a busy man, averaging 2.5 field goal attempts per contest. That's nothing new for Jacksonville, as they've attempted 25 field goals this season as a team, the eighth-most in the league. All that work makes Lambo an excellent bargain kicking option in Week 12 at just $100 over the minimum.
_________________________________________________________________________________________________________________________________________
Dale Redman is not a FanDuel employee. The views expressed in his articles are the author's alone and do not necessarily reflect the views of FanDuel.