Why Todd Gurley's Fantasy Football Stock Is on the Rise
What are certain factors that could cause a running back's fantasy football value to collapse? Almost anything you list could apply to Todd Gurley's 2016 season.
A bad offense that struggles to generate scoring drives? Check.
A poor offensive line that can't open up holes? Double check.
Mounting frustration that leads to general ineffectiveness? You betcha.
As a result, Gurley's draft stock this season is infinitely lower than it was just a year ago. He went from being the sixth overall pick and second running back off the board (in 12-team, PPR drafts, according to Fantasy Football Calculator) to going in the middle of the second round as the 10th-ranked back. That's a significant dip.
What makes all of this interesting is that Gurley's situation entering 2017 appears to be much better than it was entering last year. Some of the checklist above is less of an issue now, and it may mean that Gurley's stock is suddenly on the rise.
Let's take a look at what caused Gurley's issues last year. If we're going to start buying him, we need to make sure those things are less of a concern now than they were then. After that, we'll discuss what we should expect from Gurley entering 2017 based on the abundant changes that the Los Angeles Rams have made.
A Season of Misery
There's no masking how bad Gurley and the Rams were last year. You saw it with your eyes, and the numbers back it all up.
Gurley finished the season with -34.40 Rushing Net Expected Points (NEP), the metric we use to track the efficiency of teams and players. NEP shows us how many points a team would be expected to generate relative to expectation over the course of a season, providing context to specific situations. This helps us differentiate between the value of a two-yard rush on 3rd and 1 and that same two-yard rush on 3rd and 3.
There were 54 running backs who logged at least 80 carries in that season; only seven were worse on a per-carry basis than Gurley. He also ranked 46th in Success Rate, which shows the percentage of plays that result in an increase in expected points.
If you add in Gurley's poor metrics to an offense led by Jared Goff -- who was far and away dead last in Passing NEP per drop back among quarterbacks with 100 drop backs -- you can see the big issue. The Rams failed to generate scoring drives, sapping Gurley of the touchdown upside he needs in order to return on such a lofty investment. That just wasn't happening last year.
Here's the catch with all of this, though. Even though Gurley had a nightmare season, he still managed to finish as the 15th-ranked running back in PPR leagues for the season. It was ugly, but he still wasn't that far below his draft slot for 2017.
Part of that is inflated by the fact that Gurley played 16 games (he was 21st in scoring if we look at points per game), but even that -- what you would hope is his floor -- could be worse. And his situation this year is wildly different.
A Season of Hope
If you name it, the Rams probably changed it in the 2017 offseason.
They kicked things off with a bang, hiring Sean McVay to replace the recently-fired Jeff Fisher. McVay acquired a similarly-disfunctional offense when he became Washington's offensive coordinator, and he turned them into a top-five passing offense in a hurry.
The offensive line was next on the to-do list. The Rams brought in free agent left tackle Andrew Whitworth, a move that would have big benefits for both Gurley and Goff.
From an efficiency standpoint, Gurley couldn't have been much worse when rushing left last year. The Rams ranked 31st in Success Rate when going that direction and 32nd when rushing right. They were a more respectable 11th up the middle. Adding Whitworth should reduce the number of trouble spots up front.
For Goff, the addition of Whitworth should help him remain upright. Only the Cleveland Browns lost more NEP on a per-drop back basis due to sacks last year than the Rams. If they're able to cut down that number, it would allow the team to generate more scoring drives, elevating Gurley's potential in that column.
Finally, the pass catchers came flooding in. The Rams used three picks in the first four rounds on pass catchers, bulking up a unit that saw noted hater of efficiency Tavon Austin gobble up 20.15% of its targets in 2016. That's sub-optimal, but it shouldn't be the case anymore.
Then there's that Sammy Watkins guy, whom the Rams acquired via trade just over a week ago. Watkins brings a long-ball dimension that the offense had been lacking, and his presence should further boost Goff's efficiency.
Everything that worked against Gurley has been altered. The coaching staff has changed, the offensive line added a major piece, and the pass catchers may be able to sniff competency. All of this should help Goff erase last year's nightmare, making Gurley much more attractive for fantasy.
We did see glimpses of these improvements in the team's second preseason game, as well.
.@jaredgoff16 to @CooperKupp for a 23-yard TD! Rams up 7-0 #LAvsOAK pic.twitter.com/xkzjLB8ZsI
— Los Angeles Rams (@RamsNFL) August 20, 2017

Goff finished the game 16-of-20 for 160 yards (8.0 yards per attempt) with a touchdown and no picks. Gurley turned his 8 carries into 38 yards and a touchdown while adding a 12-yard reception. It's not flashy, but it sure is better than last year.
One preseason game isn't enough to say that Gurley will buck all of last year's woes. But it does align with the thought that things are looking a bit brighter, and that has to at least snag your attention.
A Season of Buying
Clearly, Gurley doesn't deserve to go as highly as he did last year. We shouldn't double down on a mistake by making it again, and there are enough lingering questions around the offense to prevent that. So, where should we be drafting him?
It could easily be higher than the 10th running back off the board. The guy going right ahead of him, Jay Ajayi, has already lost his quarterback for the season. Then it's Ezekiel Elliott, who is currently suspended the first six games. Right in front of Elliott is Jordan Howard, whose situation is a bit reminiscent of what happened to Gurley last year, with a rookie quarterback waiting to take the reins from an uninspiring vet. Are we really sure Gurley's situation is worse than theirs?
You could make a convincing argument that it's not. If the Rams are able to generate more scoring drives, not only will that boost Gurley's touchdown potential, but it'll allow them to stay in positive game flow longer and keep pounding the rock.
And Gurley may be a bit safer when they fall behind, as well. Passing-down back Benny Cunningham is now with the Chicago Bears (another Howard parallel), and the man the Rams brought in to replace him -- Lance Dunbar -- is already out indefinitely with a knee injury. Increased passing-down usage would give Gurley a higher floor in the event that things go awry, and that seems fully within the realm of possibilities at the moment.
Based on this, it seems as if we should be buying Gurley at his current draft cost and potentially even beyond that. His average draft position has remained largely static since the Watkins trade, as you can see in this graph, via Fantasy Football Calculator.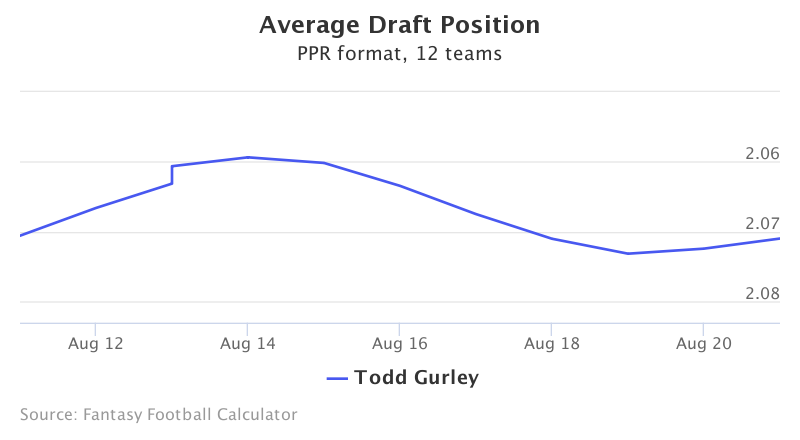 Gurley's situation is improving, but the market doesn't reflect that. Until his cost starts to rise, it's time that we start buying stock in him for 2017 and beyond.